Cyclone Vayu: India to evacuate 3 lakh people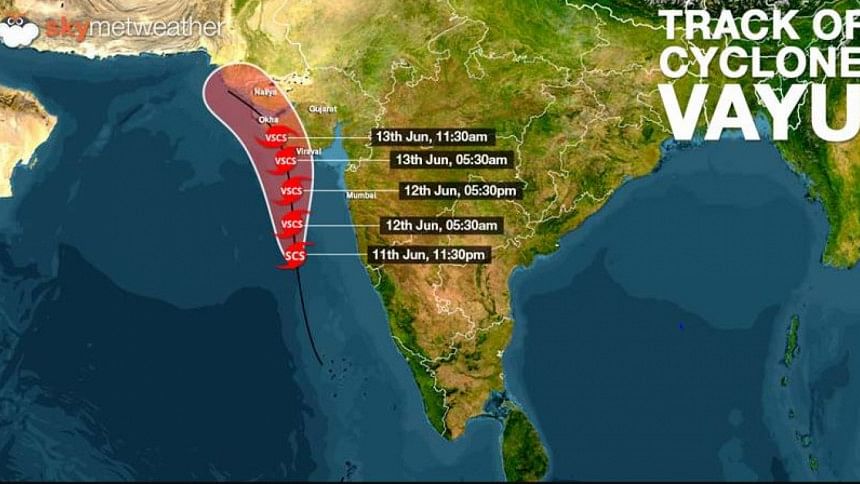 An estimated three lakh people are set to be pulled back to safer places as very severe cyclone 'Vayu' today headed towards Gujarat on the coast of Arabian Sea and strike it tomorrow.
As the cyclone continued to hurtle towards Saurashtra and Kutch regions of Gujarat, India Meteorological Department (IMD) upgraded its severity condition and the Indian Coast Guard, the Navy, Army and Air Force units have been put on standby and surveillance aircraft and helicopters carried out aerial surveillance, our New Delhi correspondent reports quoting an official.
"Cyclone Vayu has turned into a very severe cyclonic storm. It would cause gusty winds to blow at a speed of 145 kmph to 170 kmph by Thursday morning," the IMD said.
Vayu "is very likely to move nearly northwards and cross Gujarat coast between Porbandar and Mahuva around Veraval and Diu region as a very severe cyclonic storm with wind speed 145-155 kmph gusting to 170 kmph around the morning of June 13, the IMD said in its latest update today.
Teams of the National Disaster Response Force (NDRF) began landing in Gujarat with the help of the Indian Air Force to undertake preventive evacuation of people living on the west coast, an IAF official said.
Because of the cyclonic storm, the Arabian Sea has turned turbulent and mightier waves are advancing towards coastal areas, the IMD said.
Huge sea waves lashed Devbaug village in Malvan tehsil of Maharashtra's Sindhudurg district on Wednesday.
An official at the district collectorate said since Devbaug is located in a low-lying area, it often gets inundated when the sea is rough, and maintained that so far the situation is under control.
Indian Home Minister Amit Shah, who hails from Gujarat, reviewed the preparations for the cyclone and directed officials to ensure all possible steps for the safety of people.
Humanitarian Assistance and Disaster Relief (HADR) bricks and relief material have been loaded on naval ships and are ready to be deployed at short notice.
Indian Navy ships operating at sea and aircraft and helicopters on routine sorties have been directed to inform fishing vessels in sea and advise them to return to harbour.
Indian Navy's divers and rescue teams and relief material have been kept standby for rendering assistance to civil authorities. Medical teams and facilities at Indian Naval Hospital in Mumbai are also standby to handle medical emergencies.