'Very severe' Cyclone Vayu to hit India tomorrow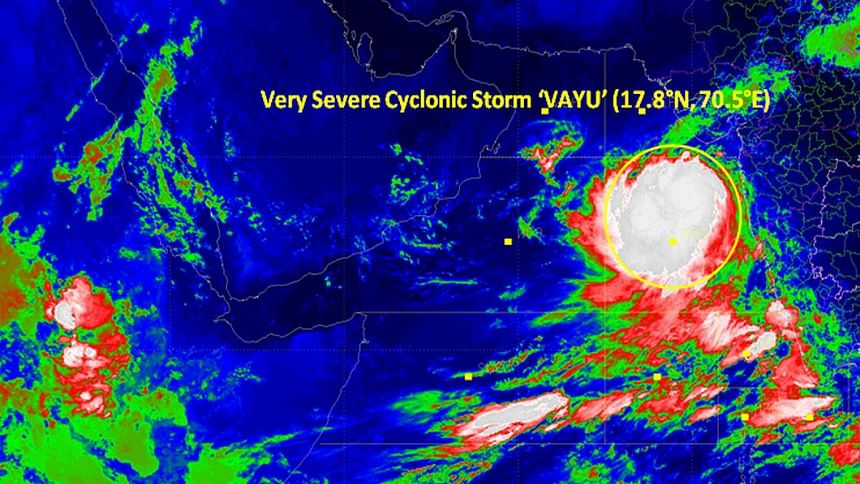 Centred nearly 340km south of Veraval in Gujarat on the East Central Arabian Sea, cyclonic storm 'Vayu' has intensified into a "very severe" storm and is most likely to make a landfall on the state's coast between Porbandar and Mahuva around Veraval and Diu region with a wind speed 110-120kmph gusting to 135kmph during the early morning of June 13.
In view of the cyclone, Gujarat Chief Minister Vijay Rupani has declared June 13 and 14 as holidays for schools and colleges in 10 districts which are likely to be affected.
The CM has also cancelled the three-day Shala Praveshotsav (Welcoming to the school festival) from June 13-15 in the entire state.
Meanwhile, the Union Home Ministry on Tuesday issued detailed advisories to the Gujarat and Union Territory of Diu requesting them to take all precautionary measures with a view to ensure that no human life is lost, damage to vital infrastructure is minimized and to ensure early recovery of all essential services post-cyclone landfall.
The governments have also been advised for timely evacuation of people from low-lying coastal and vulnerable areas.
Gujarat and Diu Administration have planned to evacuate about 3 lakh people from the identified vulnerable areas starting early morning of 12th June 2019. The evacuated people will be shifted to around 700 cyclone/relief shelters, a statement by the Ministry said.
39 NDRF teams are being pre-positioned in Gujarat and Diu for helping the governments in evacuation, search, rescue and relief operations. In addition, 34 teams of Army are also put on standby.
According to the India Meteorological Department (IMD), Cyclone Vayu is likely to make landfall near Veraval between 6 am and 7 am on Thursday.
Gujarat Chief Secretary JN Singh apprised a meeting of the National Crisis Management Committee (NCMC) chaired by Union Cabinet Secretary Pradeep Kumar Singh, that around 2.8 lakh people from the vulnerable areas along the coast would be evacuated from Wednesday.
Several coastal districts in the Saurashtra region are likely to witness heavy to very heavy rains, heralding pre-monsoon showers, according to MeT officials.
The Met officials have predicted heavy rainfall in the coastal districts of Gujarat and storm surge in the Arabian Sea could rise to about one to 1.5 metres above the normal tides and inundate low-lying coastal areas of Kutch, Devbhoomi Dwarka, Porbandar, Junagadh, Gir-Somnath, Amreli and Bhavnagar districts as well as Union Territory of Diu.
Principal Secretary (Ports and Transport) Sunaina Tomar, meanwhile, said a disaster management plan had been activated at all the ports in the state and cargo operations have been suspended.
The fisherfolk have been advised not to venture into sea along and off the Gujarat coast during June 12-15. Fishermen have been asked not to venture into East-central Arabian Sea and along and off the Maharashtra Coast on June 12, and the northeast Arabian Sea on June 12-13.
Medium Lift Helicopters and Light Utility helicopters have been positioned at nodal points in Gujarat. These are equipped to undertake disaster relief operations. Highly mobile deployable radar has been placed at a high state of readiness at Gandhinagar.
Mobile communication vehicles have been positioned at nodal points. Communication support groups have been formulated at air bases in Gujarat to handle potential contingencies.
In view of the cyclone, Headquarters South Western Air Command has proactively enhanced its preparedness to meet any contingencies, Wing Commander Puneet Chadha, Defence PRO, Gujarat said.
Meanwhile, IMD, Mumbai has predicted a windy day for North Maharashtra coast on Wednesday. The weather department has predicted rough to high sea conditions and also issued a potential threat from flying objects.
Copyright: The Statesman/Asia News Network