Cyclone Fani batters Odisha
Leaves trail of destruction; 8 killed; weakens into tropical storm; crossing West Bengal towards Bangladesh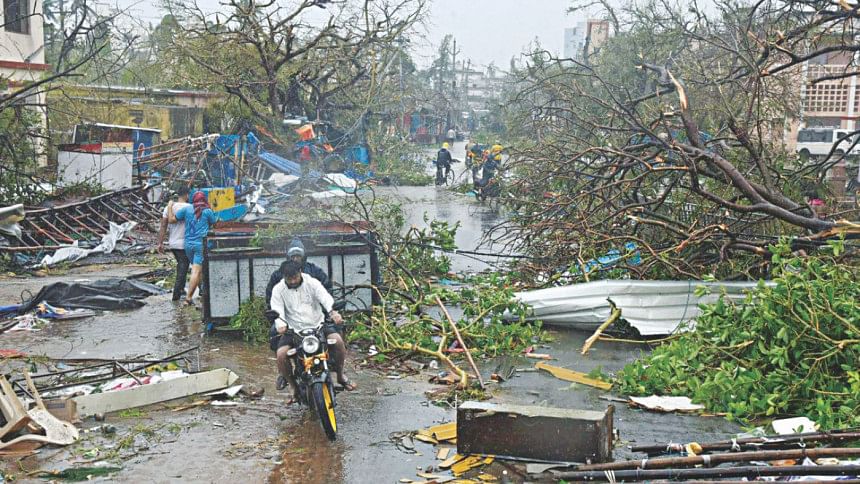 At least eight people were killed as Cyclone Fani, the biggest storm to hit India in 20 years, slammed into the eastern state of Odisha yesterday, damaging houses and cutting off power, water and telecommunications.
It made landfall at the temple town of Puri in the morning, with winds gusting up to 200 kilometres per hour.
Fani is the strongest cyclonic storm since the Super Cyclone of 1999, which claimed around 10,000 lives and battered the Odisha coast for 30 hours.
As the cyclone progresses into West Bengal, it is expected to weaken gradually into a severe cyclonic storm with winds of 90-100kmph and gusts of 115kmph before entering Bangladesh as a cyclonic storm with winds of 60-70kmph, reports Hindustan Times.
It is likely to hit Kolkata early today, a city home to 4.5 million people.
Fani spent days building up power in the northern reaches of the Bay of Bengal before it struck the coast of Odisha around 8:00am, said India Meteorological Department.
In recent days, the authorities in Odisha state evacuated more than a million people as they were worried about a possible 1.5-metre (five-foot) storm surge sweeping far inland.
Eight people were reported dead so far, senior officials said, adding that they were yet to get information from many areas, reports The Economic Times.
Of the victims, three, including a teenage boy, were killed in Puri district while three more died in Bhubaneswar and nearby areas. The teenager was killed when a tree came crashing down on him in Puri.
In Nayagarh district, flying debris from a concrete structure hit a woman, leaving her dead.
Besides, a 65-year-old woman died after suspected heart attack at a cyclone shelter in Kendrapara.
In West Bengal, thousands of people were asked to move to safer places. Local airports were shut, while train lines and roads remained closed.
In a statement, the Directorate General of Civil Aviation said no flights would depart or arrive at the Kolkata airport from 3:00pm yesterday to 8:00am today.
"We are monitoring the situation 24x7 and doing all it takes... Be alert, take care and stay safe for the next two days," tweeted Chief Minister of West Bengal Mamata Banerjee. She cancelled her election rallies for 48 hours because of the cyclone.
The winds of the enormous cyclone were felt as far away as Mount Everest, with tents blown away at Camp 2 at 6,400 metres (21,000 feet) and Nepali authorities cautioning helicopters against flying.
"It just went dark and then suddenly we could barely see five metres in front of us," said one resident in Puri.
"There were the roadside food carts, store signs all flying by in the air," the man told AFP from a hotel where he took shelter. "The wind is deafening."
Another witness said he saw a small car being blown by winds along a street and then turned over.
Meteorologists had warned of the "total destruction" of thatched houses, the uprooting of power and communication poles and damage to crops in some areas.
Some 3,000 shelters in schools and government buildings were set up to accommodate more than a million people in Odisha, with families including women and babies huddled on the floor.
Ports have been closed but the Indian Navy has sent six warships to the region while India's biggest oil and gas producer ONGC evacuated almost 500 workers from offshore rigs.
Measures were also taken to protect the 850-year-old Jagannath temple in Puri, a Hindu holy town normally thronging with pilgrims.
AFP correspondents said Puri was a near ghost town with trees already torn down and water levels rising even before Fani's arrival.
Electricity and water supplies were already cut for much of the temple town of 200,000 people. Metal shutters covered store fronts and sand blew up the streets from the nearby beach. Only a few police vehicles and tractors trying to pull trees or push aside collapsed walls could be seen.
Media reports said hundreds of trees were uprooted by violent winds at the nearby Chilika Lake just south of Puri.
The name ''Fani", which is pronounced as "Foni", was suggested by Bangladesh. Roughly translated, "Fani" means the hood of a snake, according to reports.
India's cyclone season can last from April to December, when severe storms batter coastal cities and cause widespread deaths and damage to crops and property in both India and Bangladesh.
But recent technological advances have helped meteorologists predict weather patterns more accurately and prepare.
Cyclones typically lose power quickly as they move inland.