The Rebel Eternal
With Independence Day only eight days away and World Poetry Day three days from now, the time couldn't be more fitting to honour one of the greatest political poets to have ever lived, Kazi Nazrul Islam. Here, we look back at the revolutionary poet who masterfully used poetry and prose as vehicles for political and social justice.
There are few poets in modern history whose oeuvre perfectly epitomises the juncture where politics meets poetry. There are even fewer of those whose poems are so fearless and groundbreaking that even the largest, most powerful empire in the world is forced to take notice.
Kazi Nazrul Islam, the National Poet of Bangladesh, is one of the very few. He is the Rebel Poet who valiantly stood up against the oppressive, colonial forces of the British Raj and championed the cause of the downtrodden. He is the luminary whose poetry, novels, short stories, dramas and compositions have left such an indelible mark on the Bengali literary canon that there can be no other like him.
Kazi Nazrul Islam was born in British-occupied India to an influential Muslim Kazi family in 1899. As a young boy, he attended a maktab, madrasa, and dargah studying Islamic philosophy, theology, the Qu'ran and other scriptures. Restless and inquisitive in nature, Nazrul later joined a leto (travelling theatrical group) where he came into contact with Sanskrit and Bengali literature along with Hindu scriptures including the Puranas. He soon left to enroll at the Searsole Raj High School in Raniganj where he met his teacher, the Jugantar activist Nibaran Chandra Ghatak. Here is where the seeds of the iconic revolutionary he would later become were said to have been sown.
In 1917, Nazrul, aged 18, joined the British Indian Army. By the end of his military service, his disdain for oppressive British rule had taken full form, laying the foundation of his future works of poetry and prose which would go on to become some of the most significant vehicles of anti-colonial action in the Indian Subcontinent.
My lord, raise your mace of justice and punish
Those wealthy and the rich who thrived
Robbing the humble poor and the deprived.
Today the greater the robber, the bigger the thief
And the cleverer the cheat
The more honourable, the more distinguished
And the more dignified his seat
In the assembly of nations.
An excerpt from Kazi Nazrul Islam's poem
Chor Dakaat
Translated by Kabir Chowdhury
To understand Nazrul's poetry is to understand his ideals and all that he stood for. Love, equality, religious harmony, revolution, tolerance and freedom are the themes that undergird his artistic work—the central tenet being resistance to bigotry of any and all forms. Although Bidrohi (Rebel) is considered as his seminal piece of work that elevated him to a national figure and is his most famous poem to date—earning him the lifelong moniker of Bidrohi Kobi (Rebel Poet)—Nazrul's lesser known poems are by no means any less significant. From Dhumketu (Comet) and Manush (Human Being) to Agomoni (What's Coming) and Samyabadi (Socialist), the universal elements of freedom, struggle, equality and the human spirit are ubiquitous in Nazrul's body of work.
In the backdrop of Hindu-Muslim riots, Nazrul penned the famous Kandari Hushiar (Captain Beware), in which he warns against the "divide and rule" policy of the British who sought to benefit from enmity and communal hostility between Hindus and Muslims. Here, he professes the equality of all regardless of religion, saying, "Hindu na ora Muslim? Oi jiggashe kon jon? / Kandari! Bol, dubichhe manush, shontaan mor Mar" (Are they Hindu or Muslim? Who asks? / Captain! Proclaim: The drowning fellows are my mother's children). A stalwart of anti-imperialist activism, Nazrul depicts the brutal violence perpetrated by the British on Bengalis in the same poem: "Kandari! Tobo shommukhe oi Palashir prantor / Bangalir khune laal holo jetha Clive er khonjor" (Captain! The fields of Palashi recall, / with the blood of the Bangali Clive bloodied his sword).
His oeuvre symbolised the inextricable relationship between language, poetry and liberty, and shaped the political consciousness of the masses through a medium (poetry) previously regarded as far removed from politics.
For Nazrul, humanistic ideals of love, compassion and tolerance rose above all else. The traditions of Hindus and Muslims are so deeply enmeshed in his writings that it becomes impossible to separate the two. Over and over again, his distaste for religious separatism and fundamentalism comes to the fore.
In Manush (Human Being), Nazrul writes, "Gahi shammer gaan / Manusher chey boro kichu nai, nohe kichu mohiyan, / Nai desh-kal-patrer bhed, obhed dhormojati, / Shob deshe, shob kaale, ghore ghore tini manusher gyaati" (Of equality I sing / There is nothing greater than a human being, nothing nobler, / Caste, creed, religion - there is no difference, / Throughout all ages, all places, we are a manifestation of our common humanity).
Amidst an atmosphere of hatred and division, Nazrul's was a clarion call for unity and rising above that which drives people apart. His was an all-encompassing view of oppression and justice that included everyone everywhere. A testament to this fact is Nazrul's great admiration and respect for Kemal Atatürk, solidarity with the Turkish War of Independence and opposition to the Khilafat Movement that Atatürk fought against. Nazrul's Kemal Pasha is a heartfelt tribute from one revolutionary to another where he recounts the victories of Atatürk with sheer wonder and applauds Atatürk for successfully "crushing the devilish foe". "Hingsro ora hingsro poshur dol! / Zalim ora ottachari!" (The ferocious, the band of beasts and devils! / They are tyrants and oppressive!), writes Nazrul.
Women, too, have a special place in Nazrul's prose and poetry. The poem Nari (Woman), in which Nazrul claims that he sees no difference between man and woman, exemplifies the poet's desire for the emancipation of women from society's patriarchal shackles and social conventions. Nazrul acknowledges women's contributions to world civilisation, putting them on equal footing as men: "Bisshey ja kichu mohan srishti chiro kallyankor, / Ordhek tar koriache nari, ordhek tar nor" (Whatever great achievements that are in this world, / Half of that was by woman, the other half by man).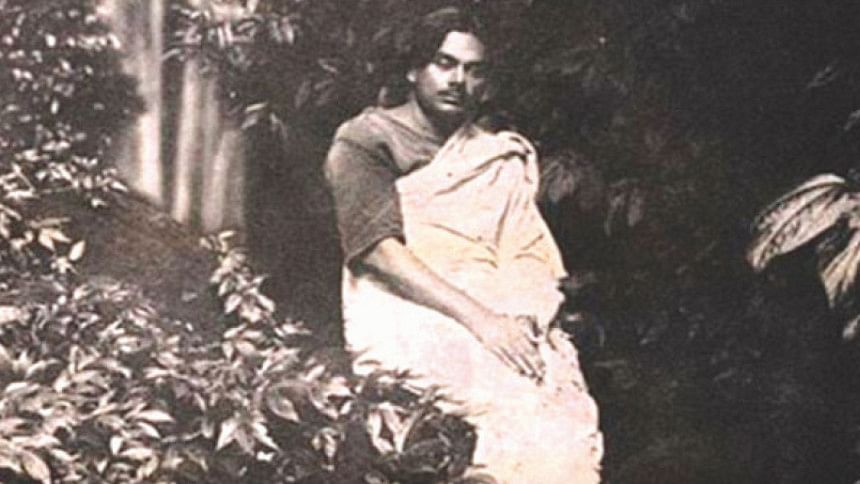 Nazrul's treatment of women in his works is at once both idealistic and realistic—he puts forth his vision of an ideal world for women but he is careful not to gloss over the harsh realities that women are subjected to. In his novel Kuhelika (Mystery), he portrays the woman as both victor and victim. The woman is not only an enigma, the inspiration behind poetry and art, but also a victim of subjugation, whose voice is rendered mute and rights trampled upon.
Kazi Nazrul Islam remained true to his ideals till his last breath. He was, in every sense of the word, a revolutionary and a rebel. From galvanising the anti-colonial struggle against the tyrannical British rule which twice resulted in his imprisonment to breaking away from the conventional modes of poetry, Nazrul espoused a rare kind of humanism that went far beyond manmade superficialities. He believed in the strength of the common man in the most trying of circumstances, wherein laid his hopes of thwarting the colonial project. His oeuvre symbolised the inextricable relationship between language, poetry and liberty, and shaped the political consciousness of the masses through a medium (poetry) previously regarded as far removed from politics.
Conferred the status of National Poet by the Bangladesh government in 1972, four years before his death, Kazi Nazrul Islam never really gained the world recognition he so deserved. But as anyone familiar with the tumultuous political and literary history of the region knows, Nazrul, in his writings, was as unapologetic as he was far-sighted, as bold as he was brilliant.
If the true measure of an artist is the test of time, the Rebel Poet remains unparalleled.
The writer is a member of the editorial team, The Daily Star.