Disappointment of a son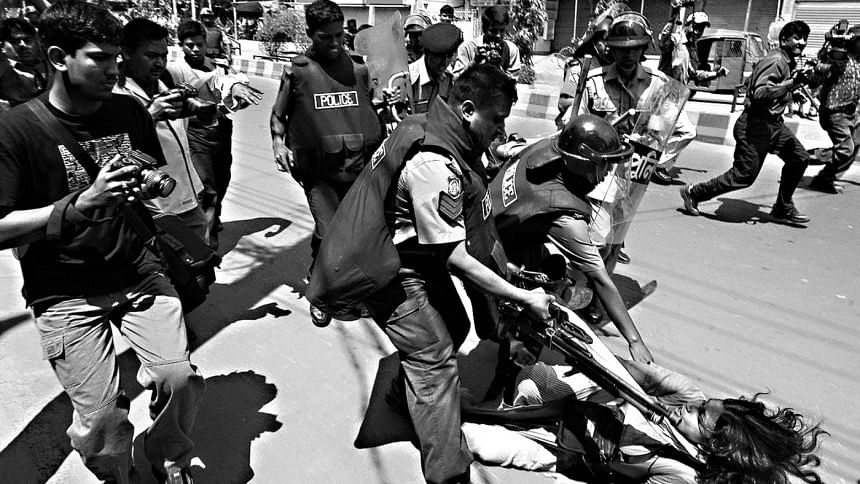 On 3rd May, after 12 am, I turned on my computer and began to write a short article regarding my missing father. I didn't know back then that I was about to get a call and would be able to talk to my father in two hours.
After speaking to my father, I confirmed with the police that he was indeed in Benapole police station, and that it was him that I talked to. Of course, I recognised the voice at the very first moment but after so many days of waiting and pain and drama, it was hard to believe that the ordeal was finally over. But I was soon going to find out it wasn't. Not even close.
I was on my way to Benapole when I was informed that my father was on his way to the court, and another case was filed against him (number 3). I waited in court and it felt like an eternity before he finally appeared. I saw him as the police were getting out of the auto-rickshaw. He was looking out from the inside to see if any familiar faces could be seen. I charged ahead and hugged him, told him I'm here. Seeing he wasn't wearing a mask, I gave it to the police officers who put it on. At the near end of the day, his bail was approved and the order to free him finally came. My lawyer ran to get the papers, and in that moment they took him out of the cell in court and put him in the prison van. But my father's bail was approved. I asked everyone there, "My father just got bail. Won't you let him go?" Only one officer replied in one word looking away from me: "No". I looked at my father's eyes as they were putting on his handcuffs. My father asked me, "Holo na?" I ensured him that he got bail for the BGB case, but they are holding him for something else. I told him not to worry, it's going to be over soon, unsure in my own heart. The lawyer came back and was in shock. He asked me what reason they gave me for taking him. His bail and order to be freed had been made. I looked around, wondering where they might have taken him.
Close to midnight, I got to know there was another case by another station. Number 4. The next day I somewhat understood what happened and got copies of the legal documents. Soon I found out we can't ask for bail before the court opens because we couldn't do it the day before in emergency court. I realised there's nothing more I could do. Considering my father's order to go home if nothing more could be done, I came back home. I entered our home the same way I left. Alone. A disappointment in the name of a son.
It is extremely difficult for my family and me to believe that even after struggling for 53 whole days, remaining in the dark about where my father Shafiqul Islam Kajol was, whether he was alive or dead, whether he will return or not, we still have to wait longer to be with him. What was the use of my mother filing a General Diary and me filing a case suspecting abduction?
The whole world is hostage to COVID-19. It is likely my father is exposed to the coronavirus due to the lack of preventive measures in jail. The jails are congested places. Even when my father is moved around by the police, they touch him, and do not maintain social distance. He is not a criminal. He is not a threat to anyone. People serving time have been allowed to go home due to coronavirus. My father still hasn't gotten the chance to present himself in front of a court due to courts being shut down.
We appeal to the Government of Bangladesh to consider my father's pre-existing health conditions and mental state and the mental trauma that we, his whole family, have been going through for the past 53 days. We appeal to the government to free my father and reunite him with us and drop all charges against him, out of humanity and out of kindness. We request everyone to come forward with their own efforts to help free my father, to Free Kajol. My mother, sister, and I are unable to eat, sleep or drink, as we are constantly worrying for my father's physical and mental health and exposure to coronavirus. Please help us.
Monorom Polok is the son of journalist Shafiqul Islam Kajol.