Human chain formed demanding ICU, PCR lab in Narayanganj hospital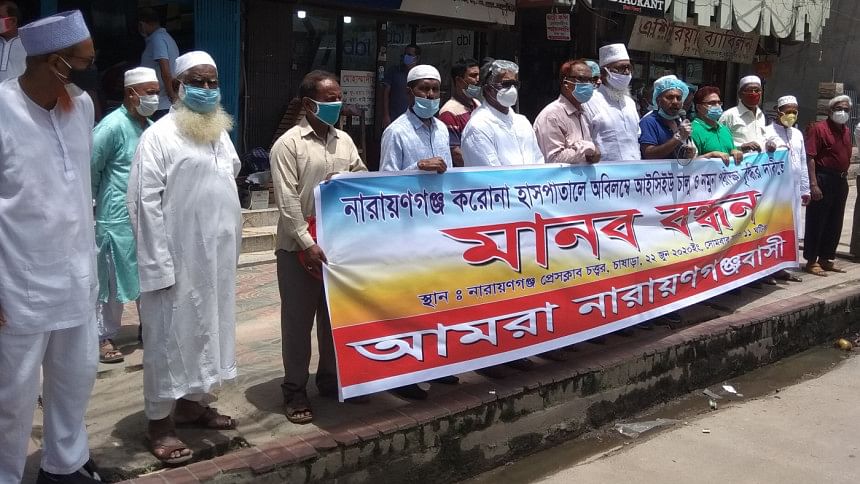 A number of Narayanganj city dwellers today formed a human chain in the Khanpur area demanding immediate installation of ICUs and PCR lab at Narayanganj 300-bed Hospital for treatment of Covid-19 patients.
They also issued an ultimatum and threatened to lay siege to the hospital and the department of health along with the city dwellers if the demands are not met by the next one week, reports our Narayanganj correspondent.
The announcement came from the human chain programme that formed under the banner of 'Amra Narayanganj Bashi,' a social and apolitical platform, in front of Narayanganj press club today noon.
Narayanganj 300-bed Hospital has been turned into a dedicated hospital equipped with PCR lab for providing treatment to patients diagnosed with coronavirus, but after a few days, the testing activities were stopped with a crisis of testing kits being shown as the reason, said Nur Uddin Ahmmed, president of the platform a freedom fighter.
The Directorate General of Health Services (DGHS) had earlier announced Narayanganj as a vulnerable area after Dhaka in terms of infection rate of the coronavirus, Nur Uddin said.
Prime Minister Sheikh Hasina assured two months ago that there will be a ward at the 300-bed hospital with ICU facilities but it has not yet been established, he said.
"There is no ICU, no ventilator facilities for Covid-19 patients, if a patient is admitted at the hospital he or she has to meet the tragic end of life without treatment," said Nur Uddin.
"We will go for a siege programme if the authority does not set up at least 10 ICUs at the hospital and resume coronavirus testing activities by the next one week," Nur Uddin warned.