45% of Dhaka dwellers exposed to Covid-19, IEDCR survey says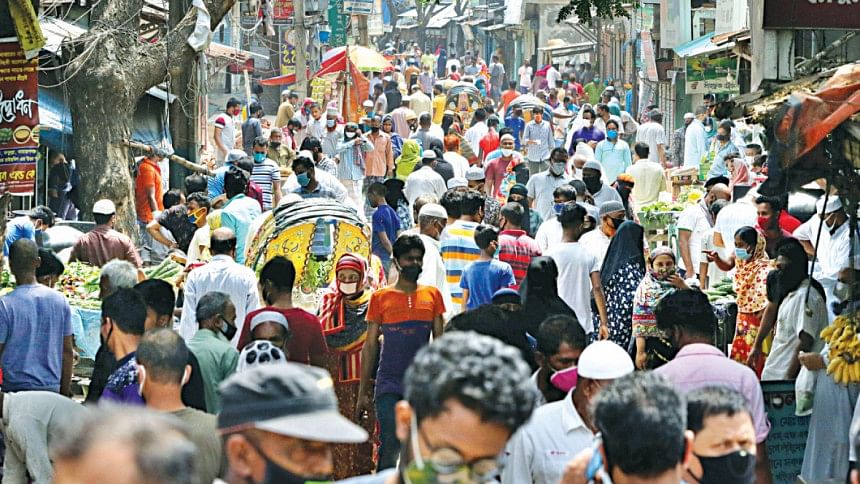 Around 45 percent of the people in Dhaka city have already been exposed to the coronavirus infection, said a study by the Institute of Epidemiology, Disease Control and Research (IEDCR).
The exposure among slum dwellers was much higher at around 74 percent, said the study based on data collected between April 18 and July 5 this year.
The findings were disclosed during a dissemination programme this afternoon in Dhaka.
During the programme, Dr Ferdausi Qadri, senior scientist of the icddr,b, said the areas surveyed had been exposed to the infection, adding, "The encouraging rate of seropositivity among the study population of Dhaka city indicates that we have started developing herd immunity against the novel coronavirus."
A total of 3,227 households were surveyed across the capital under the study which was conducted by icddr,b on behalf of the IEDCR.
The Bill and Melinda Gates Foundation and USAID supported the survey, the first-ever cross-sectional epidemiological one of its kind.
Summary of the detailed report was published on August 10.
READ MORE: Brace yourself for second wave
During the study period, 12,699 unique samples from 25 wards in Dhaka city were tested using the RT-PCR method and 9.8 percent, or nearly one in ten people, were found to be Covid-19 positive.
Of them, the highest 24 percent was for the 60+ age group, followed by 18 percent from the 15-19 age group.
During the study, researchers also observed some incidents of second time infections, but those were not part of the study.
Of the households surveyed, five percent had one or more family members who had Covid-19 symptoms.
In these households, 211 individuals were found symptomatic and of them, 199 were tested with RT-PCR tests. Of them, 30 percent tested positive for Covid-19.
On the contrary, 538 individuals from households with no symptomatic members were also tested. Of them, eight percent tested positive.
Additionally, 720 households in six slums in Dhaka city were also surveyed and six percent were found to be infected.
Overall, nine percent among all individuals in Dhaka city was estimated as RT-PCR positive, according to the preliminary study.