Coronavirus: Major disaster averted due to PM's timely intervention, say speakers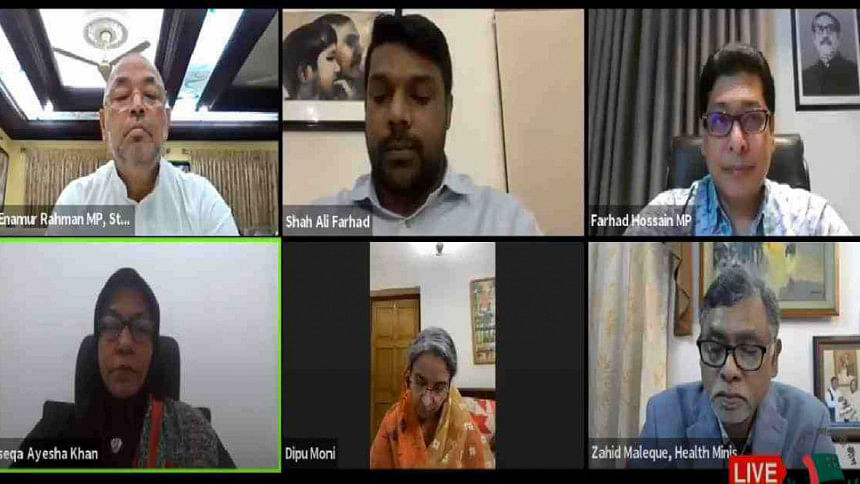 Speakers at a webinar have said Bangladesh has been able to avert a big disaster caused by coronavirus due to the timely intervention of Prime Minister Sheikh Hasina.
Shah Ali Farhad, special assistant to the prime minister, conducted the webinar titled 'Encountering Coronavirus situation in Bangladesh under the leadership of Premier Sheikh Hasina' arranged by Awami League last night.
Education Minister Dr Dipu Moni said Bangladesh has, to this date, demonstrated an incredible instance of success in dealing with the coronavirus spell.
"While different countries are still counting the accelerating death toll, Bangladesh has navigated itself from the coronavirus storm towards a fairly safe ground. While many countries have their economy rolling downward, the economy of Bangladesh, like before, is going forward. All these owe to the timely decision of Prime Minister Sheikh Hasina," she said.
Dipu Moni said nearly 1 crore families received relief distributed by Bangladesh Awami League and its associate organisations under the guidance of Sheikh Hasina.
"We lost many central leaders and grassroots-level leaders and activists who were out to the service of people in this storm that claimed their lives."
Health Minister Zahid Maleque said at the directive of the PM, 2,000 doctors and 5,000 nurses were appointed within 15 days, a feat that usually takes more than a year.
"When you have a prudent leader at the helm, you can deal with any disaster. We are equally equipped for the possible second wave of the virus," he said.
The Health Minister said they sent letters to the district committees to make people aware and took all steps that could be taken.
Public Administration Minister Farhad Hossain said, "Our administration was active on the field to keep people at home since the beginning of the lockdown. Studying carefully what is happening across the world, the PM directed, through video conferences, what should be done."
Even when the pandemic was accompanied by a natural storm, food and financial assistance reached people for 66 days in participation of public administration and local leaders, he said.
"It is due to the farsightedness of the prime minister and the participation of everyone, we could ensure the issues of skill and adeptness."
Enamur Rahman, state minister for disaster management and relief, said even upazila health complexes have also been equipped to treat Covid-19 patients.
On March 22, the prime minister directed distributing food among poor, helpless, and jobless people, he said.
Awami League's finance and planning secretary Waseqa Ayesha Khan said almost every day Prime Minister Sheikh Hasina, through video conference, inquired about the activities regarding coronavirus going on in different parts of the country.
Waseqa Ayesha also said, ""Never did we hear any news that someone died of hunger when the country is led by Sheikh Hasina, daughter of Bangabandhu. Her knowledge, wisdom, and vision helped us fight coronavirus."