Paediatric cardiac care in Bangladesh: what you need to know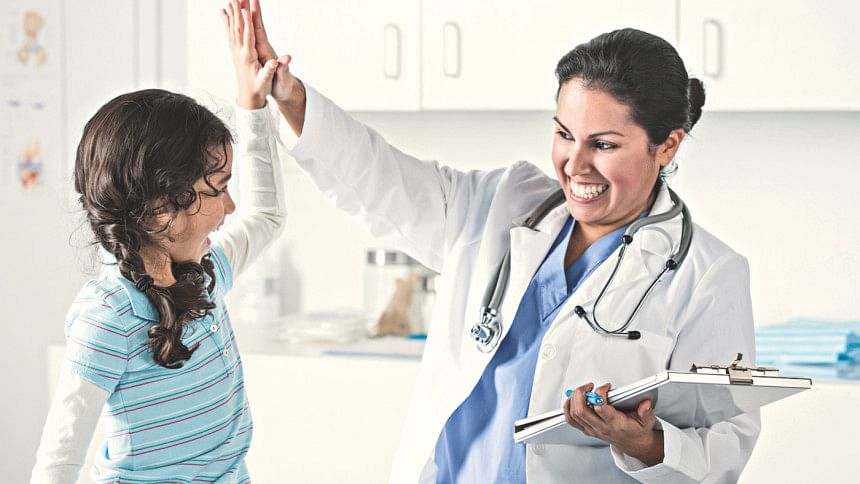 Like other developing countries, Bangladesh is facing a multitude of health problems. Paediatric heart problem is one of them. Heart diseases in children are of two types, one is congenital, and another is acquired. Congenital heart disease (CHD) is a defect in the structure of the heart or great vessels that is present at birth. CHD includes septal defects, defects in heart valves and vessels. Acquired heart diseases are defined as the conditions affecting the heart and its associated blood vessels that develop after birth. It includes myocarditis, cardiomyopathy, heart failure, hypertension, syncope, rheumatic heart disease, and so on.
There has been an enormous success in prevention and control of vaccine-preventable and infectious diseases in Bangladesh, including a successful fight against rheumatic fever and rheumatic heart disease. Congenital heart disease is diagnosed every 8 per 1000 live births. So more than 40,000 children are born with CHD every year in Bangladesh. Many of the CHD patients require surgery or catheter intervention in the early period of life and responsible for more deaths than any other type of malformation.
Symptoms of CHD may include bluish baby just after birth in spite of giving oxygen, bluish discolouration of skin and nail bed, tiredness during feeding or playing, repeated attack of pneumonia, poor growth, palpitation and chest pain etc. Due to the lack of facility and awareness, there is increased morbidity and mortality from CHD.
Resource limitation adds to the magnitude of this problem. About half of the affected babies with CHD fail to reach their first birthday due to a lack of proper management. Too often, referrals are delayed because of ignorance or limited knowledge of CHD or its natural history, inaccurate diagnosis and lack of awareness about available facilities.
Treatment is available only in few tertiary level hospitals in Bangladesh. Dhaka Shishu Hospital Paediatric Cardiac Centre is one of them. National Institute of Cardiovascular Disease, National Heart Foundation, Combined Military Hospital Dhaka and Ibrahim Cardiac Centre also has the facility to treat paediatric cardiac patients.
In developed and developing countries, there is a wide gap regarding paediatric cardiac care. Absence of paediatric cardiac centres, presence of cardiac centres only in large cities and the absence of specific health care policies in various countries are the reasons for this variation. Scarcity of paediatric cardiac care in public hospitals, the expense of treatment in private hospitals, lack of resources and trained personnel in this field and lack of awareness are the primary reasons due to which treatment of heart diseases is currently out of reach for a majority of children in Bangladesh. Due to a lack of resources, cardiac care inadequacy cannot be solved within a short period.
Awareness should be created regarding congenital and acquired heart diseases along with increased facility for prenatal diagnosis, routine newborn examination and screening, early identification of congenital and other acquired heart diseases and referral to specialised cardiac centres, development of skilled paediatric cardiac care professionals and logistics is necessary to improve paediatric cardiac care in Bangladesh.
The writer is the Head of Paediatric Medicine and Paediatric Cardiology at Bangladesh Institute of Child Health and Dhaka Shishu Hospital.