National Vitamin A Campaign
The chronicle of a health worker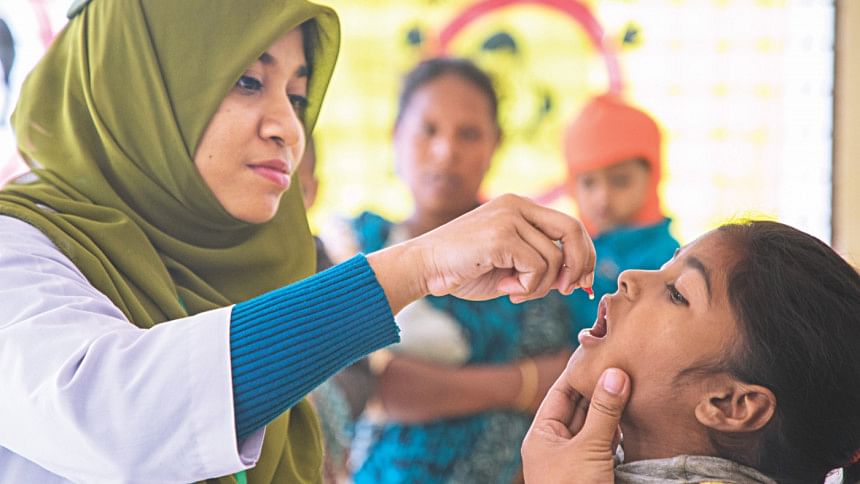 More than a hundred countries are affected by vitamin A deficiency. It is a global public health problem that causes serious conditions like child blindness, night blindness, and even death. In developing countries like Bangladesh, vitamin A deficiency is a public health obstacle. A country-wide vitamin A campaign is a significant strategy to supplement the population with vitamin A twice every year. Over the years, this campaign has evolved through several changes and improvements, through the association of non-governmental organisations (NGOs) like Nutrition International along with other civil society partners.
In a conversation with a medical technologist Pradumna Kumar Das, who works on the vitamin A campaign in the hard-to-reach area of Balaganj Upazilla of Sylhet district, we explored the importance of the campaign. When asked about his opinion regarding the usefulness of the vitamin A campaign, his response was spontaneous, "When I started working back in 1989, night blindness was like an epidemic. But, with the gradual growth and spread of vitamin A campaign, the frequency of the disease has notably reduced."
He explained how the campaign works. "We provide two kinds of capsules in the campaign – blue capsules for the infants aged 6-11 months and red ones for the children aged 12-59 months. Providing the capsules has done wonders to reduce vitamin A deficiency."
He drew anecdotes from his initial years of working on vitamin A supplementation. He memorised, "I used to live in a village with a small river, which I had to cross every day to go to work. The boat that I used to ride in had a boatman who could never reach his hand to collect money in the evening. I assumed that he had night blindness, but I was assured after I asked him, and he confirmed. I gave him the red capsules as per prescription, and fortunately, his eyesight was better in about two to three months." He further added, "This is when I truly understood the impact of the vitamin A campaign in reality. Now, the national vitamin A campaign has raised awareness among the people as well."
Mr Das quoted from his experience of more than 20 years to describe the reality of the situation back then. He said, "We would go to households and provide capsules, but people would throw them out. Now with NGOs like Nutrition International's help, the campaigns run more pragmatically. Instead of just providing the capsules, we help people consume them and make sure that they understand its importance."
Nutrition International has provided logistical and financial support to the National Vitamin A Campaign (NVAC). Additionally, it has designed the innovative 'Child-to-Child (CtC) Search Strategy' to reach children in the hard-to-reach areas of Bangladesh. Mr Das shared, "Balaganj Upazila has 14 unions, most of which are hard to reach. Before, we had to use our own money to reach those areas to perform our duties. But now, with the support of Nutrition International, the work is easier, and people are more motivated. They also provide volunteer honorarium, which did not exist earlier. The honorarium has helped in improving and increasing our workforce."
Speaking about the success of the NVAC, Mr Das said, "You see, these kinds of extensive campaigns are impossible to run in such adverse surroundings with low workforce and resources. Moreover, people were not even aware enough to cooperate with us. But because of Nutrition International's support, the campaign has gained momentum. It is now a huge success and runs twice a year with nearly 100 per cent efficiency."
There is always scope for improvement. While Bangladesh has achieved tremendous progress in conducting a nationwide Vitamin A supplementation, it is essential to mainstream it as a part of the National Immunisation Programme. A successful vitamin A campaign in Bangladesh will give future generations a chance to a healthier and more productive tomorrow.
The writer is a Programme Coordinator - Health Systems at Nutrition International Bangladesh. Email: [email protected]