Targets to eliminate TB within a generation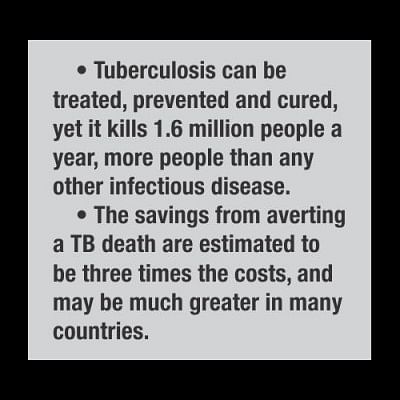 A world free of tuberculosis (TB) is possible by 2045 if increased political will and financial resources are directed towards priority areas including providing evidence-based interventions to everyone, especially to high risk groups, and increasing research to develop new ways to diagnose, treat, and prevent TB. Funding this response will require substantial investments, and accountability mechanisms will be necessary to ensure that promises are kept and targets are reached.
Published ahead of World TB Day today, The Lancet Commission on TB estimates that there are significant financial benefits of reducing TB mortality — the savings from averting a TB death are estimated to be three times the costs, and may be much greater in many countries.
TB remains the leading infectious killer of our time, responsible for 1.6 million deaths worldwide in 2017, with drug-resistant forms of TB threatening control efforts in many parts of the world. In addition, in 2017, around a quarter of the world's population were living with TB infection.
The World Health Organisation (WHO) first declared TB a public health crisis in 1993, and in 2018 the first-ever UN High-Level Meeting (UNHLM) on TB made ending the disease a global priority. This included ambitious goals to treat 40 million people, and to prevent 30 million new cases between 2018-2022.
The Lancet Commission on TB makes policy and investment recommendations to countries with high levels of TB and their development partners.
Scaling up existing interventions and reaching high risk groups
The first priority for most high burden countries is to ensure that high quality diagnostic tests and treatments are available for all people with active TB.
Many people with TB, especially the poorest, cannot access or afford services, and health systems are often slow to identify and investigate cases, meaning patients do not complete treatment or recover. Currently more than a third of TB cases (35%) are not diagnosed or treated. The authors call for universal access to drug susceptibility testing at diagnosis to ensure that all patients are given appropriate treatment, including access to second-line treatment for drug-resistant TB.
Identifying groups at high risk of TB infection (including people with HIV, people living in the same house as someone with TB, migrants, prisoners, health care professionals, and miners) and bringing them into care will be vital, including offering TB prevention, such as treating latent TB. This is particularly important in people with HIV, where risk of co-infection is high and TB is the leading cause of death.
Once high-risk populations and those already in care have access to affordable, high quality services, introducing universal health coverage is needed to help countries find remaining TB cases.
Investing in TB
However, even if current treatments were extended to 90% of people with TB, and 90% were successfully cured, existing efforts would have failed to avert 800,000 deaths in 2017. Global research investment needs to increase by up to four times (from US$726 million in 2016) to develop treatments and prevention tools that would transform TB outcomes.
Affected countries, donor nations, private sector, and philanthropies must also devise effective financing strategies to end the TB epidemic.
Source: The Lancet