PM inaugurates BSMMU Super Specialized Hospital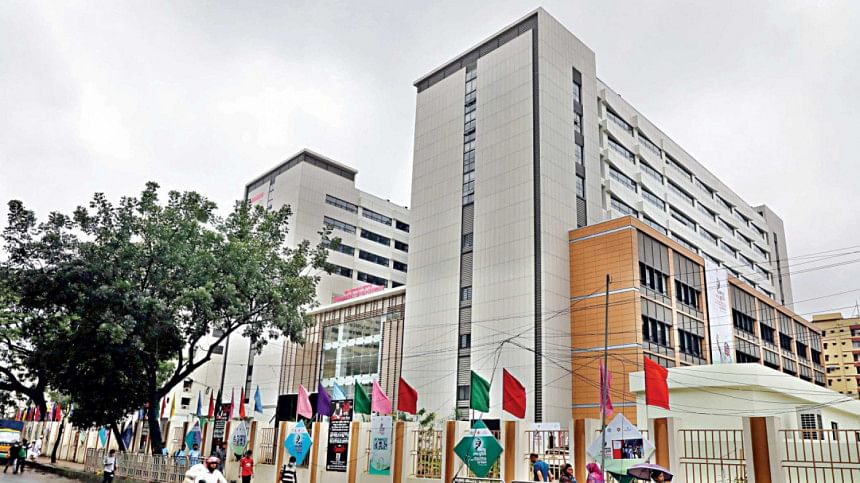 Prime Minister Sheikh Hasina today (September 14, 2022) inaugurated the much-awaited Bangabandhu Sheikh Mujib Medical University (BSMMU) Super Specialized Hospital, first of its kind in the country, aiming to provide specialised treatment at a cheaper cost.
The premier joined the inauguration ceremony virtually from her official residence Gono Bhaban.
With state-of-the-art equipment and modern operation theatres, the hospital will provide treatment to all critical patients referred by any public or private hospital, or a physician. Some 5,000-8,000 patients will receive outdoor services at the hospital.
This specialised hospital will be an alternative option for many Bangladeshis opting to go abroad for treatment.
Officials said the hospital will have 750 beds. There will also be 14 ultra-modern operation theatres, a 100-bed Intensive Care Unit, a 100-bed emergency unit, six VVIP and 22 VIP cabins, and 25 deluxe cabins.
The specialised services include bone marrow transplant, gene therapy, and robotic surgery.
There will also be six designated centres for particular medical needs, while each ward will have eight beds.
The six designated centres include those for specialised autism, maternal care and childcare, emergency medical care, hepatobiliary and gastroenterology, cardiology and cerebrovascular diseases, and nephrology at the primary stage.
Around 1,500 healthcare staffers including 300 physicians will provide services to the patients in the hospital.
To this end, at least 120 doctors, nurses and other officers have already received training in South Korea.
Every activity of the hospital will be done through an automated system, and patient data would be recorded for 100 years.
This project was taken up in 2016 with a view to increasing BSMMU's capacity by providing treatment for general and complex diseases, establishing a "safety net hospital" through modernisation of medical care and management, and ensuring skill development of professionals.
Of the total cost of Tk 1,561 crore, South Korean government's Economic Development Cooperation Fund has provided Tk 1,000 crore, while the government allocated Tk 330 crore and BSMMU contributed Tk 170 crore.