Could vaccines turn the tide in the fight against dengue?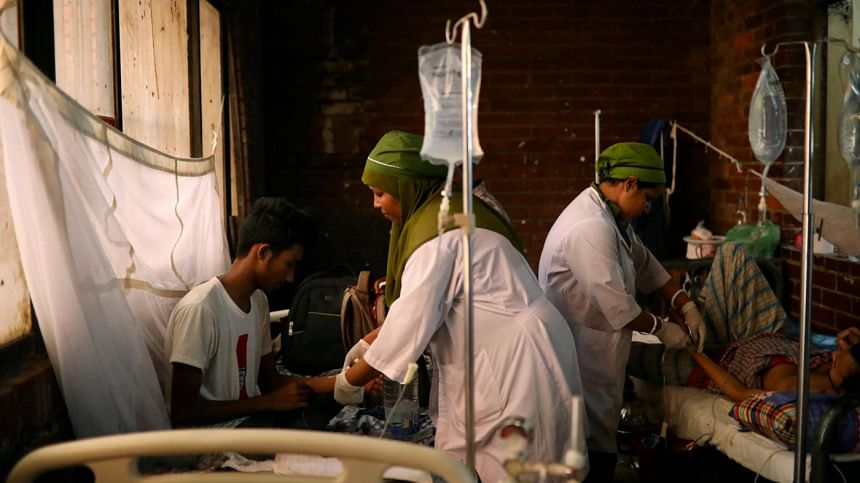 The government's fight against the scourge of ever-increasing dengue infections has proven to be futile.
There has been an almost 20-fold increase in yearly dengue cases in the past two decades. Health directorate data shows that cases have gone up to a lakh a year.
A new dengue vaccine shows promise in this context, experts said, but with caveats.
The new vaccine, called Qdenga, was developed by Japan's Takeda Pharmaceuticals Ltd.
The vaccine is based on one strain of Dengue called serotype 2, with components of three other strains attached. The inoculation comprises two shots, applicable for individuals four years of age and older.
The first trial for the vaccine was held in the Dominican Republic, Panama and the Philippines among 1,800 people, and reportedly, the drug produced an immune response against not just serotype-2 but all four variants.
The vaccine provided immunity for four years, found in the first-phase trial.
In a second-phase trial, more than 20,000 participants from Asia and Latin America were administered the vaccine and it was found that immunisation reduced hospitalisation by 84 percent, and prevented dengue among 61 percent. No safety risks were observed.
Speaking at a scientific session on the sidelines of the 20th International Congress on Tropical Medicine and Malaria in Bangkok, Thailand on October 26 this year, Takeda researchers said they are looking at the overall efficacy.
Experts suggested that the government should consider running a safety, efficacy and acceptability trial of this vaccine, which has been approved in Indonesia and received positive opinions from a European Union advisory panel.
"As we could not succeed in mosquito control, vaccination can be an option. But there is a need for a field-level trial to examine the safety, efficacy and acceptability of this Dengue vaccine [Qdenga]," Dr Benazir Ahmed, a former member of the National Immunization Technical Advisory Group (NITAG) of the health ministry told The Daily Star yesterday (Thursday).
Experts, however, are still sceptical about the vaccine being equally effective against all four strains.
"As a pharmaceutical company, they [Takeda] have found that their vaccine works well in some cases. But there are concerns too. In the Philippines, children who received dengue vaccine [Sanofi's Dengvaxia] developed a more severe condition afterwards," Prof MA Faiz, former director general of the Health Services at DGHS, who attended the conference, told this newspaper.
In 2015, Sanofi Pasteur introduced the first vaccine for dengue fever. But the vaccine lost its appeal as it was soon found to be suitable only for people who had previously been infected with Dengue.
Approved by the US-FDA, this vaccine can now only be administered to children and adolescents 9–16 years old with laboratory-confirmed previous dengue virus infection and living in an area where dengue is endemic, according to the US Center for Disease Control and Prevention.
"[So], we cannot use it until independent bodies like GAVI, the World Health Organization or the Unicef recommend it," Prof MA Faiz said.
He, however, opined that there is a need for discussion on this vaccine from now on. "If the vaccine is recommended, we have to use it…our respective technical committee can discuss different aspects of the vaccine potentials.
"We already have been informed about it. We will now go through the study report and discuss it with my team [NITAG]," Prof Khan Abul Kalam Azad, head of the NITAG, told The Daily Star.
About the field-level trial in the country, he said, "If Bangladesh can be a part of the trial, we will know whether the vaccine does work in our people or not. But we are not saying that we are interested in Takeda's vaccine until the study is completed in Indonesia and approved by the [US]-FDA."