Why is dengue becoming such a serious public health threat?
This year's dengue epidemic pattern is unusual. Over 50 percent of total cases have been reported in October, whereas in the past, dengue cases dropped around this time. During the country's largest outbreak in 2019, only eight percent of total cases were recorded in October, while it was 19 percent during the 2021 outbreak. This data indicates that the seasonality of dengue is shifting in a changing climate. One recent study projected that dengue transmission could occur all year round in Bangladesh because of climate change.
Dengue, the fastest spreading mosquito-borne disease, has been ranked by the World Health Organization (WHO) as one of the top 10 global public health threats. It has spread to 129 countries, with 400 million annual infections and 40,000 deaths. In Bangladesh, dengue was first documented as "Dhaka fever" in 1964, with the first official outbreak occurring in 2000.
The extraordinary genetic diversity of the dengue virus has particularly contributed to the severity of these outbreaks. There are four different types of dengue virus, and research shows that dengue complications increase with variations in virus types. If you are infected for the first time, your body will produce protective antibodies that make it less likely to get infected with that same type. However, if you are subsequently infected with other types, it can be clinically more complicated than before, the severity of which will only increase with further infections. Nearly 75 percent of people with first-time exposure to dengue have no symptoms, which is also a major concern.
Studies have revealed that the clinical spectrum is changing as well, with an increasing trend of gastrointestinal symptoms (such as vomiting, abdominal pain, diarrhoea, and constipation), while symptoms of bleeding and joint pain are decreasing. Worryingly, Dengue Shock Syndrome (DSS) has increased by up to 10 times in recent outbreaks. Our clinical experience suggests that dengue is likely experiencing an epidemiological shift towards becoming a more severe illness in Bangladesh, with young adults being predominantly affected.
In the past three years, dengue has also spread into non-endemic areas such as district towns. Nearly half of all cases (48.4 percent) were recorded from all 64 districts during the biggest 2019 epidemic. Similar circumstances were observed in 2021, where 20.4 percent of cases were documented from regions other than Dhaka. Currently, the ongoing 2022 epidemic has seen more than one-third of all cases recorded outside Dhaka city. Based on the analysis on the southern districts, Jashore, Pabna, Cox's Bazar and some districts in Barishal division appear to be potential dengue hotspots in coming years.
Until 2018, dengue outbreaks were mainly confined to Dhaka city. Although there were cases reported from outside Dhaka, it was not possible to confirm whether they contracted mosquito bites locally. Research suggests that dengue probably spread across the country during the 2019 Eid holidays, when about 10-12 million people from Dhaka travelled to different parts of the country. At the time, most of the cases were reported from Dhaka city till Eid, but after the Eid holidays, dengue cases outside Dhaka started to increase, with four to seven times more cases being reported from some of the southern districts. Later in 2019, a hospital-based study found 262 dengue patients who had not travelled to Dhaka before come to the city for treatment. Later, another study confirmed this hypothesis. This year's dengue epidemic in the Rohingya camps also confirms that dengue is spreading nationwide.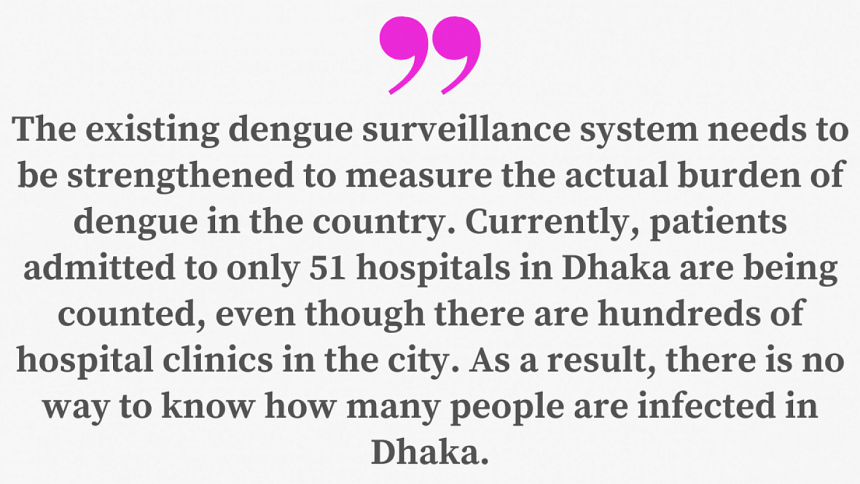 Factors that act as catalysts for the spread of dengue include unplanned urbanisation (which creates habitat for mosquitoes) and climates conducive to the spread of Aedes mosquitoes. If we consider suitable temperature and rainfall, every district in Bangladesh is conducive to the spread of dengue mosquitoes, which have been found across the country. Rapid unplanned urbanisation (and subsequent waterlogging) over the last decade has further contributed to this. For example, according to our recent study, urbanisation in Jamalpur sadar upazila has increased eightfold in the last 30 years.
In this context, what are the priorities in terms of public health preparedness? The existing dengue surveillance system needs to be strengthened to measure the actual burden of dengue in the country. Currently, patients admitted to only 51 hospitals in Dhaka are being counted, even though there are hundreds of hospital clinics in the city. As a result, there is no way to know how many people are infected in Dhaka.
According to a multinational study, an estimated 2.4 million people are infected with dengue every year, mostly in Dhaka. On the other hand, at the district town level, only government general hospitals are under surveillance. Notably, 70 percent of patients in Bangladesh seek treatment in private healthcare facilities. How can we truly understand the spread of dengue without adding every hospital and diagnostic centre to the surveillance system?
District-level healthcare support systems must be developed to prevent public health disasters. Treating critical dengue patients requires tertiary care hospitals, and often, ICU support. District-level hospitals are not equipped to treat such severe dengue patients.
Finally, even though dengue is caused by mosquito bites, there is a poor correlation between mosquito density and large, severe outbreaks. Disease severity and major outbreaks depend on the type of virus circulating in the environment. Therefore, a molecular warning system is required to track the changes in the dengue virus throughout the year. At present, this issue is mostly neglected. So far, the government has not taken many initiatives to engage the community in mosquito control. Going forward, empowering the community will be critical in managing the impending dengue crisis in Bangladesh.
Dr Mohammmad Sorowar Hossain is associate professor at the School of Environment and Life Sciences of Independent University, Bangladesh (IUB), and executive director at Biomedical Research Foundation, Bangladesh.