Coping with Pandemic
Locals raise Tk 16 lakh in five days to install central oxygen supply
50-bed Birganj Upazila Health Complex now has an oxygen supply outlet next to each bed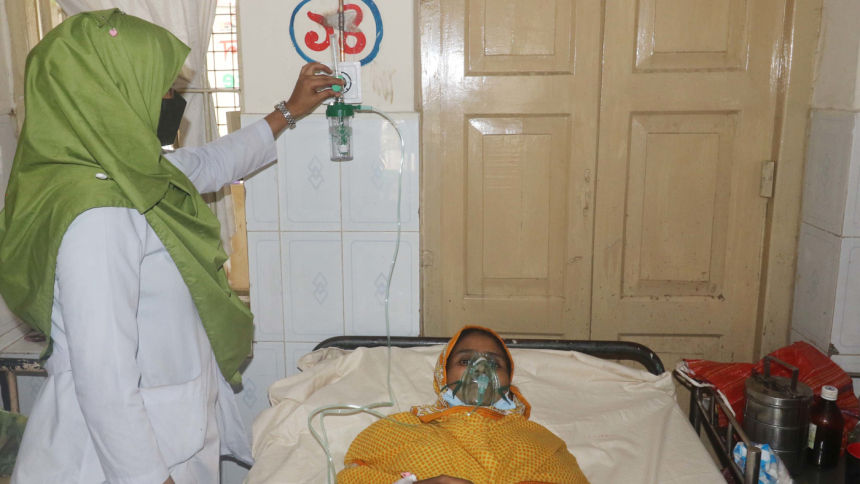 Belongingness, willingness, compassion and leadership go a long way when it comes to overcoming any difficult situation or task.
The people of Birganj, which means land of the brave, have just proved that they have all it takes to overcome any situation and the naming of their birthplace is justified.
Thanks to the timely initiative of a local business owner turned politician, a number of warm-hearted residents of Birganj upazila in Dinajpur raised necessary funds in five days to install a centralised oxygen supply system for every bed in 50-bed Birganj Upazila Health Complex.
When many high-priority government-run district hospitals are yet to get central oxygen supply system, the authorities of Birganj Upazila Health Complex, with oxygen outlet available for every bed, is now capable of assuring their critical Covid patients of best possible care. 
Serving a population of 3 lakh, the health complex had so far been unable to treat critical patients with Covid-19 since the pandemic broke out in the country in March last year.
Zakaria Zaka is a business owner and president of Awami League's Birganj upazila unit. He said after he found out that the health complex was not equipped to cope with the rising number of Covid patients with its existing eight oxygen cylinders, he put his mind to find a solution to the ominous scenario.
On July 19, he met with officials of the health complex to assess what is required to solve the longstanding problem at the hospital. Soon afterwards, he conveyed the assessment to a firm that builds and delivers central oxygen supply systems to medical facilities. 
Following site visit, the firm provided him a Tk 16-lakh estimate for the job and Zakaria formed a committee of 23 members to raise the fund.
Thanks to the generosity of Birganj residents, the entire amount of the required fund was raised by July 31 -- only five days after they started going from door to door in Birganj, Zakaria said.
The firm took five days to install a 360-kg upgradable oxygen reservoir for the centralised system and 50 wall outlets for supplying oxygen to patients in all the 50 beds of the hospital.
The final bill the firm collected was Tk 14 lakh, said a thankful Zakaria.
Mohammad Mohsin, health and family planning officer at the health complex, hoped that the situation would now improve at the hospital that had been struggling to provide proper oxygen support to critical patients in all its four wards, including its Covid isolation ward.
A 42-year-old Covid patient, who took treatment at the hospital a week ago, said she realised how dangerous it could get if proper oxygen supply is not provided to a patient in time.
She hoped that government hospitals in other upazilas would follow the example of Birganj Upazila Health Complex in getting their own centralised oxygen supply systems.
During the inauguration of the central oxygen supply system at Birganj Upazila Health Complex on August 11, Dinajpur-1 (Birganj and Kaharol) lawmaker Manoranjan Shil Gopal, while speaking as chief guest, said the people have done what the government could not do.
This proves that every problem can be solved if the people want it, the MP added.
According to health officials in Dinajpur, at least 480 people tested positive for Covid-19 in Birganj upazila since March last year and 13 of them, including a staff member of Birganj Upazila Health Complex, died of the disease.