Detox for a healthy life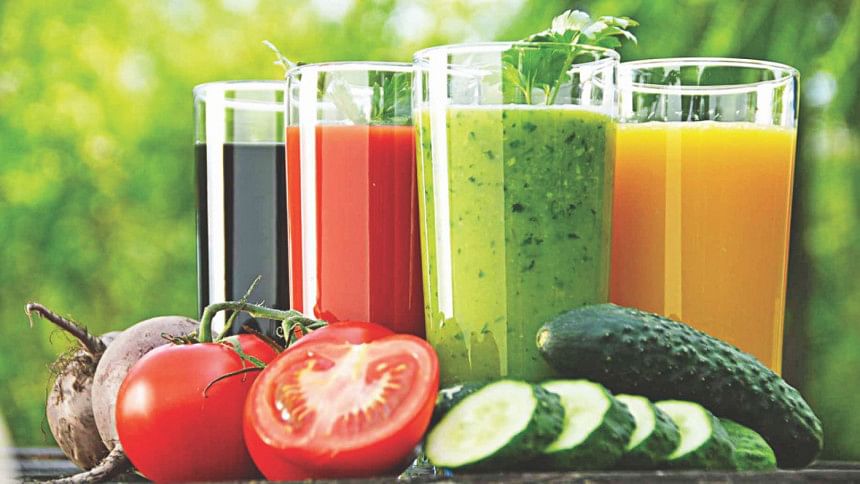 Detoxifying body means total body regeneration. Detoxification amazingly improves your immune system, energy level, complexion and texture of skin, weight loss, mental alertness, and overall health condition. Our body needs total care through diet and lifestyle as our bodies are being contaminated by gene damaging chemicals, toxins and pollutants every day.
Detox diet: Revive your body through antioxidant therapy, antioxidants fight with free radicals and reduce toxin level. Hydrogen is the most powerful antioxidant; it is called fuel of life. Enrich your meal plan with hydrogen containing food like fresh raw food, good fat and animal protein. Preservatives and wrong cooking process may help to reduce hydrogen levels in food. Try to prepare food in a healthy way and save hydrogen.
Detox drink: If you want to live a long vibrant life start and end your day with detox drink - It helps balance your body's ph. Easily available seasonal fruits, vegetables and herbs are the best ingredients for detox drink. Add few slices these with water and make your refreshing drink. Apple cider vinegar speeds up detoxification with its acetic acid and probiotics. Green tea and jasmine tea is amazing beverage for skin. They are rich in phytonutrients which help hydrate skin making fresher and plumper. Dry skin is more prone to ageing.
Detox the mind: Detox mind means pure inside out. Relax your mind. If you feel good you will look good and good things will happen. Fit in a nap, watch a funny movie and spend quality time with friends and family, also keep participating in favorite activities. The science behind the fasting for detox is during fasting our body takes a complete break from food. Surprisingly our body needs this break to repair the damage from trauma and toxins.
Go sweating: Steam bath and sauna room in your gym or home is not a luxury these days. Once you sweat it helps you to cleanse impurities through the skin. Soaking in a detoxifying bath with Epsom and sea salt 3 times per week for 20 minutes can help clear toxins and dead cells from the pores of your skin. Running, jogging, cycling, heat yoga and swimming are all natural exercises which make you sweat.
Dry brushing skin: This detoxifying process may sound daunting, what could a dry brushing detox do for you? It is great for the lymphatic system. Brush your body in a slow circular motion, before shower. As metabolic end products accumulate in body when we sleep, morning is the best part of the day for this detoxifying procedure. Soft pumice stone, natural bristle brush is wonderful dry brushing tools.
Detoxification does not have to mean compromising your skin care routine and with just a few tricks, it will take a few weeks to notice the difference. Start a detox routine, stay healthy.