Yes, they can
PM praises women of Bangladesh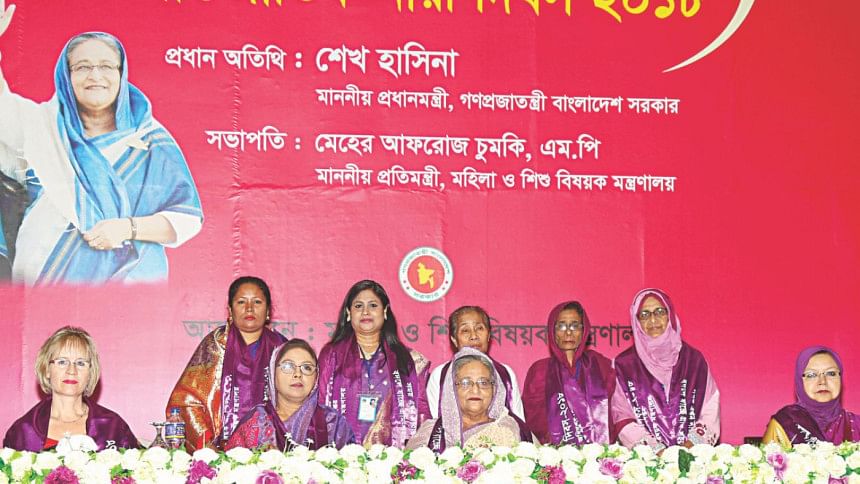 Prime Minister Sheikh Hasina yesterday said the country would move faster towards prosperity if men and women could work together.
"A country will move forward if men and women can work together. Our aim is to make the country prosperous and free of poverty," she said.
Hasina was speaking at a programme marking the International Women's Day in the city's Bangabandhu International Conference Centre.
She said if women in a society are left behind, it cannot stand up with dignity.
Bangladesh has proved that women can do many things which cannot be done by women in many developed countries, she said. "Women of Bangladesh have showed they can."
The success of women is seen everywhere in Bangladesh and they are now on a par with their male counterparts in education, sports and creative works, the PM told the programme.
She mentioned that the country's women were holding high positions in all sectors like the administration, judiciary, education as well as in the armed forces and law enforcement agencies.
Hasina called upon women to take every step with confidence and dignity.
Stressing the need for greater participation of women in politics for women empowerment, she said women's participation in politics has increased to a great extent due to initiatives taken by the current government.
In Bangladesh, the prime minister, the Speaker, the opposition leader and the deputy leader of parliament and a whip are women.
She said 30 percent seats in local government bodies like the union and upazila parishads, municipalities and city corporations have been kept reserved for women.
Referring to formation of some development committees in the union and upazila parishads with women at the helm, the premier said women were playing an important role in decision-making while they were working to utilise opportunities.
Recalling the role of Father of the Nation Bangabandhu Sheikh Mujibur Rahman in upholding the dignity of women, she said Bangabandhu had ensured their equal rights in all spheres of life.
About Bangabandhu's various steps for the rehabilitation of mothers and sisters who were tortured by Pakistani occupation forces and their local collaborators, she said many parents did not want to take back their daughters.
"Bangabandhu had arranged marriages for those girls and told my mother to write his name [Sheikh Mujibur Rahman] as their father and 32, Dhanmondi as the address of those girls who did not want to disclose their identities."
The women and children affairs ministry organised the function, with State Minister for Women and Children Affairs Meher Afroz Chumki in the chair.
Mia Seppo, UN resident coordinator and UNDP resident representative in Bangladesh, was present as a special guest.
Earlier, the PM distributed Joyeeta awards among the winners for their achievements in life.