Their worst fear comes true
Say slain secular activist's dear ones; despite threats, Nazim chose to keep writing; UN, EU, Amnesty condemn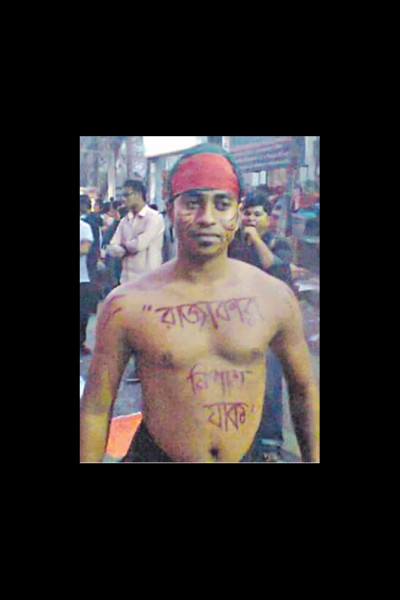 Friends and well-wishers of slain secular activist Nazim Uddin Samad had conveyed to him their concern over his safety, but he chose to continue his writing rather than stay silent.
A Facebook conversation between Nazim and one Azharul Islam on March 31 last year shows that the latter wrote to Nazim, "I am concerned about your safety. Be a little cautious. You know what is happening around…"
In response, Nazim wrote, "I am also scared… scared of untimely death. But what can I do, sir? Perhaps it is better to die than to live with your head down." He posted a smiley symbol at the end of his message.
Nazim, a law student at Jagannath University, was shot and hacked to death by unidentified assailants on the capital's Hrishikesh Das Lane on Wednesday night for what his friends and family believe was criticising fundamentalism.
His elder brother Shamimuddin, who lives in London, told BBC Bangla Service that they were worried about Nazim's safety, and he had repeatedly asked his younger brother to stop writing about religion on Facebook.
Shamimuddin said Nazim deactivated his Facebook account for a while following insistence from him and the other two brothers.
Last year, four online activists and a publisher were brutally killed because of their secular writings and views.
Nazim's Facebook timeline shows he openly criticised religious bigotry in his status updates.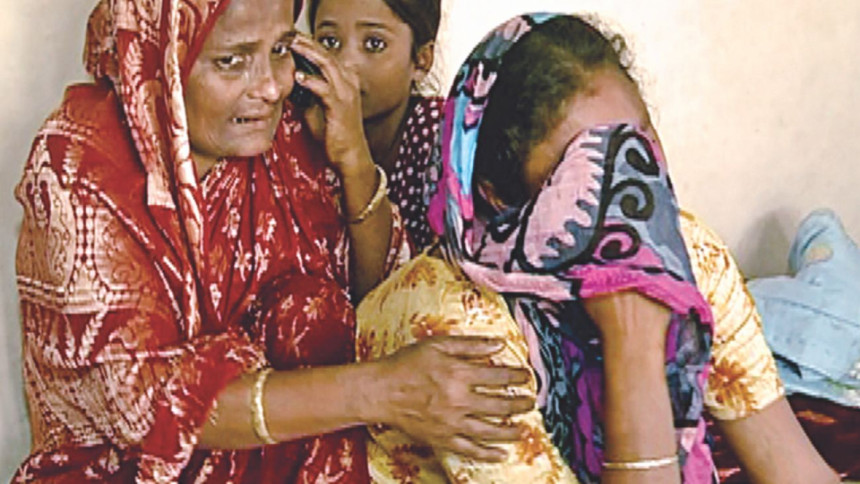 In a picture posted on his timeline, he is seen demonstrating with the words "Razakar Nipat Jaak" [down with razakars] written on his body.
Talking to BBC Bangla Service, Home Minister Asaduzzaman Khan Kamal said the government is looking into whether Nazim wrote anything "objectionable" on blogs.
An investigation into the killing is going on, he said.
Sources at Sir Salimullah Medical College Morgue where Nazim's body was sent for autopsy, said he was shot on the left side of his head from close range. The bullet pierced his skull.
There were three deep stab wounds on the right side of his head, they added.
The victim's nephew Zahidul Huq Suman told The Daily Star that Nazim's three brothers live in London.
"My uncles tried to take him to London, but he preferred to stay in Bangladesh and become a lawyer," he said.
Nazim's younger sister Nasima Begum said her brother was supposed to travel to their house in Sylhet yesterday. She said her mother, who has been suffering from old-age complications for months, couldn't believe that her son was no more.
"My brother was a friendly person. He moved to Dhaka several months ago for higher studies," she said while trying to choke back tears.
Nazim, son of Abdus Samad of Beanibazar's Tilpara union in Sylhet, was the fourth among eight siblings. His father and elder brother Julhash Uddin died years ago.
His fellow JnU students demonstrated on their campus from 10:00am to 2:30pm yesterday, and also brought out processions.
They decided to hold a rally at Shahbagh at 3:00pm today, and also threatened to go on strike for an indefinite period from Sunday unless the killers are identified and arrested by tomorrow.
Talking to this correspondent, Alauddin Sheikh, sub-inspector of Sutrapur Police Station, said police filed a murder case against four to five unknown persons over Nazim's murder as the victim's family was not "willing" to lodge a lawsuit.
Nazim's cousin Shamim Ahmed said they wouldn't file any case over the incident. "We leave the matter to police," he added. 
Nazim's grisly murder has sparked widespread condemnation from local and international rights bodies that have voiced grave concern over the incident and urged the authorities to act promptly.
In a statement yesterday, Robert D Watkins, United Nations Resident Coordinator in Bangladesh, called upon the authorities to "adequately protect" online activists.
Urging the authorities to ensure a quick end to such atrocity, Watkins said, "In spite of the recent pause in the assassination of online activists, this attack demonstrates that this new killing is clearly part of a growing trend which undermines the freedom of expression and opinion in Bangladesh."
European Union Ambassador to Bangladesh Pierre Mayaudon also strongly condemned the killing.
Offering condolences to Nazim's bereaved family and friends, he hoped the perpetrators be brought to justice soon.
International rights body Amnesty International in a statement said vicious killing of another secular activist is a reminder that the authorities are failing to protect people exercising their right to freedom of expression.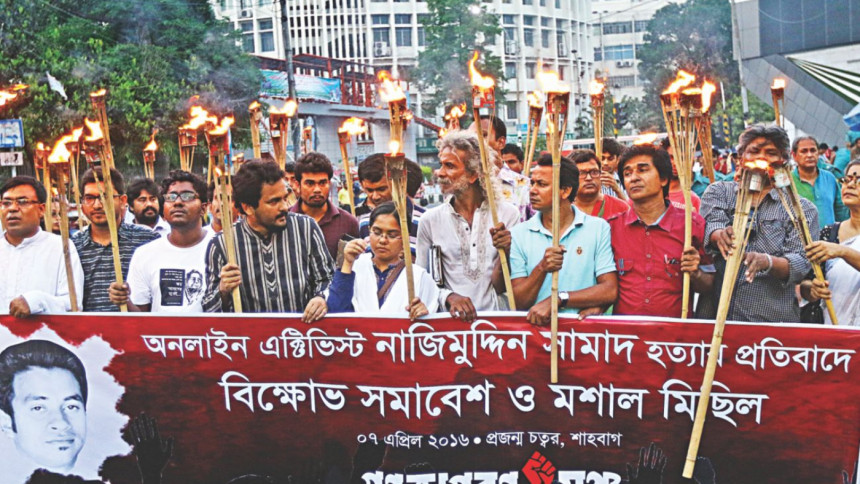 "There can be no justification for the brutal killing of Nazim Uddin Samad, who has apparently paid with his life for nothing but being brave enough to speak his mind. This is not just a senseless murder, it is a blatant attack on the right to freedom of expression."
Those responsible for the killings of secular activists must be held to account, anything less will send a signal that these attacks are tolerated and permitted by the government, it added.
Amnesty International also urged the authorities to ensure that activists and writers who are under threat are effectively protected.
UNB reports: The Committee to Protect Journalists urged the government to find out the motive behind the murder and take immediate steps to bring his attackers to justice.
"Bloggers like Nazim Uddin Samad are vital to ensuring a diversity of views. But one by one, extremists are silencing these voices, while the government looks on," CPJ's Asia Programme Senior Research Associate Sumit Galhotra said in a statement.
The government should take immediate steps to arrest Nazim's murderers and protect vulnerable bloggers, he said.
The Center for Inquiry, a US-based organisation that promotes secularism, expressed outrage over the killing.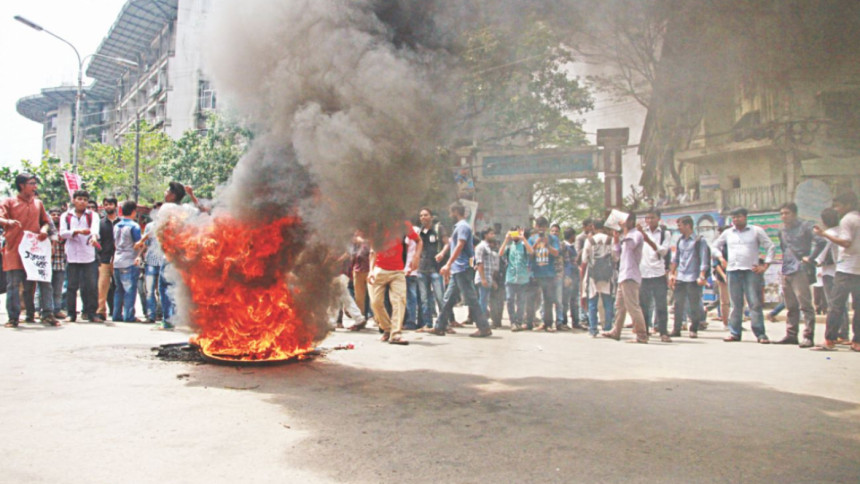 "It is both heartbreaking and maddening to think that this bright and passionate young student, with his whole life ahead of him, was so brutally and callously murdered, almost certainly by Islamic extremists, all because he spoke out for secularism and reason. All of us at the Center for Inquiry extend our deepest condolences to his friends and family," said Michael De Dora, CFI's director of public policy and main representative to the UN.
In a statement, Ain O Salish Kendra said recurrence of such an incident proves that the government and law enforcers failed to investigate and identify those who had committed similar crimes before.
In the meantime, Gonojagoron Mancha held a rally at Shahbagh in the capital to protest the killing and also brought out a torch procession on Dhaka University campus in the evening.
Talking to The Daily Star, Hasan Shahriar, spokesperson for Beanibazar Gonojagoron Mancha, said, "Nazim was an activist of secular movement and Gonojagoron Mancha. He was very liberal and we suspect he was killed by militants."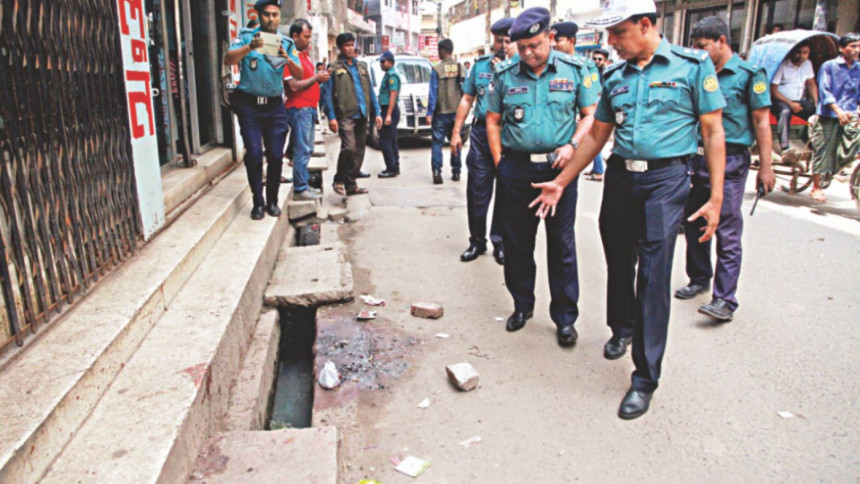 In Sylhet, Gonojagoron Mancha announced that it would stage a protest and bring out a procession at 5:00pm today.
Debashish Debu, spokesperson for Sylhet Gonojagoron Mancha, said the pattern of the killing fits that of the other similar attacks on secular activists by radical Islamist groups over the past few years.
Since February 2013, five secular online activists and a publisher were hacked to death with sharp weapons in a similar fashion.
Bloggers Avijit Roy, Niloy Neel, Ananta Bijoy Das, Oyasiqur Rahman Babu, and Jagriti Prokashoni owner Faisal Arefin Dipan, publisher of Avijit's books, were murdered last year.
Earlier in February 2013, blogger Ahmed Rajib Haider, also a Gonojagoron Mancha activist, was hacked to death near his home in Mirpur.