Where babies safe without mothers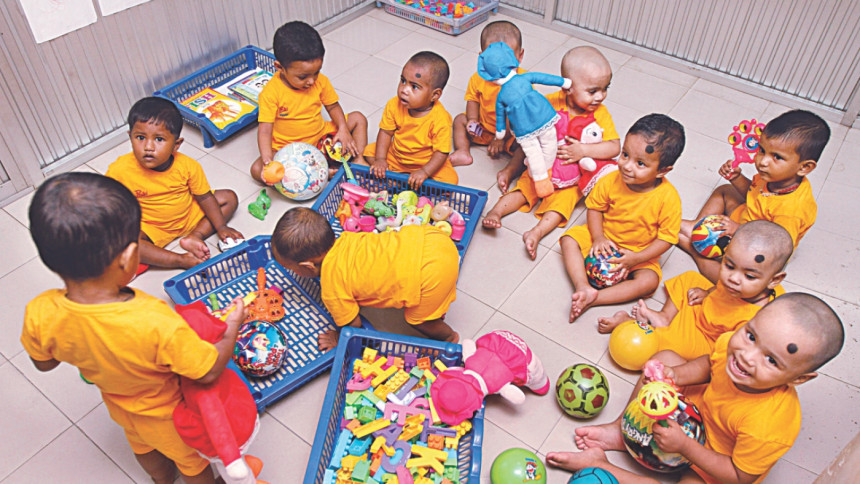 Entering HR Textile Mills Limited in Savar, one would be surprised to see babies playing and mumbling in a 3,500-square-feet area designated for childcare.
The facility has everything necessary -- indoor playing area, sleeping and breastfeeding corners, a toilet, a pantry and a kitchen -- to ensure the babies left there by female employees get everything they need during work hours. 
While day-care centres for children are still a rare thing at workplaces in Bangladesh, a handful of companies, some readymade garments included, are setting examples for others to follow. 
The crèche in HR Textile was set up in 2008 with the help of non-government organisation Phulki that focuses on care and development of children up to six years in workplaces and communities. 
The money spent for running the facility is far less than the advantages it offers, said M M Emran-Al-Hasan, assistant manager of human resources and compliance, HR Textile.
For facilitating care for as many as 20 children that the crèche can accommodate, the company has to spend Tk 80,000 per month, including the cost of food for babies aged between six months and two years. 
"Our employees, 60 percent of whom are female, can work without worrying about their babies. Besides, they do not have to go home to check on their babies during work hours," Emran said.
During a visit to the garment unit, The Daily Star correspondent met Shikha who came to the centre during lunch break to see her one-and-a-half-year-old daughter.
A caregiver was feeding the child then. The mother looked happy seeing her cheerful baby. 
Shikha has been working at the finishing section of the factory for five years. Owing to some complications she used up most of her six-month maternity leave before the birth of her daughter Riamoni and had to join work when the baby was little over a month.
"At first I tried to leave her with my mother-in-law but she used to cry a lot. Then I tried visiting her at home in Savar during lunch hours but then there was always the fear of getting late for work."
The only solution appeared to her was bringing the baby with her to work and in that case she could even breastfeed the baby from time to time.
"Now I can see her anytime I want with the permission of my supervisor and work without anxiety," Shikha said.
Finery Limited in the capital's Mirpur explained how it and its female employees are equally benefitted from its day-care centre. 
More than half of the company's machine operators are female, who used to remain absent from work on many occasions when they had none to look after their babies at home, said Alauddin Azad, manager of the readymade garment.  
The number of absentees came down sharply after it set up a crèche in 2004 with the capacity of 20 children between 0-3 years, he said, adding that an in-house medical centre worked as an extra-motivation for mothers who could consult a doctor immediately when required.
"The benefit we get in return as employers is immense. Employees tend to become loyal to the company," said Dipak Kumar Dey, deputy manager (welfare) of the factory.
Sheepa Hafiza, director (gender, justice and diversity), migration programme of Brac, also elaborated on how day-care centres for children help companies retain qualified female employees. 
The organisation allocated three floors of a rented quarter inside its Mohakhali head office premises for a crèche.
Each floor accommodates 20 children from the age of 0 to 5 years, who spent time there in the care of 18 women and a supervisor.
"We started thinking about it since 1997-98. Initially it was difficult to convince both working parents and the management of the benefits of keeping young children near mothers," Sheepa said.
Such arrangements enhance the concentration of female employees, as they feel more relaxed at work, she said, adding Brac was considering expanding the facility.
Private organisations including Brac Bank, Grameen Phone, Robi and Bangla Link have day-care centres at their head offices. Bangladesh Bank was the pioneer in this area in the banking sector.
There are only 11 government-run day-care centres under Jatiya Mohila Sangstha across Bangladesh while 43 under the women's affairs department, said Md Sattar Mollah, deputy director (day care) of the department.
Bangladesh Labour Law 2006 (amended in 2013) makes it mandatory for every organisation with 40 or more female workers to have one or more rooms to keep children below six years when mothers are away for work. It also specifies details of all the amenities crèches must have along with trained and experienced female caregivers.
However, the implementation of the law is rare. 
Suraiya Haque, executive director of Phulki that has been running day-care centres in the country since 1991, said, "Though there are rooms designated as day-care centres in most garment factories out of some 5,000 in the country, in most cases those are just empty spaces with no facilities or caregivers and without clean hygienic atmosphere."
At times of inspection, organisations show the rooms only to claim that they comply with the labour law, she added.
Giving examples of the west, Suraiya emphasised the importance of day-care centres in communities.
Phulki runs 40 community-based day-care and development centres for children aged between 2 and 6 years with the help of Unicef and other social organisations.
Brac has 17 similar establishments in the slums of Dhaka, said Sheepa.
Both Brac and Phulki provide consultation to organisations willing to set up their own crèches. The latter also provides training.