Watch out!
From tomorrow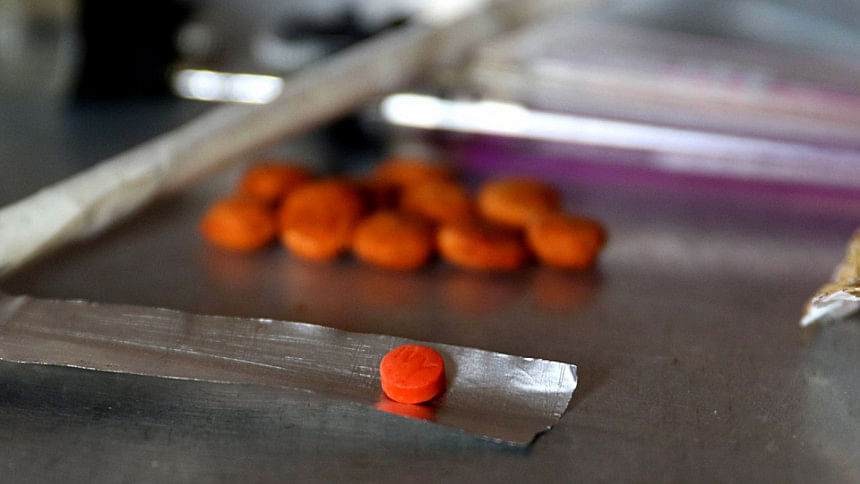 The figures are alarming.
Every year, an estimated Tk 6,000 crore worth of yaba is sold in the country, which would come to 30 crore pieces of the drug. It is a back-of-the-envelope calculation. Last year, 40 million pills were seized by different agencies, which according to standard calculation is about 10 percent of the total drug that got into the market.
The rise of yaba in Bangladesh is astronomical if one goes by the number of pills seized. In 2006, only 1,687 pieces were impounded by the agencies. Eleven years down the line, the number has shot up by nearly 24 lakh times.
The fight against the drug looks pretty much a losing one.  It is openly being sold in certain pockets in Dhaka such as the Bihari camp in Mohammadpur. Our correspondents went there and saw it with their own eyes. A narcotics department intelligence officer narrated his own experience as "totally frustrating". "When we raid, they just vanish. As we leave the spots, they reappear within 15 minutes," he said about the peddlers.
The crazy drug has invaded small towns and villages as well. Almost overnight, a handful of people have mysteriously grown filthy rich by selling the tablets. The Department of Narcotics has found 419 such people, whose bank balances have ballooned without any logical explanation.
A major part of the tale is about a neighbouring country. A surprising volume of documents are available about how Myanmar has become a "narco state" over the years, by producing opium to today's yaba. From Myanmar, the pills spread to Thailand, the Philippines, Laos, Cambodia, Vietnam and of course, Bangladesh.
The 270km border between Bangladesh and Myanmar is porous and most of the consignments are coming on small fishing boats that either cross the Naf River or the Bay of Bengal to Cox's Bazar. From there it fans out across the country.
Small in size, the tablets are easily transportable without notice in huge numbers. Only last month, police stopped a motorcycle, knocked it down and found at least 2,000 yaba pills inside the frame and another 3,000 hidden inside the shock absorbers.  Cars offer even better hiding places. In one case, police seized a car that had secret compartments built to carry yaba. Peddlers are wrapping tubes full of yaba pills around their body and just walking past police posts. A significant amount of the cache is transported through courier services.
Different agencies, including narcotics department and police, had drawn up a list of top drug lords in Cox's Bazar, one of them a much discussed ruling party man. No serious attempt has been made to arrest them. In fact, the home ministry dismissed the report on the leader.
When the situation is like this, the narcotics department is manpower-strapped. It has only 10 to 12 persons in each district to tackle all types of drugs including alcohol that falls under the definition of drug in Bangladesh.
More alarmingly, in recent times some members of the police have been found linked to yaba trade. Police headquarters have opened up inquiry against nearly 150 police officials for their alleged involvement.
So when yaba is unstoppable, its main prey has been the youths, who are taking it as stimulant and finally ending up having organ damages and mental derangement -- the most tragic case being of Oishee, a teenage yaba addict, who killed both her parents and was sentenced to death, a penalty that has later been commuted to life term.
Amid the grim reality, The Daily Star is going to run a three-part series from tomorrow to reveal how the drug cartel operates and why its invasion appears unstoppable.