Yaba Trade in Cox's Bazar: Situation changes, so does strategy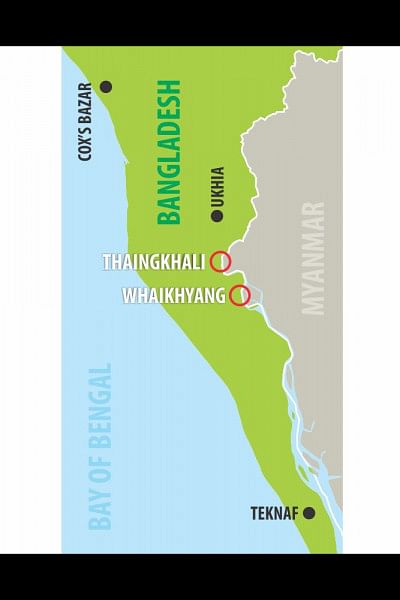 With law enforcers locking up listed drug dealers and smugglers, new groups are filling their shoes adopting generous marketing strategies, including sales on credit. They are also using new routes to smuggle in yaba from Myanmar.
Police have come to know about 250 such "newcomers" in the business after interrogating the 63 listed yaba godfathers and dealers, who recently surrendered to police in Cox's Bazar.
Members of this new group have not been named in any intelligence reports, police sources said.
"We are now verifying their information since we did not know anything about these 250 people," said a top official of the district police.
The smugglers and dealers are now using two new routes -- Whaikhyang in Teknaf and Thaingkhali in Ukhia -- to bring in the contraband from Myanmar, two high officials of Cox's Bazar district police told The Daily Star, quoting the "yaba godfathers" now staying in a police-protected house.
With the help of some local influentials, the smugglers are supplying yaba to dealers without taking any advance.
"If a shipment is seized by law enforcers or is damaged, then the dealers do not need to pay anything," said a high official of the district police, quoting yaba dealers.
The smugglers send money to Myanmar, via hundi, only after they have sold all the pills to dealers, said police officials.
Police are now making a list of those involved in the illegal money transfer.
All these have made yaba easily available and cheap.
To understand how easy it is to buy the pills, The Daily Star correspondents went undercover to get some. While sipping tea at a stall near the Teknaf municipality unit office of a political party on Friday afternoon, we only had to express our desire. 
"If you want, any rickshaw puller or hotel boy can get you the tablets," said the tea stall owner, after realising what was being asked for.
He then called in a restaurant staffer and asked the correspondents to give him the money, Tk 100 for each tablet. The restaurant staffer then went behind a filling station nearby and reappeared in 10 minutes with three "grade one" yaba pills, marketed as "R7".
"The actual price is Tk 80, but the restaurant staffer took Tk 20 per pill in his cut," explained the tea vendor. 
The pills were later destroyed.
Law enforcers and other sources say the wholesale price of an "R7" pill is Tk 40 and it retails for Tk 80. The "grade two", marketed as "WY", has a wholesale price of Tk 20 and is sold on streets for Tk 60.
Police officials in Teknaf and Ukhia claimed that an "R7" is sold at Tk 10-12 at factories in Myanmar and the "WY" for Tk 4-5. The prices go up as there are many people involved in the supply chain.
A group of people brings the pills to the Myanmar border and they take a Tk 2 cut for every pill. The boatmen on the Naf river charge Tk 1-2 for every pill.
The people who actually smuggle the pills into Bangladesh have been charging the highest, Tk 10 for each pill, since the law enforcers started the anti-narcotics crackdown in May last year.
"During interrogation, the yaba dealers told the police that some unscrupulous law enforcers get Tk 2 per pill whenever a consignment arrives in Bangladesh," a top district police official told The Daily Star.
Mohamamd Iqbal Hossain, additional superintendent of police in Cox's Bazar, said they launched a crackdown inside the police force. Three police constables were sent to jail and 100 officials transferred or closed or attached to Police Lines in the last five months for their involvement in yaba, he said. 
Shariful Islam Jomaddar, an acting commanding officer of Border Guard Bangladesh, said they were tough on any BGB personnel going rouge.
After law enforcers increased vigilance in Teknaf, the smugglers are bringing in the pills inside cigarette packets to dodge the law enforcers, often using Rohingyas as mules, instigators said.
The smugglers chose the Whaikhyang and Thaingkhali routes so that they could use Rohingyas, they added. 
Thaingkhali border is under Palongkhali union. The union's chairman M Gafur Uddin Chowdhury said he came to know that some local political leaders were patronising yaba smuggling and that he spoke to the police about the matter.
This newspaper could not reach Nur Mohammad Anwari, chairman of Whaikhyang union, despite repeated attempts.
Additional Superintendent of Police Nihad Adnan Taian said they were aware that yaba smuggling was still on and that they were conducting drives.
"We arrested around 244 people in Teknaf and 41 people in Ukhia in the last three months," he added.
According to media reports, of the 1,151 drug traders listed by the home ministry, 912 live in Teknaf.