Nepal Plane Crash: Survivor Kabir to be taken to S'pore
US-Bangla plane crash survivor Kabir Hossain would be taken to Singapore for treatment.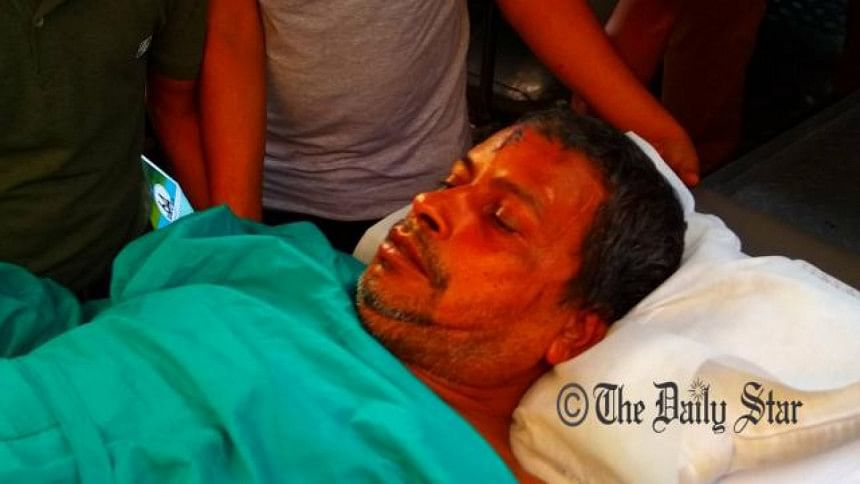 US-Bangla plane crash survivor Kabir Hossain would be taken to Singapore for treatment.
His son, cousin and other family members told doctors that they want to move him to Singapore.
"A medical board formed for the plane crash survivors found his right leg severely infected. The leg may need to be amputated," Samanta Lal Sen, chief of the 14-member board, told reporters at a briefing at Dhaka Medical College Hospital yesterday.
He added that the expenses for his treatment abroad would be paid by the US-Bangla Airlines. "Doctors will examine him. If his condition permits, an air-ambulance will fly him to Singapore," Al Helal Shaon, son of Kabir, told The Daily Star.
Hours after Kabir Hossain was brought back to Dhaka from a Kathmandu hospital on Monday, his condition gradually deteriorated. He has been kept on life support at the DMCH burn unit since Friday night.
On March 12, at least 49 people, including 26 Bangladeshis, died as an aircraft of US-Bangla Airlines from Dhaka to Kathmandu crashed at Tribhuvan International Airport in Nepal.
Among the survivors Mehedi Hasan, Saiyada Kamrunnahar Shwarna, Almun Nahar Annie, Sheikh Rashed Rubayet, Shahreen Ahmed and Shahin Bepari were treated at the DMCH. "Condition of Shahin Bepari remains unchanged. But the others are gradually improving," Samanta Lal Sen said.
Meanwhile, a US-Bangla plane heading to Malaysia was forced to make an emergency landing at Hazrat Shahjalal International Airport due to technical issues yesterday. It left the airport after a three-hour delay. With 164 passengers onboard, the Boeing 737-800 took off around 8:45am, said US-Bangla Airlines GM (Marketing Support and PR) Kamrul Islam.
Around 15 minutes later, the pilot received a warning regarding fuel filter bypass and returned to the airport, he added. After checking the issue and getting the clearance of Civil Aviation Authority of Bangladesh the plane left for Kuala Lumpur around 11:45am as "engineers found no fault", he also said.
Another US-Bangla Airlines plane made an emergency landing in Dhaka after taking off on March 4.