Nepal Plane Crash
Pilot deserves credit: Chhetri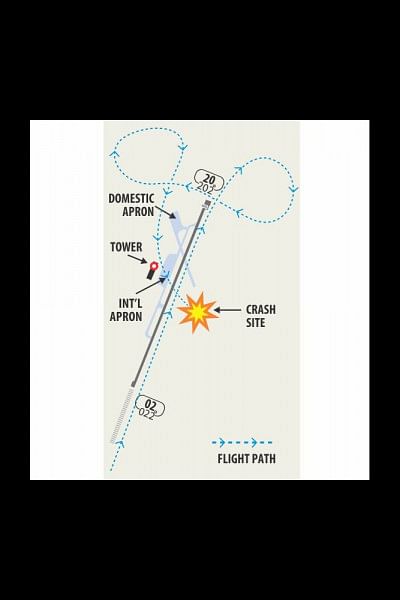 Moments before impact, the pilot of the US-Bangla flight BS211 yanked the Bombardier Dash-8 to miss the Air Traffic Control tower and several fuelled planes queued for departure, averting an even bigger disaster.
The pilot deserves credit, said Tribhuvan International Airport General Manager Raj Kumar Chhetri, who has talked to several eyewitnesses and has seen airport CCTV footage of the crash.
At one point, the plane was just 50 feet away from the radar tower, he told The Daily Star on Sunday.
Chhetri said a survivor told him that they were horrified to see the tower up so close.
The airport chief, quoting witnesses, said the pilot skilfully avoided those planes, but caused the plane to touch the runway at an angle and eventually end up on the football pitch. 
Chhetri refused to comment on what he had seen in the CCTV footage. He said those would be analysed by the investigators and they would be the ones with authority and expertise to comment on the matter.
Buddhi Sagar Lamichhane, a joint secretary at the Ministry of Culture, Tourism and Civil Aviation in Nepal, also a member secretary of the six-member probe committee, said he too had heard of the pilot's last-minute manoeuvres.
"People are saying that it happened. But we cannot say anything about it [until the investigation is complete]."
He added that they had spoken to the air traffic controllers regarding the incident.
A pilot wishing not to be named said the Dash-8 missed a Thai jet waiting to depart by just five feet. The pilot said had BS211 hit the jet, it would have been catastrophic.
The Daily Star could not independently verify the claims of the pilot.
The crash left 51 dead but 20 people survived. And people surviving plane crashes is not that common.
An accident involving two planes would have resulted in a lot more casualties.
On March 27, 1977, two Boeing 747s collided on the runway of Spanish island of Tenerife, in the Canary Islands, following confusion over one them having clearance for takeoff.
The crash claimed 583 lives, the deadliest aviation disaster in history. Most of the victims were killed in the fire. Both the planes had been refuelled minutes before.
[Rashidul Islam and Osama Rahman contributed to this report.]