Traffic goes haywire
Three reasons behind people's sufferings on roads for hours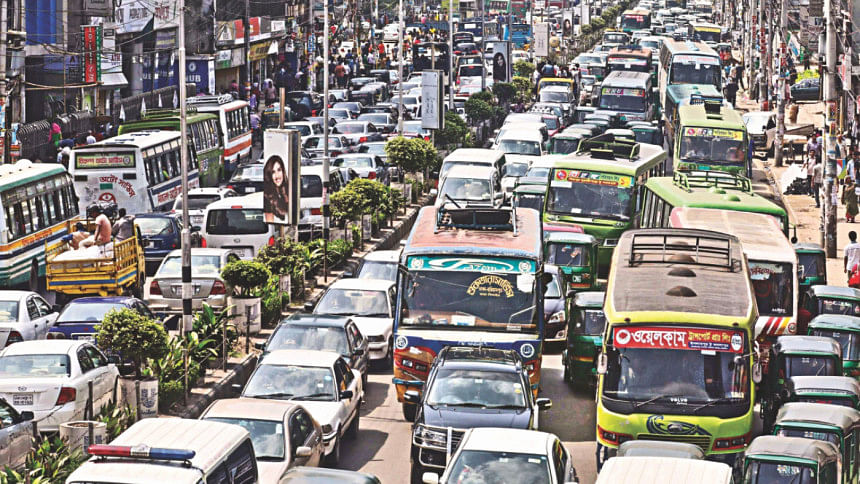 Dhaka dwellers were stuck on city streets for hours on end in the scorching heat yesterday, mainly because of a Dhaka North City Corporation event and a procession of the education ministry.
Standstill traffic were everywhere in the capital.
Vehicles crawled on streets in Gulshan, Banani, Kakoli, Farmgate, Jatiya Press Club and other areas as digging on roads for development work narrowed street width.
City dwellers posted photos of gridlocks on social media and also wanted updates on traffic situation on streets. They were complaining as well.
"Complete collapse of traffic management today. Almost zero movement. In the last 1 hour I have travelled less than a km from Dhanmondi to Elephant Road ... ," read a post of one Khaled Hossain on Traffic Alert, a closed Facebook group of over 37,500 users, around noon.
Many said it took more than double the usual time to reach their destinations.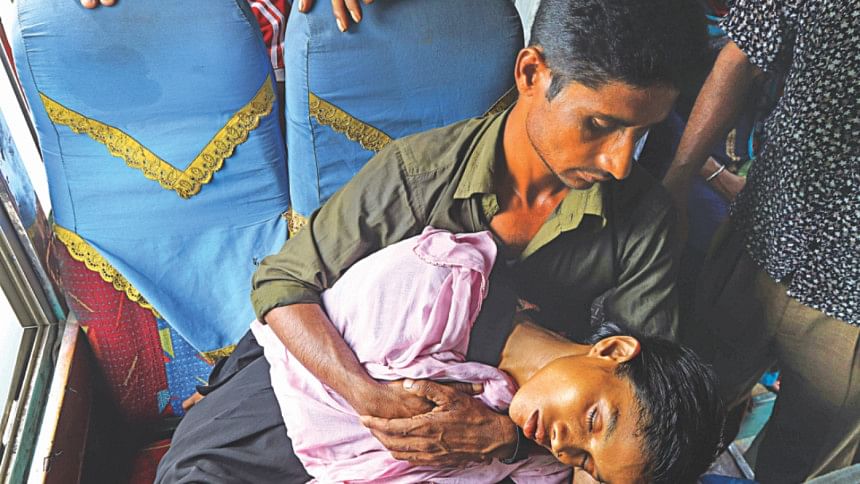 The traffic department, however, blamed digging up of roads in different areas for the gridlock but denied that it was due to the city corporation event.
People suffered in Gulshan, Banani and Mohakhali areas as several streets were closed due to a ceremony for installing CCTV cameras on Gulshan Avenue by Dhaka North City Corporation in the afternoon, alleged a number of city dwellers.
Disrupting vehicular movement, the education ministry brought out a procession to observe Education Week around 9:00am from near the High Court to the International Mother Language Institute, said witnesses.
Gridlocks were reported from other areas including Paltan, Shahbagh, Dhanmondi, Mohammadpur, Malibagh, Mirpur, Bijoy Sarani, Farmgate, Kakrail, Mouchak and Elephant Road.
The DMP have long been working to smoothen vehicular movement on the streets but have had little success so far.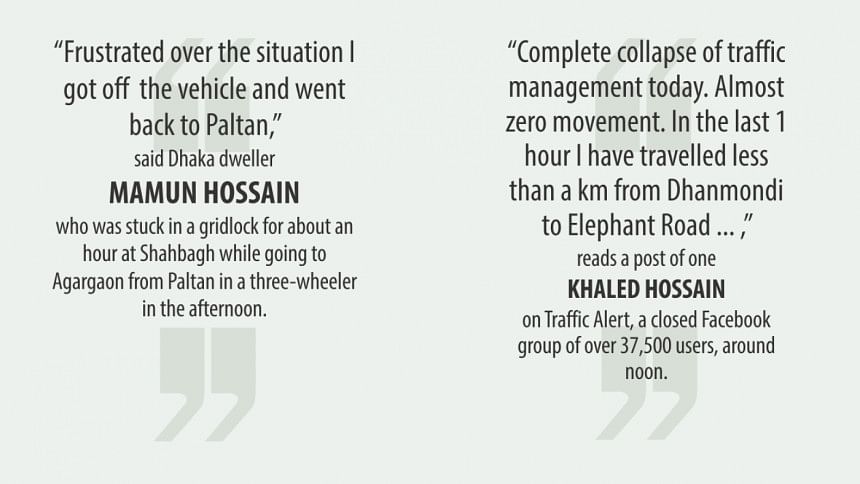 Helpers and conductors of buses that ply between Gulshan and Malibagh via Mohakhali and Farmgate said there was a traffic jam that cost about 40 minutes in the morning in front of Brac University in Mohakhali.
They, however, could not say why.
Mithun Sarkar, a doctor from Kushtia, travelled from Mohakhali to Farmgate in the early afternoon.
He said it took him about half an hour extra to reach his destination as the bus was stuck below the Mohakhali flyover for 20 minutes.
"I travelled on this route earlier. But today it was unusual," Mithun told this correspondent at Farmgate.
Wishing not to be named, a BRTC ticket-seller at Farmgate said he watched gridlocks on Kazi Nazrul Islam Avenue since morning until 3:00pm. His buses were delayed by even an entire hour.
Vehicles that usually use the College Gate route to Mohammadpur took a detour to reach Farmgate, due to hardly-moving traffic at the Suhrawardi Hospital-College Gate intersection in the afternoon.
There was a huge tailback from Bangabhaban to Jatiya Press Club area via Zero Point and Paltan around 11:30am, said Mosharraf Hossain, a trader of Mirpur.
Dhaka dweller Mamun Hossain said he was stuck in a gridlock for about an hour at Shahbagh while going to Agargaon from Paltan in a CNG-run three-wheeler in the afternoon.
"Frustrated over the situation, I got off the vehicle and went back to Paltan," he said.
Contacted, Joint Commissioner (traffic) Mosleh Uddin of DMP denied that the gridlock was due to the DNCC event at Gulshan.
Digging of roads in different areas might be a reason for the traffic jams, he said.
The police official further claimed the rush of vehicular movement increased suddenly yesterday after Shab-e-Barat holiday.