Together, we fight terror
Bangladesh, US agree on increased cooperation; Kerry says IS elements 'connected' to local operatives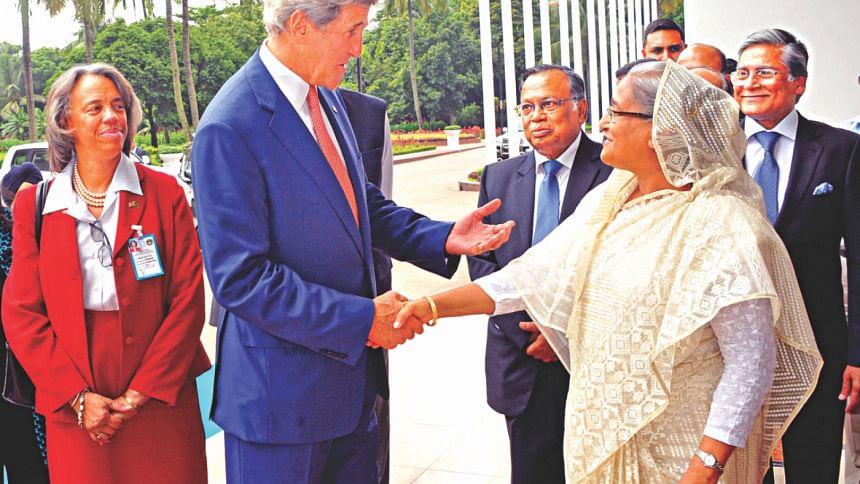 US Secretary of State John Kerry yesterday said the United States stands firmly by Bangladesh in the fight against militancy and both countries have agreed to increase cooperation between their intelligence agencies.
"We have to stand together," Kerry said, emphasising information sharing, constant communication and good governance.
"We today agreed on additional steps by which our intelligence and law enforcement will work together in order to try to get ahead of this," he said.
Kerry, who was on a nine-hour visit in Dhaka, called upon Bangladesh government to step up efforts to fight extremist violence and protect and promote human rights amid increasing concern about terrorism.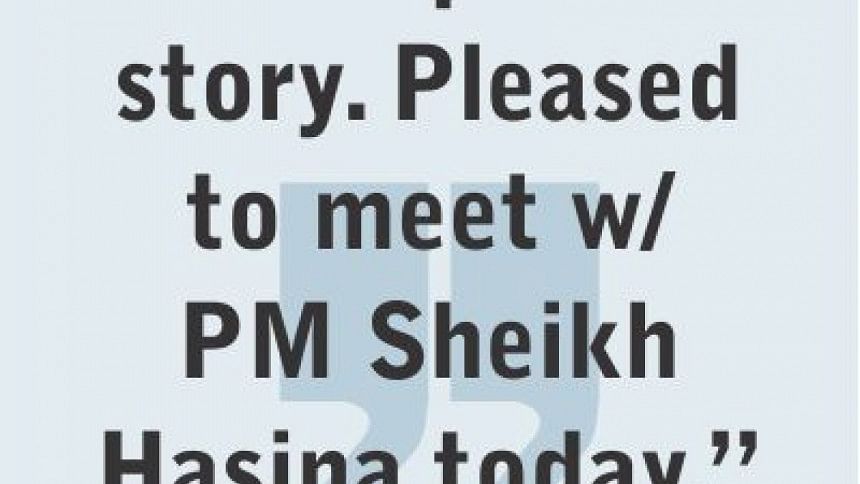 Prime Minister Sheikh Hasina and Foreign Minister AH Mahmood Ali were very clear about their willingness to cooperate with the United States very closely in battling terrorism and violent extremism, he added.
In his speech at a mixed gathering after meetings with Hasina and Ali, Kerry said elements of Islamic State are "connected to some degree" with operatives in Bangladesh.
He said, "There is evidence that ISIL in Iraq and Syria has contacts with about eight different entities around the world, and one of them is in South Asia.
"They are connected to some degree with some of the operatives here and we made that very clear in our conversation. There was no argument about it."
Bangladesh government has all along maintained that there is no organisational presence of Islamic State in the country and the recent terrorist attacks here are acts of home-grown militants.
However, a number of such attacks have reportedly been claimed by IS.
Replying to a query on Bangladesh government's stance on these attacks, Kerry said when the government says it's "home-grown" it's not a foreign fighter who's coming in to do it.
"It's somebody here who's chosen to do it. But that doesn't mean it wasn't influenced by elsewhere -- on the internet, social media, and so forth."
The top US diplomat arrived here from Geneva yesterday morning as Foreign Minister Ali received him at the VVIP terminal of the airport with a flower bouquet.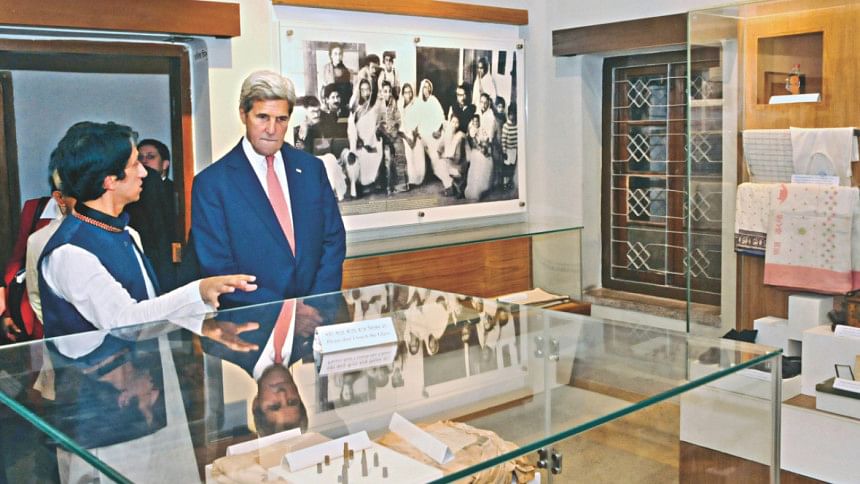 Kerry left Dhaka for New Delhi around 5:30pm, wrapping up his whirlwind visit. State Minister for Foreign Affairs Md Shahriar Alam saw him off at Hazrat Shahjalal International Airport.
After Hasina's meeting with Kerry, her Press Secretary Ihsanul Karim told reporters that the US secretary of state expressed the United States' eagerness to work closely with Bangladesh's intelligence agencies.
During the hour-long meeting with the PM, the US secretary of state put emphasis on exchanging information with Bangladesh. He mentioned the US has some experts who can help fight violent extremism.
Hasina said Bangladesh wants to have information from the US as the country is advanced in technology. "If you give us information, it will be helpful for us to hunt down terrorists," Ihsanul quoted the PM as saying.
Kerry also said the non-Syrian terrorists of the IS were returning to their homelands after facing defeat in the battlefield.
When the PM wanted to know about the sources of funds and arms of the IS, Kerry said the IS terrorists get money by selling oil from the areas which have been captured by them. "They also impose higher tax on people in invaded areas."
Regarding the recent trend of terrorism, Hasina said it was surprising that the children of well-off families were getting involved in such activities.
"They've everything … these youths are getting involved in such activities as their parents are not giving proper attention to them," she said.
Kerry responded saying children are playing games containing themes of violence when their parents are out of the house, reports UNB.
Later, addressing the gathering of civil society representatives, youngsters, government officials, media persons and labour leaders at the EMK Centre in Dhanmondi, the US secretary of state said terrorist threats to any society can quickly become a threat to all.
"For each of these reasons, the United States works closely with Bangladesh and with partners on every continent to defeat vicious terrorist networks -- particularly those of Daesh [Islamic State] and al-Qaeda."
On the July 1 Gulshan cafe attack, in which 22 people including 17 foreigners were killed, the top US diplomat said the attack "was an outrage clearly designed to divide Bangladesh, designed to try to cut off this welcoming society from the outside world".
"These heinous acts of violence and too many others worldwide are a stark, painful reminder that those who aid terrorist groups or perpetrate these acts have no respect for national boundaries, no concern for the rights of others, no regard for the rule of law."
He said dozens of smaller-scale attacks have been carried out during the past several years, often directed at members of religious minorities, foreigners, bloggers, and security officials.
Kerry described the fight against violent extremism as one of the world's paramount challenges -- one that will take a generation or more to resolve.
"No country is immune from terrorism, and no one of us can win this fight without support from others. We have to stand together -- and the United States is standing with Bangladesh in this fight."
Kerry said when individuals can address their grievances, when civil society is allowed to flourish, when people can participate freely in public debate and are therefore less vulnerable to subversion -- they have a stake in building their society, not being inspired to use violence to tear their communities down.
He renewed the sense of faith in the future of the relationship between two countries.
Referring to US-Bangladesh cooperation, Kerry said a longstanding counterterrorism dialogue has intensified in recent months and work with the Bangladeshi police and military will continue with an eye toward further cooperation.
"And we talked about all aspects of it including the importance of inclusivity, working with people, making sure that you protect the democratic process even as you come down tough on the perpetrators themselves. We think there is much we can do to cooperate in that regard," he said while responding to a question.
Kerry laid emphasis on fighting terrorism from a number of fronts that include financing front, communication front, and prevention front.  "No nation can succeed without information sharing and communication."
In his 35-minute speech, beginning at 3:15pm, Kerry said security and stronger civil society are essentials to ensure continuation of development.
And he had a very broad discussion on security cooperation, climate change and workers right and regional and global issues.
There may be no single answer to the question of why people become terrorists, Kerry said, adding that democracy still provides the "most resilient and reliable platform" they have for preventing and responding to violent extremism.
Kerry also urged the Bangladesh government to resist the temptation to shut down public debate or stifle opposition groups as a way to combat the threat.
"Democracy still provides the most resilient and reliable platform we have for preventing and responding to violent extremism ... to defeat terrorists, we must uphold, not betray, the democratic principles we cherish and they abhor," he said.
TALKS FRUITFUL: FM
Foreign Minister Ali said Bangladesh and the United States held open and fruitful talks encompassing issues of bilateral ties and cooperation in areas including militancy and trade as Kerry met senior Bangladesh ministers.
"We had a very open discussion on issues of Bangladesh-US relations ... it was a fruitful discussion," Ali told a media briefing along with the Commerce Minister Tofail Ahmed, Home Minister Asaduzzaman Khan and State Minister for Foreign Affairs Shahriar Alam, emerging from the talks with Kerry at the state guest house Padma.
He said the issues of cooperation in combating terrorism and militancy largely dominated the talks. But he declined to elaborate, saying this was not the right time.
Ali, however, said Kerry was very appreciative of Bangladesh's ongoing fight against militancy and terrorism with particular mention of the PM's "zero tolerance policy" in this regard.
"Kerry also praised our development initiatives saying Bangladesh is marching forward," the minister added.
According to a statement of the US State Department, Kerry recognised Bangladesh's notable accomplishments in achieving inclusive economic growth, reducing poverty, and improving maternal and child health.
He offered his condolences for deaths in the recent terrorist attacks in Bangladesh and pledged strong US support to continue combating the threat. He also emphasised upholding human rights and democratic values as effective measures in counterterrorism and countering violent extremism efforts.
The top US diplomat had a meeting with former prime minister and BNP Chairperson Khaleda Zia at the residence of US Ambassador Marcia Stephens Bloom Bernicat in the afternoon.
John Kerry briefly talked with the leader of the opposition, Raushan Ershad, at the EMK Centre after end of his speech.
At the EMK Centre event, noted personalities who were present include former caretaker government adviser Rokia A Rahman, Distinguished Fellow of CPD Debapriya Bhattacharya, Executive Director of Yunus Centre Lamiya Morshed, Managing Director at Transcom Foods Akku Chowdhury.
US Assistant Secretary of State for South Asia Nisha Desai Biswal, US Ambassador Marcia Bernicat and other high officials from the US and Bangladesh were also present at the programme.
[With inputs from our diplomatic correspondent, UNB and BSS]