3 Years of Worst Workplace Disaster
Time yet to heal Rana Plaza victims' families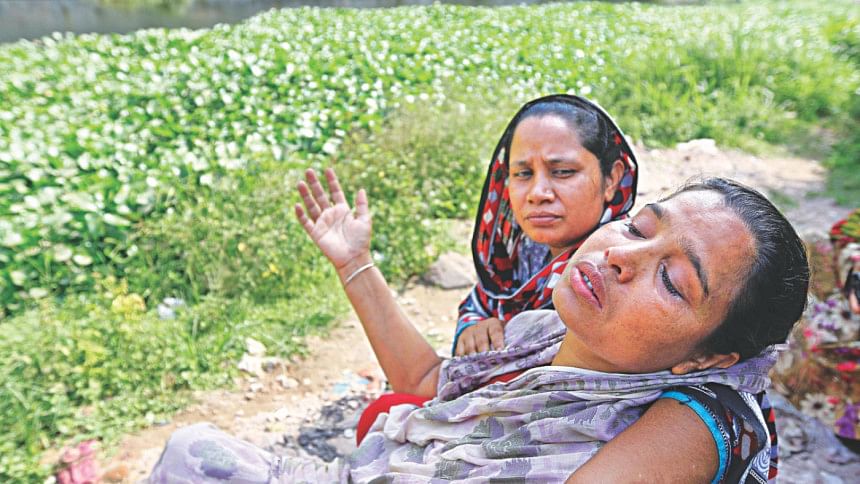 The 24th has become part of Shahida Begum's life. It is the date she goes to the Rana Plaza site every month, be it in the scorching heat, rain or cold.
She spends some time alone at debris-strewn disaster site in Savar remembering her daughter who worked there until her last day.
She was never found.
"Coming here I can hear my daughter's call as if she is calling me right here," said the weeping mother in her 40s. She was at the site yesterday, the day when the nine-storey building collapsed three years ago.
"I feel like my daughter is still alive. She cannot slip away anywhere. How could you slip away?" said the mother and passed out.
Regaining conscious after a while, Shahida said, "Where have you gone ma … ?"
Like Shahida, family members and relatives of Rana Plaza victims, with photographs of their loved ones, thronged the site and shed tears.
It was the third anniversary of the country's deadliest industrial disaster that claimed at least 1,136 lives and left over 2,000 others injured.
More than 50 are still unaccounted for.
Many wailed and some sobbed where their loved ones had toiled day and night stitching clothes for global brands.
Some recited holy verses, some shared their agonies with others and some lit incense sticks. A huge number of onlookers came and talked to the victims' families and took photographs.
Many expressed anger for not getting justice.
Over the last three years, there were some changes at the site. The site has been turned into a small pool of water full of hyacinths. The country's RMG sector that accounts for 80 percent of the country's exports too saw major changes in the workers' safety as the collapse prompted the government and foreign buyers to do more to ensure labour rights and workplace safety.
Time changed the site but it has not healed the wounds.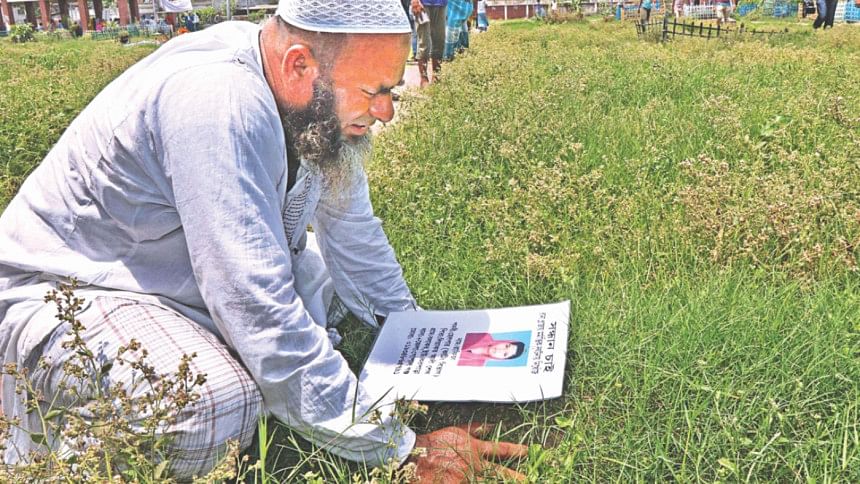 A permanent resident of the capital's Hazaribagh area, Shahida lost her daughter Shanta Akter who was on her shift on the sixth floor that day. Shanta is one of those workers presumed dead.
Eldest among two siblings, Shanta was the major contributor to her family after her father's death six years ago.
"All she wanted was to ensure study of her brother Swapan. Her brother is now studying in class-VI, but she could not see it," said Shahida, who now earns a living by making clothes with her sewing machine at her Hazaribagh home.
She looked for Shanta in hospitals, checked bodies and went to every possible place. She gave blood samples for DNA tests, but to no avail.
"I don't want money or financial help. I want her body," she said.
On the other edge of Rana Plaza site, sexagenarian Jaheda Begum was crying inconsolably with a laminated photo of her only daughter Saleha Begum.
"My entire world is dark now," she said, sitting under the scorching sun.
Jaheda cannot sleep properly as Saleha appears in her dreams often.
"In the dream, she [Saleha] tells me that 'ma I'm buried under the rubble on the western part of Rana Plaza'. I wake up shivering," she said.
After the death of her husband 11 years ago, Saleha, who worked on the third floor of the building for four and a half years, took care of Jaheda.
Jaheda worked in another garment factory, close to Rana Plaza, and stayed with Saleha and her son-in-law.
"When the building collapsed, I was working. I rushed to the spot to look for her. But I could not find her," said Jaheda, who still lives with her son-in-law Badar Uddin Mia in Majidpur of Savar. She received around Tk 4.5 lakh from the government, donor agencies and different NGOs.
"I still look for her. I could get some solace if she could call me ma once," she said.
A few yards away at the site, 65-year-old Muhur Molla along with his wife Safia Begum were sitting. Muhur did not talk much, but her wife Safia was wailing.
They lost their son Lal Mia, 20.
She said they got her son's body 16 days after the building collapse. Lal was the second of seven siblings.
"His sleeves were folded and hair was waving in the wind. I saw him lying dead," she recalled.
Safia said Lal did not want to enter the building, but it was Sohel Rana, the owner of the building, who forced him to.
"I want justice. Rana must be hanged," said Safia, who resides at Kanchanpur in Savar.
Survivors of the disaster, many of whom lost limbs, came and laid flowers remembering the dead. Many of them are still waiting for adequate assistance as they are unable to work.
Reshma Begum is one of them.
She suffered injuries to her waist and left leg and can only stand for a short period of time.
Her husband, Golam Mostafa, a driver by profession, died a decade ago and she has an 11-year-old to raise. She now earns her livelihood by sewing clothes at her home in Savar Bank Colony.
She said she got only Tk 95,000 after the incident.
"I only see a bleak future ahead," said Reshma, who used to work on the fifth floor. After paying the rent of Tk 3,000, she has nothing much left to live on.
Apart from the family members of the victims, workers of different garment factories, members of workers' organisations paid tribute to the victims by placing wreaths at the monument "Protibade Protirodhe", built in memory of the victims in front of the Rana Plaza site.
The place echoed with slogans demanding punishment of Sohel Rana, better compensation and safe workplaces.