Time to evaluate role of private universities
Contributions aplenty, challenges too, The Daiy Star roundtable told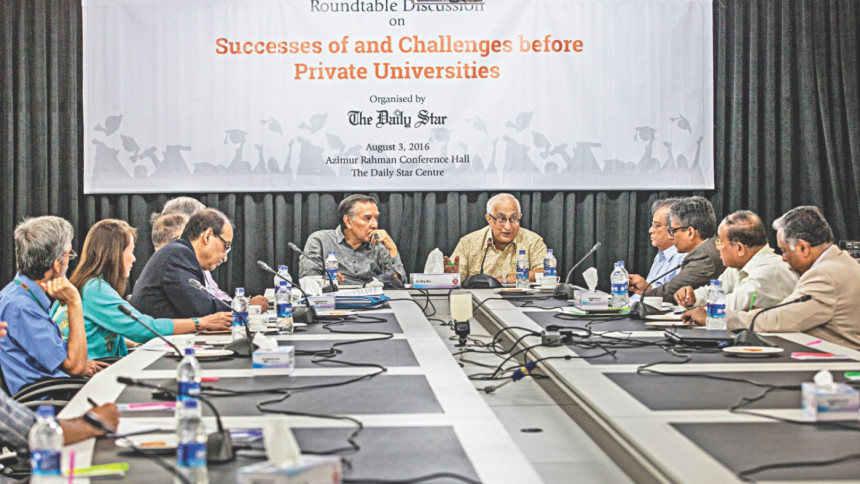 Time has come to evaluate more comprehensively the many successes and contributions of private universities to higher studies and the country's growth by creating thousands of skilled professionals, among other things. 
This observation resonated at a roundtable on the "Successes of and Challenges before Private Universities" where vice-chancellors of some leading private universities and the chairman of the University Grants Commission spoke yesterday. 
The roundtable was held at The Daily Star Centre in the capital.
The history of private universities in Bangladesh dates back to over two decades, but they have already established their footprints.
They have brought down to almost zero the number of students travelling abroad for undergraduate education, and have thus saved millions of dollars in foreign currencies.   
Private universities account for teaching 65 percent of the campus-based students and are no longer the destination of the children of the rich only. A growing number of middle and lower-middle income groups are sending their children to private universities.
This is in stark contrast to a belief in some quarters that private universities are elitist, their education and curricula as something not reflecting local culture and heritage. Some allege that they are money-making machines whose main focus is making profit.
This negative image worsened further after some of their present and former students have been found involved in recent militant attacks.
But a number of vice-chancellors said the truth was far from what was popularly believed. They were, however, candid about the problems and challenges facing private universities.
Prof Jamilur Reza Choudhury, vice-chancellor of the University of Asia Pacific, said the quality of education at undergraduate level at some private universities was comparable to those in renowned universities in other countries.
However, he said the quality of students of private universities was lower compared to the students in public universities as the best students prefer the well-established public universities.  
"Still we are trying to add value. And if you look at the end product, the value addition is much more than in the public universities as we do not get the best students but the end product is among the best ," he told the discussion organised by The Daily Star.
Jamilur Reza said students going abroad for undergraduate education had almost come to a halt as private universities flourished in the country in the last two decades.
"This we can treat as a success. Their quality varies -- some of them have gone for higher studies in the best universities in the world and got master's and PhD degrees."  
Prof Abdul Mannan, chairman of the University Grants Commission, said: "I don't want to distinguish between private and public universities. A university is a university."
Universities and colleges in Bangladesh are usually run by the government and in some cases effluent people run some educational institutions. But as the number of students is growing, it is not possible only by the government, he added.
"Besides public universities, private universities are a reality. We have to admit it. This has come here to stay. This will keep on expanding with the growing number of people going for the higher education," he said.
He said there were a good number of private universities that were doing well although the history of private university is not very old. But unfortunately, private universities are in the news for wrong reasons.
Talking about the involvement of some university students in militancy, Mannan said no parents sent their children to university to be turned into militants.
Prof M Omar Rahman, VC of Independent University, Bangladesh, said the private university was not a marginal sector, as 65 percent of students in campus-based universities were studying in private ones.
He said the vast majority of students in higher education go to private universities. "I think what happens in private universities matter to the whole country." 
There are 84 private universities operational in Bangladesh today compared to 37 public universities.
Prof Omar said private universities offered better environment, better infrastructure and highly qualified faculty, with their curricula more globally benchmarked.
Mohammed Farashudin, chairperson of the board of trustee of East West University, called upon private universities to go for soul-searching while resolving the militancy issue.
He said students would not get involved in militancy if they were involved in study, recreation, constructive activities and knew Bangladesh's culture and history more than they do now. 
He said the militancy issue was a problem for both private and public universities. "It's not right to think that militants are growing only at private universities, and public universities are free from this problem."
The former central bank governor ruled out the common assumption that only children of the well-off families study at private universities, saying 35 percent students of East West University come from villages whose guardians are mostly farmers.
Prof Atiqul Islam, VC of North South University, whose university came under focus after several of its present and former students have been found to be linked with militancy, said the militancy issue had to be tackled at three levels: policing, surveillance of technology that spreads it and by universities, parents and the broader society.
"About success of the private sector, just imagine if we did not have these institutions where would the students go? And what would it cost the Bangladesh government in terms of foreign currency?" he asked.
These private universities can produce students capable of competing on the global stage and this is a big thing for a nation, he said, adding that since its inception, the NSU had produced 15,000 graduates and none of them was unemployed.
Prof Syed Saad Andaleeb, VC of Brac University, said private universities had not only created education opportunities for Bangladeshi students but also generated jobs for others.
Private universities have also created opportunities for students to study on scholarships, he said. 
A lot of things are happening in Bangladesh, and in May next year, Brac University would launch a Nano satellite, he said, adding that universities should be seen as part of the global community.
He said the economy was growing and the growing service sector, which accounts for more than 50 percent of gross domestic product, also needed qualified people.
He said that about $5 billion went out of the country for hiring people with higher managerial capacity. This is where private universities are playing a vital role in providing highly trained human resources for the future growth of the country.
He said the universities must invest in research.
Prof Saad also talked about the supply chain management.
"We get the students after 12 years of their education in primary and higher [secondary] education. By then, a significant level of mental and ethical development has already taken place. In the four years they are at private universities, how much change can we bring about? If we expect them to develop significantly during their university life and work for the national interest, the entire supply chain has to be coordinated.
"You just can't come and demand at the higher education level to do this," he said, adding that it must start from primary level and that it had to be in the broader planning framework.
Carmen Z Lamagna, VC of American International University Bangladesh, said her university had formulated local case studies for the students, which was not the case earlier.
She put forward a proposal for VCs to utilise each other's resources to give the best education to students. She also said all universities should work together to sort out the problems they faced.
Prof M Rezwan Khan, VC of United International University, said there were problems in private university sector but if the criticism was done indiscriminately, it would affect the whole sector.
He said private universities were considered as nonprofit entity but they had to pay 15 percent tax.
"Everybody knows it, but no one talks about it," he said.
He said after the recent incidents of terrorism, one was trying to point finger at the other.
"But did we ever think why this is happening? When students read newspapers, watch televisions and come out on the streets they see contradictions and lies everywhere.
"If we do not address these contradictions, our younger people will be misguided. A nation cannot go on like that," he said.
He also added that one must have the courage to face these fundamental contradictions between "what we say and do".
Prof Imran Rahman, VC of University of Liberal Arts Bangladesh, said in terms of the successes, private universities in this short period of 24 years have done an excellent job of creating a research culture.
Besides, he said, one of the main things of private universities is that teachers are much more student-centric.
"I have to listen to the students and their guardians as they hold us more accountable as they pay full fees here in private universities. The level of accountability is very high in private universities," he added. 
Prof Md Golam Samdani Fakir, VC of Green University, said one of the most fundamental issues many of the private universities facing was getting quality teachers.
"Majority of the teachers has the mindset of the 19th and 20th centuries in terms of teaching methods. How a mind of 20th century could prepare the students of 21st century?"
Mahfuz Anam, editor and publisher of The Daily Star, said that the achievements of private universities had not been highlighted sufficiently.
"They are actually producing high quality professionals and producing the future human resource that this country desperately needs to reach the goal of being a middle income country," he added.
Tajdin Hassan, head of marketing of The Daily Star, gave a PowerPoint presentation on private and public universities.