The valiant fighter is no more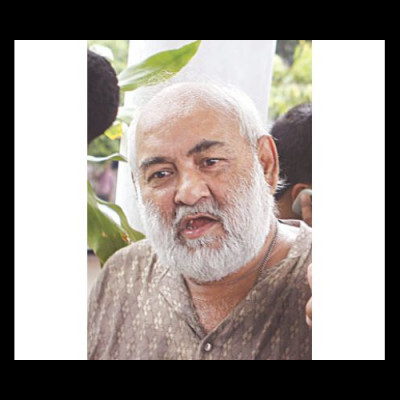 Syed Shahidul Haque Mama, a valiant freedom fighter, died at a Qatar hospital on Friday night, ending over a two-month-long battle for life following a massive cardiac arrest. He was 64.
Shahidul, also the chief of "Mama Group Guerrilla Bahini" during the Liberation War, breathed his last at Al Wakra Hospital, his brother-in-law Harun-Or-Rashid Zamadder, told The Daily Star.
He left behind his wife, two children, a host of relatives and well wishers.
Earlier it was decided that he would be buried in Sweden, where he moved along with his family in the 80s, said Harun.
"But we came to know from the media that the Bangladesh government was requesting his family members to bury him in Bangladesh. But I am yet to talk to them over the matter," he said around 11:15pm last night.
Contacted, Ashud Ahmed, Bangladesh's ambassador to Qatar, told The Daily Star over phone that they had talked to the family members of Shahidul in Qatar and that they agreed to take his body to Bangladesh.
"Hopefully, his body would be taken to Bangladesh on Monday," he said.
Shahidul, also a prosecution witness in the war crimes case against Jamaat-e-Islami leader Abdul Quader Mollah, was admitted to the Qatar hospital following a massive cardiac arrest while flying to Sweden from Bangladesh on a Qatar Airlines flight on April 28.
He was first put on life support and later shifted to the ICU.
Earlier, the family urged the prime minister's intervention in bearing his medical expenses. An application was sent to the PMO on May 22 in this regard. The Daily Star ran a report on it on June 4.
SHAHIDUL'S LEGACY
Shahidul was a student leader before the Liberation War and had taken part in different movements, including the six-point movement of 1966 and in the 1970 election campaigns for the Awami League candidates of Mohammadpur and Mirpur areas, he said in his testimony.
On the morning of March 26, 1971, he saw the houses of Bangalees in Mirpur area burning and Biharis celebrating. He escaped by swimming across the Turag river and later went to India for training before joining the Liberation War.
Under his leadership, Mama Bahini played an important role in the Liberation War. He left Bangladesh for Sweden in 1986 and settled there with his family.
Over two and a half decades later, he returned to Bangladesh to provide his testimony and gave vivid descriptions of 1971 and crimes committed by Quader Mollah in the Bihari-dominated Mirpur area during the Liberation War.
Shahidul was already ailing while giving his  testimony in July 2012.  But he refused to request adjournment when asked if he needed any break. "Ask me questions. I don't mind dying here answering questions. I'll answer for as long as I'm alive," he had said.
PM EXPRESSES SHOCK
Prime Minister Sheikh Hasina expressed deep shock at the death of the freedom fighter, reports BSS.
In a condolence message, she recalled with profound respect the contributions of Shahidul Haque to the great Liberation War.
Hasina said he played an important role in the anti-autocracy movement and building public opinion for the trial of war criminals.
She prayed for salvation of the departed soul and conveyed profound sympathy to the bereaved family.
Meanwhile, the Chief Prosecutor's Office of the International Crimes Tribunal expressed deep shock at his death.