Teesta deal not now
Delhi ends speculations ahead of Modi's Dhaka visit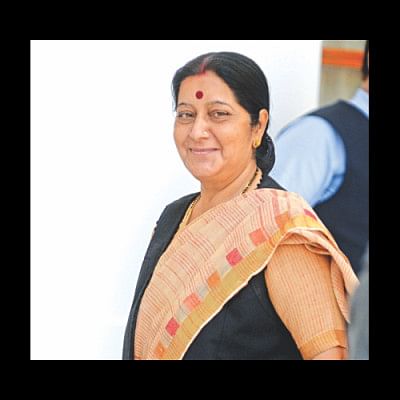 Putting an end to all speculations, India yesterday made it clear that the Teesta water-sharing deal will not be signed during Prime Minister Narendra Modi's June 6-7 Dhaka visit, as West Bengal Chief Minister Mamata Banerjee is yet to give consent to it.
"There will be no deal on Teesta during the coming visit because we have to take the state [West Bengal] government on board for this," India's External Affairs Minister Sushma Swaraj told a press conference at the Jawaharlal Nehru Bhavan in New Delhi.
She said this in response to a query about the possibility of signing the Teesta deal during the Indian PM's visit to Dhaka.
"We have not reached a position for signing of the Teesta pact. Any understanding between governments of India and Bangladesh will not be enough as no decision is possible without consulting the state government," Swaraj said.
Asked if there was any possibility of Mamata dropping out at the last minute like she did in 2011, the minister said, "This time there is no such possibility. Mamata Banerjee is definitely going there."
Swaraj, however, said the process of taking the state government on board for the Teesta deal was on.
Her statement set at rest speculations swirling in both Indian and Bangladeshi media about the signing of the Teesta agreement during Modi's visit.
This time, Indian media highlighted the possibility of signing the Teesta deal following Modi's surprise meeting with his predecessor Manmohan Singh four days ago, and the news of Modi's forthcoming talks with ex-Indian premier HD Deve Gowda on Wednesday or Thursday. 
Manmohan is familiar with details of negotiations on the Teesta deal, which couldn't be signed during his Dhaka visit in September 2011 due to opposition from Mamata, while Deve Gowda had signed, along with Hasina, the Ganges water-sharing deal in June 1996 in New Delhi.    
Determined not to repeat the fiasco of September 2011 when Mamata pulled out of Manmohan's Dhaka trip, the BJP-led NDA government had worked to bring Mamata on board.
Following the ratification of historic Land Boundary Agreement (LBA), Modi made hectic efforts to resolve the long-pending Teesta issue. He initiated talks with Mamata to reach a consensus.
Swaraj, who has good equations with Mamata, took the lead role in trying to convince her. Finally, the Indian PM invited the West Bengal CM to accompany him on his Bangladesh visit and she accepted it.
During her February 19-21 Bangladesh visit this year, Mamata assured Bangladesh PM Sheikh Hasina about the Teesta deal, saying "have faith in me".
Indian Home Minister Rajnath Singh, who visited West Bengal recently, also said the Teesta deal would be signed soon.
On May 28, Partha Chatterjee, Trinamool Congress secretary general and West Bengal education minister, announced that Mamata would accompany Modi.
But in a span of only two days, Mamata made a sudden announcement on Saturday that she would visit Bangladesh on June 5 and return home the next day after signing the LBA.
Many took the announcement as an indication that the Teesta deal might not be inked during the Indian PM's visit, as Mamata will travel to Dhaka from Kolkata separately, not with Modi who will fly in from Delhi on June 6.
Earlier this month, the Indian parliament had unanimously passed a constitution amendment bill to ratify the LBA, seeking to settle India's 41-year-old land boundary issues with Bangladesh.
The legislation would operationalise the 1974 India-Bangladesh Land Boundary Agreement that provides for exchange of 161 enclaves adversely held by the two countries.
ANUP CHETIA
At yesterday's press conference, Sushma Swaraj said the issue of deportation of Ulfa leader Anup Chetia from Bangladesh was likely to figure in the talks and noted that while extradition process will take long, he could be repatriated.
India has been pressing for deportation of Chetia, who is lodged in a Dhaka jail for over 17 years.