Target Trans-Asian Railway linkage
Revised project okayed for Dohazari-Gundum line; ADB to provide Tk 13,115cr; revised cost 10 times higher than that of original one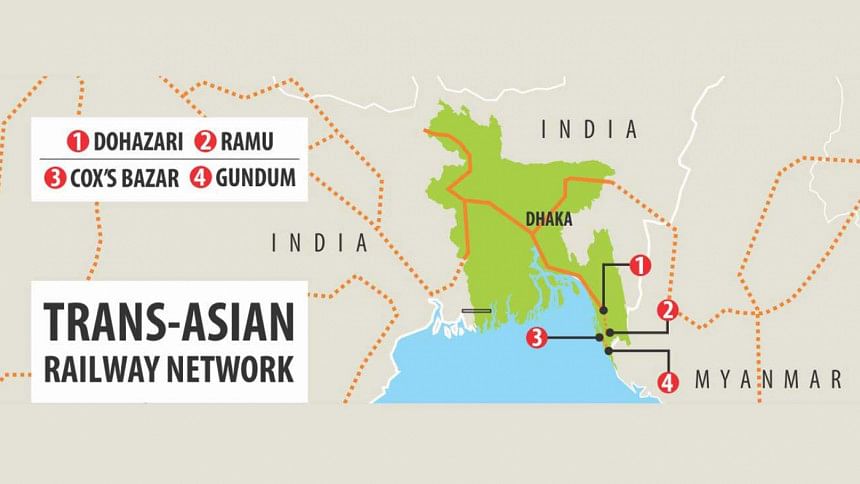 The government has revised a project to lay a 129-km rail track from Dohazari to Gundum near Myanmar border via Cox's Bazar at a cost of Tk 18,034 crore.
The original project launched in 2011 saw little progress over the last five years.
The revised project would connect Bangladesh with the Trans-Asian Railway, a network across Europe and Asia, and boost the country's trade with Myanmar, China and Thailand.
The Executive Committee of the National Economic Council (Ecnec) yesterday approved the project titled "Construction of Single Line Dual Gauge Railway Track from Dohazari to Cox's Bazar via Ramu, and Ramu to Gundum near Myanmar."
The Asian Development Bank will provide Tk 13,115 crore for the country's largest railway project, and the rest will come from the government funds. 
The tenure of the revised project has been extended to 2022.
Talking to reporters after the Ecnec meeting, Planning Minister AHM Mustafa Kamal said a rail line is being set up from China to Myanmar, and Bangladesh wants to get connected with it.
The cost of the revised project, however, is 10 times higher than that of the original project.
According to the planning ministry, the project cost was Tk 1,852 crore when it was approved in July 2010.
Prime Minister Sheikh Hasina inaugurated the project in April 2011. But it couldn't make much progress due to changes in the design, and problems over land acquisition and funding.
As of June last year, Tk 313 crore was spent on the project. But its physical progress was only 2 percent.
At yesterday's Ecnec meeting, the PM asked the railway ministry to build a 100-kilometre rail line from Dohazari to Cox's Bazar via Ramu within three years, said meeting sources.
The premier also gave a directive to include the project in the list of the government's fast-track monitoring projects to ensure its completion in time.
With this, the number of fast-track projects would stand at 10.
A planning ministry official said the original project was taken up in 2010 following a feasibility study in 2001.
Around a couple of years back, the ADB carried out a feasibility study. And major changes were made in the project design on its recommendations.
The rail line was supposed to be metre gauge under the original project. But it has now been changed to broad gauge as a prerequisite for Bangladesh to be linked with the China-Myanmar rail network.
The planning minister said economic zones, Matarbari deep seaport and coal-based power plants would be included in the economic development plan for the country's south-eastern region.
Once the rail track is built, it would play an important role in the expansion of communication network in the region, said Kamal.
A survey was conducted in 1890 for setting up a rail line from Dohazari to Gundum via Cox's Bazar, but it is yet to be laid, he added.