Spotlight on SILENT DOERS
The Daily Star - IPDC initiative honours seven change-makers
For the last 28 years, Safia Begum has been on a mission: spreading the light of education among the underprivileged.
Affectionately called "Minar Ma" (mother of Mina), the 66-year-old woman from Narayanganj founded a library "Shapla Pathagar" in 1990 all by herself in her small nook she calls home and kept its doors open for all.
With her modest savings, she bought books over the years for her library and has been serving silently the disadvantaged community in her area. Her motto: "Reading books enlightens, not reading them leads to darkness".
She is a beacon to the locals.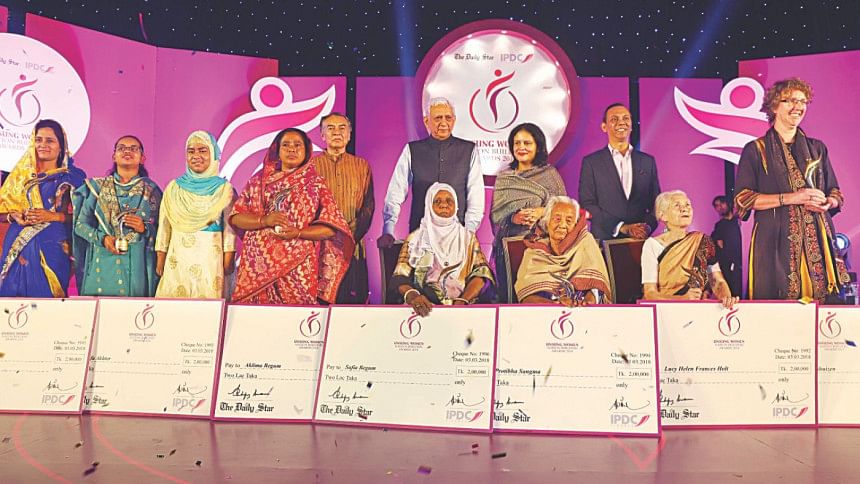 Unsung heroes like her, who work tirelessly for the wellbeing of others, often go unnoticed in a society overwhelmingly dominated by men. But yesterday was different. Safia was honoured with the "Unsung Women Nation Builders Awards 2018" for her role in building an enlightened society.
IPDC Finance Limited in association with The Daily Star presented the awards to Safia and six other women at a packed auditorium of the International Convention City Centre Bashundhara in the capital. This is the second time the awards were given to such change makers in recognition of their unique contributions to the socio-economic development of the country.
The other awardees are: medicinal plant gardener Naznin Akter Nipa, health service provider to freedom fighters Lucy Helen Frances Holt, pioneer of education for Garo community Protibha Sangma, successful entrepreneur Aklima Begum, and physically challenged Arifa Akhter who, defying all predicaments, is pursuing her studies.
Antoinette Termoshuizen, an educator of physically and mentally challenged children, got special recognition.
The awards were given ahead of the International Women's Day on March 8.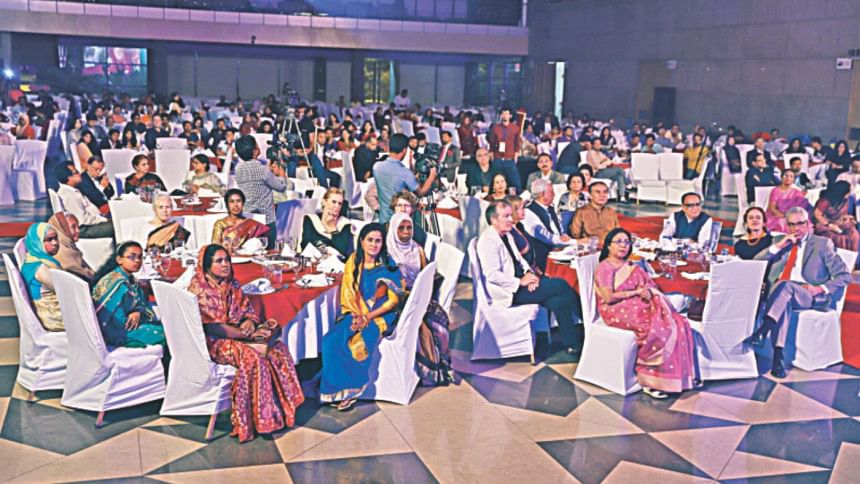 Last year, seven women change makers were recognised for their contribution in different areas. IPDC Finance Limited and The Daily Star took the initiative with a view to bringing the lives of these change makers to the forefront and share their stories with the world.
This year's nominations were based on contributions in entrepreneurship, health, education, agriculture, self-development, RMG and courageous act.
An independent jury panel consisting of writer and Daily Kaler Kantho Editor Imdadul Haq Milon, Mohammadi Group Managing Director Rubana Huq, and educationist and Campaign for Popular Education Executive Director Rasheda K Choudhury selected the winners.
Gowher Rizvi, international affairs adviser to the prime minister; Mominul Islam, managing director and CEO of IPDC; and Rubana Huq handed over the awards -- a crest and a cheque of Tk 2 lakh -- to each awardee.
"We have in fact honoured ourselves by honouring these ladies," said Gowher, addressing the ceremony as chief guest.
Referring to a recent debate in the media over quota system in government job, he said there should be a quota system to support disadvantaged groups in the society.
"We should all be very careful when we talk about merit-based society. These are meaningless in a society that is unequal and where there is no even-playing field," he said.
Until an equal society and equal opportunity are created, they must continue to support quota system so that the people who have already fallen behind get an opportunity to move forward.
Mominul Islam, of IPDC, said the contribution and the indomitable strength of the awardees were commendable.
"There are people in our society who have shown utmost mental strength to serve others and attain their goals even in the face of financial constraints and social barriers," he said.
Their achievement will set an example for the future generation and inspire them to work for the wellbeing of others, he noted.
The Daily Star Editor and Publisher Mahfuz Anam said the significant and historic role and contribution of women must be recognised.
"We have to honour women for a beautiful, equal, democratic and prosperous future," he said, adding women created numerous extraordinary examples of selflessness through their service and commitment for the welfare of the society.
In her reaction, Protibha Sangma said it was a big honour for her to have won the award.
"We teachers are neglected but I want to say we're beacons who spread the light of education."
The programme, moderated by TV personality Sharmin Lucky, also featured a cultural show by renowned Lalon singer Farida Parvin and screening of short documentaries on each awardee.