'Some progress' in UN role
Says resident coordinator about Myanmar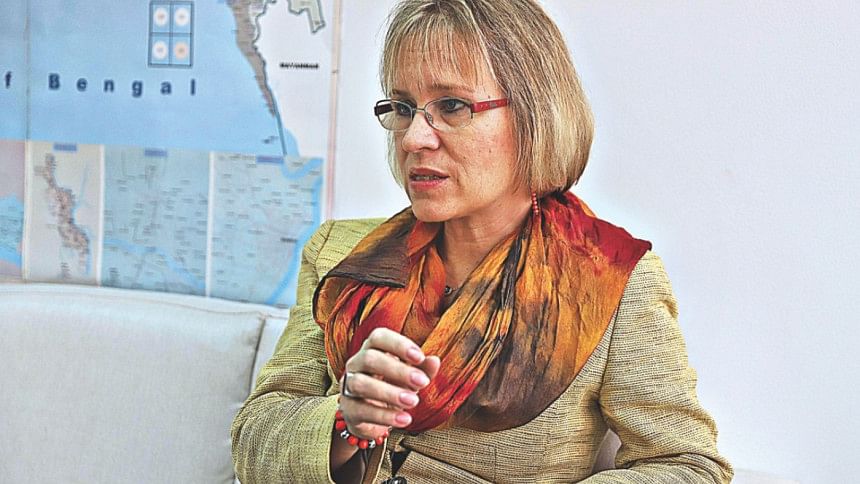 Myanmar and the United Nations have made "some progress" in terms of UN's engagement in repatriation of the Rohingyas, who fled en masse atrocities in Rakhine over the last few months.
"There is some progress, but those discussions [on engaging the UN Refugee Agency] are ongoing," said UN Resident Coordinator Mia Seppo in an exclusive interview with The Daily Star at her office in the capital on March 1.
There are more than a million Rohingyas in Bangladesh including some 700,000 who have fled the violence that began on August 25 last year.
Amid global criticism, Myanmar signed a bilateral repatriation deal with Bangladesh late November and discussions so far have been bilateral.
The UN and other human rights organisations and the Rohingyas themselves, however, have been demanding UN involvement, arguing that otherwise repatriation would not be safe or sustainable.
Myanmar has so far denied UN involvement, but Bangladesh has engaged the UN High Commissioner for Refugees (UNHCR) on sharing of information of the refugees and is set to sign another deal soon on further engagement in the repatriation process.
Seppo said there have been consistent calls from all for Myanmar to involve UNHCR as it would not be satisfactory to anyone to have a completely bilateral return programme.
"Discussions with Bangladesh are far advanced in terms of UNHCR involvement. I am confident that UNHCR will have a role to play on Bangladesh side. I am hopeful that that will be the case on Myanmar side too," she added.
She termed UN discussions with Myanmar "some progress" when the Rohingyas are still fleeing Rakhine and the Myanmar authorities are bulldozing their villages, which, according to the Human Rights Watch (HRW), is part of destroying evidence of the atrocities.
The conversation on return of the Rohingyas to the places of their origin would potentially be more complex if the evidence of people having lived in Rakhine is destroyed, said the UN top official in Bangladesh.
In the bilateral agreement, Myanmar's requirements of proof of the Rohingyas' residence in Rakhine had some flexibility, which seemed promising, Seppo observed. 
"And, this now kind of undoes a lot of the assumptions of how that process would work," she said.
She further said there has been some small improvements in humanitarian access for UN and other agencies in Rakhine, which is a good step forward, but still it is not enough.
"Our call continues for the unfettered access to humanitarian assistance in order for them to make sure that humanitarian and development assistance reaches to the people in need," Seppo said in response to reports that some Rohingyas were starving in Rakhine.