Rohingya Repatriation: Dhaka, Naypyidaw to hold talks today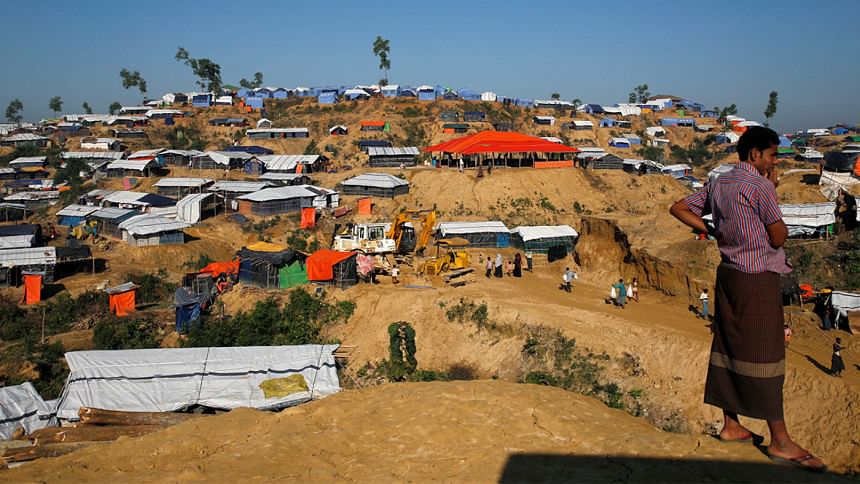 Bangladesh and Myanmar will hold their third Joint Working Group (JWG) meeting on the repatriation of Rohingyas today.
The foreign secretary-level meeting, to be held in the city, would discuss the repatriation issue in detail as "intensive efforts" were being made to start the process as soon as possible, officials said.
The meeting will be co-chaired by Bangladesh Foreign Secretary Shahidul Haque and Permanent Secretary of Myanmar foreign ministry Myint Thu.
A joint press briefing will be held after the meeting at State Guest House Meghna, an official said.
Foreign ministry officials said Bangladesh's representatives in the JWG on Sunday discussed the issues ahead of the meeting.
The JWG members from both the countries will visit Rohingya camps in Cox's Bazar tomorrow and will have interactions with the Rohingyas there.
The official said Bangladesh would seek to know the updates on the steps taken by Myanmar for the safe and sustainable return of Rohingyas.
Bangladesh wants to make sure that the first batch of returnees will have houses and other facilities to live in their own villages.
Bangladesh and Myanmar had formed the JWG, with 15 members from each side, in December last year to oversee the repatriation of Rohingyas.
Foreign Minister AH Mahmood Ali on October 15 said, "We've completed the village-wise verification of 8,000 Rohingyas to know who came from which village. We want to make sure they can start living in houses in their own villages."
He mentioned that India has built 250 houses while China was building 1,000 more in Rakhine. "The returnees will first stay at reception centres in Myanmar and then will go to their villages."
At a meeting in Dhaka on Friday, Chinese Public Security Minister Zhao Kezhi and Bangladesh Home Minister Asaduzzaman Khan also discussed the Rohingya issue.
The Bangladesh side urged China to play its role in repatriating Rohingyas.
Similar meetings were held in New York and Beijing on the sidelines of some other events in recent months.
However, Chinese Foreign Ministry Spokesperson Hua Chunying said China always believed that the international community should play a constructive role in the Rakhine State issue, and its actions should be conducive to promoting consultation and cooperation between Myanmar and Bangladesh.