US senators mull more pressure on Myanmar for Rohingya repatriation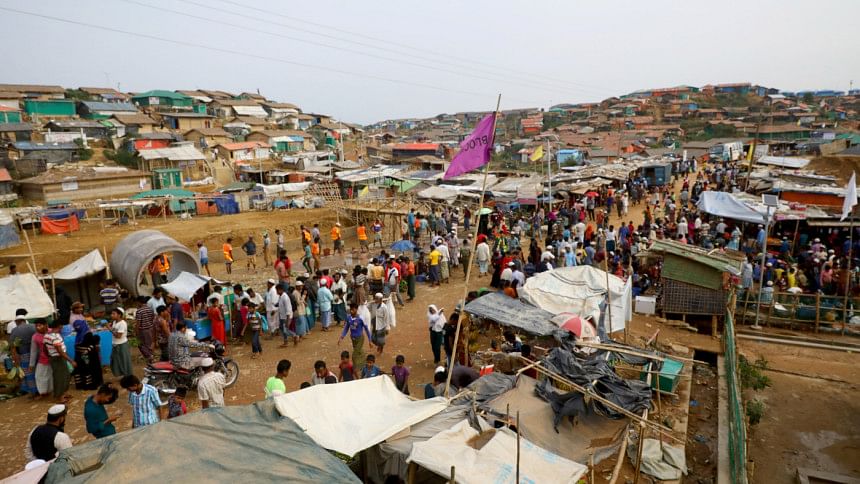 After visiting Rohingya camps in Cox's Bazar that hosted over 1.1 million forcibly displaced Myanmar nationals, New York State Senators are planning to ask their federal colleagues to put more efforts in ensuring sustainable repatriation of Rohingyas from Bangladesh.
"Hopefully, we will talk to our federal representatives to engage more in efforts to put pressure on Myanmar so Rohingya people can return (to Myanmar)," New York State Senator Luis Sepulveda told BSS after concluding a one-week visit here.
Five New York City State Senators, who provide strong support and cooperation to the Bangladeshi diasporas in New York in various matters, paid a week-long visit here from October 20 to 26 to observe the massive development in Bangladesh.
Led by Senator Luis, the delegation, comprising four other State Senators – Leroy Comrie, James Skoufis, Kevin S Parker and John C Liu – and three staff members, held meetings with high level dignitaries here as well as visited Sylhet and Rohingya camps in Cox's Bazar.
Luis observed that all of the major countries in the world especially the industrialist nations need to put a lot of pressure on Myanmar to find a sustainable solution to the Rohingya crisis.
"There is a lack of international pressure on Myanmar and also lack of highlighting incidents, that happened to Rohingyas, before the world," he said.
He laid emphasis on conducting colossal efforts to let global people know what is happening to Rohingyas.
"What we are going to do (after our visit here) to tell the world about what had happened to Rohingyas and what Bangladesh is doing," he said.
The state senator highly lauded Bangladesh role in providing humanitarian support to Rohingyas even despite having limited resources of its own.
"This is an immense effort what the country (Bangladesh) is doing on daily basis to provide shelter, food and protection to nearly 1.2 million people (Rohingyas)…. we have to work to get a sustainable solution to the crisis."
Senator Skoufis said many countries in the world could not show this generosity and make such a great sacrifice what host Bangladeshi community is doing for Rohingyas.
"I believe, this is the reflection of Bangladeshi people and their good will towards humankind," he observed.
Mentioning that the USA has so far provided maximum humanitarian assistance to the Rohingyas, he said they would do whatever they can from their position for a sustainable solution to the crisis.
In this regard, he said with curious posture that unfortunately the international media only talks about flooding or other negative issues of Bangladesh in most of the cases except showing the generosity what the country owns.
"That's not justice to this country … I encourage anyone who cares about this country to make sure that the positive message about Bangladesh can reach the rest of the world" he said.
The fresh Rohingya influx took place in Cox's Bazar district since August 25, 2017 after a military crackdown on them by Myanmar, which the UN called a "textbook example of ethnic cleansing" and "genocide" by other rights groups.