Social Business Day conference cancelled
Police deny Yunus Centre permission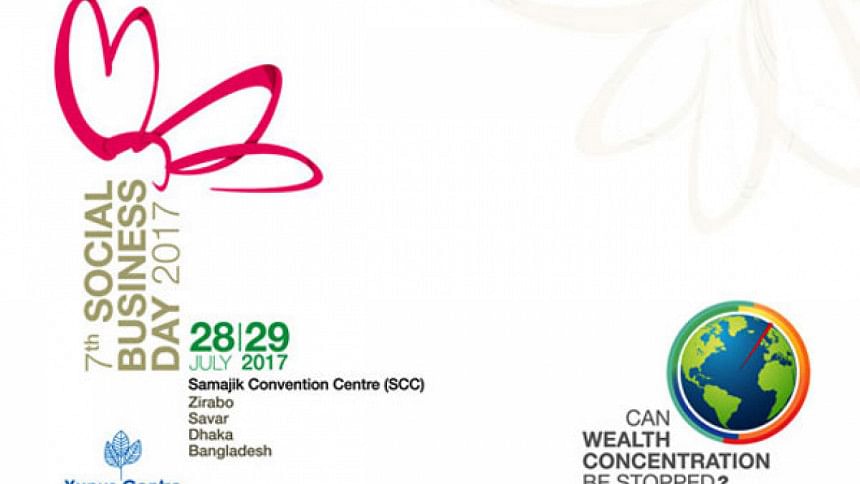 An international conference around the "7th Social Business Day 2017" to be organised by Yunus Centre today was cancelled yesterday, as police said they would not be able to provide security for the event.
About 200 participants from abroad had already arrived in the country to take part in the conference, which was to take place at the newly built Samajik Convention Centre in Savar, said a statement from Yunus Centre.
"We regret to inform you that we are cancelling the conference around the Social Business Day 2017, scheduled to be held on July 28-29, 2017, due to unavoidable circumstances," read the statement.
The statement came hours after Inspector General of Police AKM Shahidul Hoque told reporters that police would not be able to ensure security for the event.
"They [Yunus Centre] kept us in the dark. They asked for security just three days ahead of the event. It does not work like that," said the IGP at police headquarters.
Stating that Yunus Centre informed the Superintendent of Police of Dhaka on July 23 about the conference, he said, "It is not possible for him [the SP] alone to provide security for such a big event."
He also added that the police headquarters, home ministry and foreign ministry knew nothing about it.
The organiser sent letters to Ashulia Police Station, commissioner of Dhaka Metropolitan Police, special police super for Immigration, the foreign secretary and the EPZ Fire Service in Ashulia. The letters were received on July 20.
Besides, Yunus Centre's letter to Security Service Division of home ministry was received on July 23 and to the director and the immigration chief of the Hazrat Shahjalal International Airport on July 24.
The Daily Star has copies of the letters.
Talking to reporters, the IGP yesterday said, "They [the organisers] did not take proper preparation. They did not contact us. They have a lot of shortcomings."
He also added, "A negative propaganda about the government closing the event is not right.
"It is their responsibility to provide enough time for taking enough security measures."
Every year, Yunus Centre holds a conference on the occasion of Social Business Day on July 28, introduced in Dhaka in 2010, to discuss and exchange ideas about the new business theory pioneered by Prof Yunus.
Some 2,000 people, including about 400 foreigners from 50 countries had registered to take part in this year's event, Yunus Centre said in the statement.
Although it was cancelled, some of the sessions of the conference will be live cast via Facebook page of the Yunus Centre. The online session will start at 10:30 today, said the statement.
The keynote speech was supposed to be delivered by Thomas Gass, assistant secretary-general for policy coordination and inter-agency affairs at the United Nations Department of Economic and Social Affairs.
Bangladesh police have the capability to provide security for such international programmes and they would have done it happily, but some preparations are needed for this, the police boss stressed, adding that a number of militant suspects were arrested from the area where the event was supposed to take place.
The organiser, ministry concerned, foreign ministry, law enforcers and intelligence agencies cooperate with each other to hold such an event. But some preparations are needed.
Notable speakers who were to attend the event included Joël Bouzou, president of the World Olympians Association; Keith Tuffley, chief executive officer of The B Team, Switzerland; Matin Karimli, deputy minister for labour and social protection of Azerbaijan; Shankar Venkateswaran, CEO of Tata Sustainability Group; Rangu Salgame, CEO of Princeton Growth Ventures in New York; Indian actor and social activist Rahul Bose; Bei Duoguang, director of China Academy for Financial Inclusion; and Wang Zhenyao, director of China Philanthropy Research Institute.
A Social Business is a non-dividend company dedicated entirely to achieve a social goal. In Social Business, the investor gets his or her investment money back over time, but never receives dividend beyond that amount. The sole purpose of the business is to solve a predetermined social problem in a sustainable way.