Days with Muhith bhai were unforgettable: Dr Yunus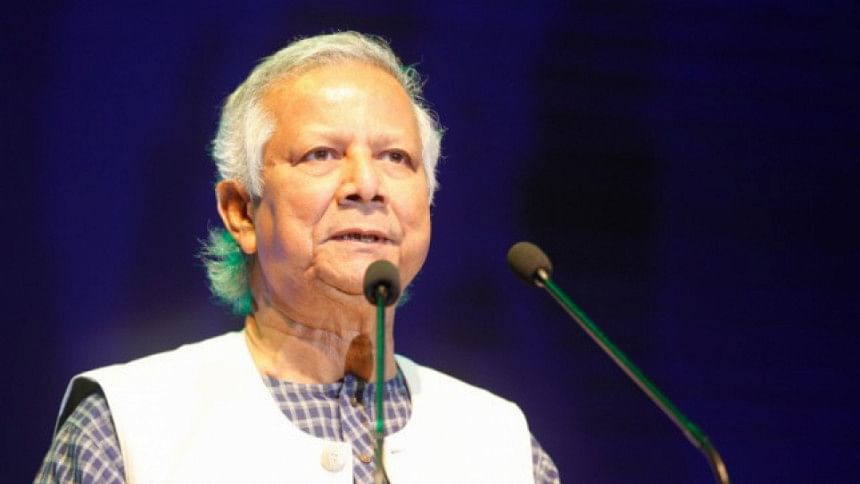 Nobel Peace Laureate and Founder of Grameen Bank Professor Dr Muhammad Yunus has condoled the demise of former finance minister Abul Maal Abdul Muhith and shared his memories with the iconic leader.
In a statement issued from Yunus Centre today, Prof Yunus recollected his five decade-long memories with AMA Muhith, terming those days as "jubilant" and unforgettable.
"I met Muhith bhai in Washington DC in March 1971. After we came to know from radio that Bangladesh had announced independence, we immediately formed a Bangladesh Citizens' Committee in Nashville comprised of six Bangalees and set up a fund donating US$ 1,000 each…. It became a routine to join discussions at Muhith bhai's residence in Washington every night where we exchanged information, engaged in heated debates."
"Some of us took the initiative to engage with different countries' missions in Washington seeking recognition for Bangladesh. Muhith bhai introduced us to the missions and briefed us on how to introduce our proposition to each concerned mission."
"Upon return to the country, Muhith bhai met me again and inquired about my activities and expressed interest to witness those first hand. I happily organised a programme at Grameen Bank's Hatubhanga branch in Tangail where we spent a whole day. Muhith bhai asked many questions to know about our efforts and I answered them all. When we were returning, he said he would give up his job in government service and join me to work for the people in villages, and set up Grameen Bank's branch in Sylhet," Dr Yunus said in the statement.
"We met again in 1982 at an international conference in Cumilla where we both were speakers. We discussed about many things including the future of Grameen Bank. I had written a concept paper on this which I gave him to read and explained in details. The next day, we were supposed to return but got stuck as General Ershad had declared Martial Law."
"We returned Dhaka on the following morning before curfew was declared across the whole country. On the next day, we came to know that Muhith bhai was made the finance minister in the newly formed government. I congratulated him. He wanted to meet."
Dr Yunus said he was really happy thinking that finally Grameen Bank would have an institutional structure. 
"At one point the Grameen Bank Ordinance was declared. The ministry instructed to organise the new bank's inauguration ceremony. We were enthusiastic to hold the inauguration ceremony, but when the ministry pressed for holding it in Dhaka, we disagreed. We wanted to organise the event in village, which the ministry would not allow."
"I called Muhith bhai over phone and told him in this regard. Muhith bhai gladly agreed and said, 'Of course it will be held in village and I will also be present at the event.' On October 3, 1983, Grameen Bank began its journey with a big rally in presence of Muhith bhai, along with numerous landless women of Jamurki village in Tangail," Dr Yunus added.