Massive theft in banking sector: Muhith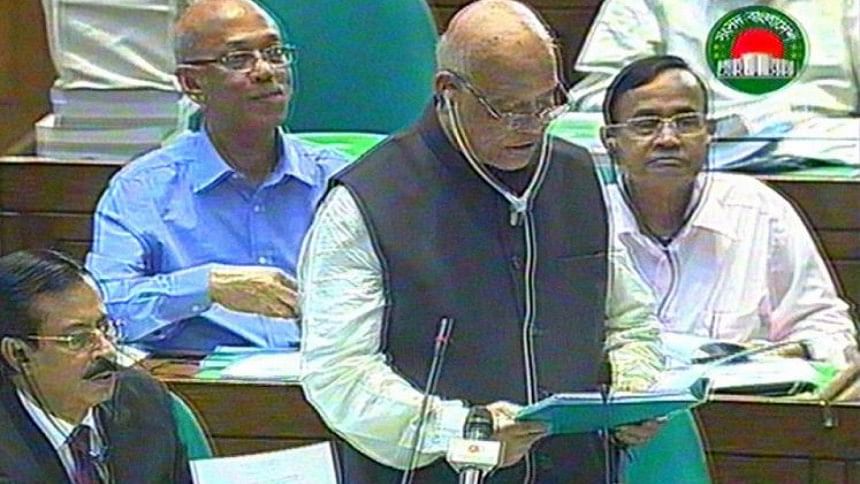 Finance Minister AMA Muhith today admitted in Parliament that there were some irregularities in the banking sector and it was massive at times.
Muhith made the comments while responding to a remark of independent MP Rustam Ali Farazi during the cut-motion discussion on the supplementary budget of the outgoing fiscal year.
"There were some faults, sometimes there were looting," the minister said echoing Farazi.
"I want to say the irregularities were massive at times," Muhith told the House.
The finance minister sought an additional amount of Tk 238.02 crore for Bank and Financial Institution Division in the supplementary budget.
Opposing this allocation, lawmaker Farazi said the incidents of theft are taking place in the banking sector.
"The situation in all state banks is the same by and large. An amount of Tk 800 crore has been taken away from Bangladesh Bank reserve through an unholy alliance of its officials. These bank officials are involved in all the incidents of theft," Farazi added.
He said a sum Tk 275,000 crore has been siphoned off, while Tk 30,000 swindled out. "These are not only thefts, but also massive thefts," he said.
Pointing to GDP projection, Muhith said it can be changed anytime.
He mentioned about the capability of the Bangladesh Bureau of Statistics (BBS) that its nine months' calculation of statistics projected that by this time the GDP would be 7.05 percent.
"What we've given [said] will be proved correct after three months, we have our own research...the BBS is very much skilled and international organisations are working on BBS data."