Protect migrants from middlemen
Hasina asks officials; tells people not to fall into brokers' traps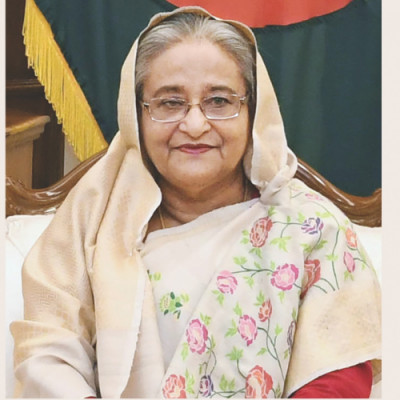 Prime Minister Sheikh Hasina yesterday asked the authorities to be careful so that migrants do not end up being cheated by the middlemen.
"We've to give special attention so that no one is cheated by middlemen. We've the responsibility to look after their security and welfare because they're our citizens," she said while delivering her introductory speech at the first meeting of the National Steering Committee on Migration at her office.
The PM also laid emphasis on the importance of creating skilled manpower before sending them abroad.
"In Bangladesh, we still have the youth, which is a big power for us. We've to make them skilled through providing them with training. We'll not only send labourers but also skilled workforce," she said.
Regarding the sending of female workers abroad, Hasina said female workers are going to many countries.
"But are these female workers capable of handling these kinds of work? We've to look into this as well."
If anyone goes abroad without receiving the training required that person would not able to perform the work, Hasina added. 
"So, they'll ultimately face oppression. We've taken various initiatives to stop this, but people fall prey to the middlemen."
The PM stressed the need for raising public awareness so that people are never cheated by the middlemen. The middlemen often lure the innocent rural people, Hasina pointed out.
"They take a hefty amount of money from people and send them abroad. After that they put pressure on their relatives for more money. This sort of irregularity is a common phenomenon in the country," she said.
The PM said a stronger monitoring system is needed to stop the deception of workers who are going abroad. The workers are sending a large amount of remittance, which is contributing to reducing poverty and increasing the foreign currency reserve.
"Prepare a database of people going abroad for jobs with details such as where they are going and for which work."
The government is trying to convince people not to approach brokers and go abroad by registering through the digital centres, Hasina said.
The government has established Probashi Kallyan Bank so that people can get loans from the bank to go abroad, she mentioned.
The PM called upon the media to play an effective role to this end.
She added that in future, Bangladesh might not send manpower abroad as the country would need skilled manpower since it is setting up 100 special economic zones and developing the information communication technology sector.
Ministers, secretaries and other officials concerned were present at the meeting.