Pre-paid food card for refugees, locals
WFP to introduce the debit card for 10 lakh Rohingyas, 2 lakh locals in Cox's Bazar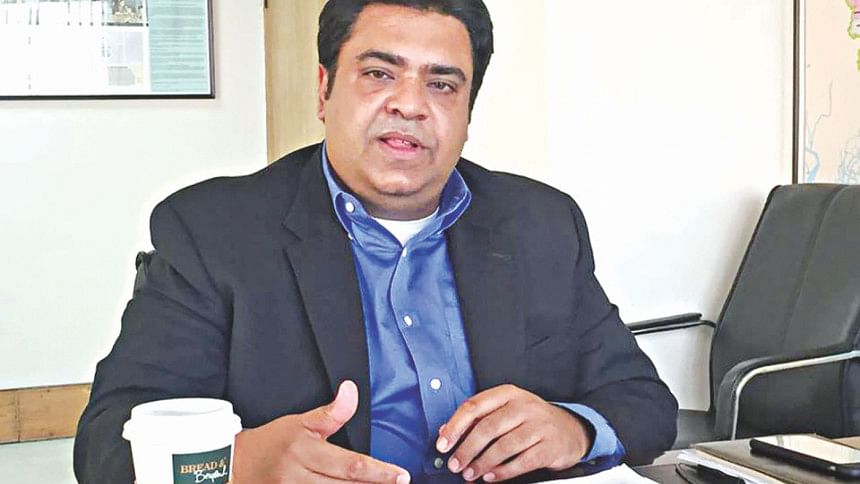 The World Food Programme has planned an e-voucher programme for 12 lakh people -- 10 lakh Rohingyas and 2 lakh locals -- in Cox's Bazar by September of this year. It is hoped that this will help improve their nutritional intake and check any possible socio-economic instability. 
"When we just distribute rice, lentils and oil, they are not getting all the nutrition they need. As we introduce the new programme, they feel dignified. It also gives them choice," said Rehan Asad, chief of staff of WFP, in an interview on January 9 at the UN office in the capital.
Under the programme that begins in February, each family will receive a monthly amount on a pre-paid debit card, which can be used in designated shops to purchase 19 different food items, including rice, lentil, fresh vegetables, chillies, eggs and dry fish.
The debit card will be loaded with Tk 750 for each person in the family per month. Rehan said that there is also hope that this system will help bring down rising food prices by reducing wastage.
Presently, the WFP provides 50 kgs of rice, nine kgs of lentils and yellow split peas, and four litres of vegetable oil per month for over one lakh households consisting of some seven lakh Rohingyas. It has also been running an e-voucher programme for 90,000 Rohingyas who arrived before the latest influx last year.
The plans come on the heels of a new study by WFP released on January 5 which says that the major concern is limited access to a well-diversified and balanced diet for the Rohingyas, 656,000 of who fled violence in Myanmar's Rakhine State since August 25 last year and joined around 300,000 other Rohingyas who had fled violence in the previous years to Cox's Bazar.
"Malnutrition level is alarming, especially among the women and children, but not uncontrollable," said Rehan, who came to Dhaka from the WFP headquarters in Rome on January 6 to assess the Rohingya crisis and decide the next course of action in regards to food and nutrition.
"We will do everything we can and nobody will die from starvation. As we move from the emergency phase, we will make efforts to stabilise the situation," said the UN official, a Bangladeshi by birth, who left for Rome on January 10.
The comments come at a time when there are concerns over rising food prices in Bangladesh and fears that the Rohingya crisis has adversely affected the food situation and contributed to a lowering of labour wages in Cox's Bazar and its adjacent districts.
Import of rice in the country stood at 22.59 lakh tonnes in July-December of the 2017-18 fiscal year, the highest since 1998-99. In Dhaka, retail prices of coarse and medium quality rice range between Tk 44 to Tk 56 a kg, according to the Trading Corporation of Bangladesh.
Rehan said during his visit to Cox's Bazar, locals raised concern over the high food prices and low wages. It is important to ensure that local people don't suffer as the authorities respond to the Rohingya crisis, he said.
Rehan said the e-voucher programme is going to help in a big way in improving food and nutrition scenario as well as alleviate concerns of the locals about food prices in Cox's Bazar. 
While operating the e-voucher programme, WFP will assess the local food production, market prices and level of inflation. Based on that, it will procure food either from local markets or from abroad, so that the local economy is not hampered.
"If we have funding and we buy too much, then the local population will suffer due to inflation," he said.
Presently, the food is purchased locally, but as the programme is extended, WFP would assess supply of each item it buys, level of inflation and the local economy on a quarterly basis before deciding whether to make purchases locally or from abroad, Rehan added.
The UN Food Agency will select who to procure food from, he said.
Asked about the funding, Rehan said WFP in Bangladesh has received 90 percent of the $77 million it sought for the first six months until February.
For the next phase of March-December 2018, WFP would require $240 million for 12 lakh people, including two lakh from the host community, in Cox's Bazar, said Christa Rader, country representative of WFP in Bangladesh.
She said WFP is also beginning a two-year cash grant programme for 40,000 poor female-headed households.
Each of the households would be provided with Tk 1,050 a month and once they have a business plan, each of them would be given a grant of Tk 15,000. Such programmes worked well in the past and are expected to works well this time too, she said.
"This is very important for maintaining a balance between the Rohingya refugees and the locals," Rader said.