Solution, not punishment
Says US on its objective regarding Myanmar and Rohingya issues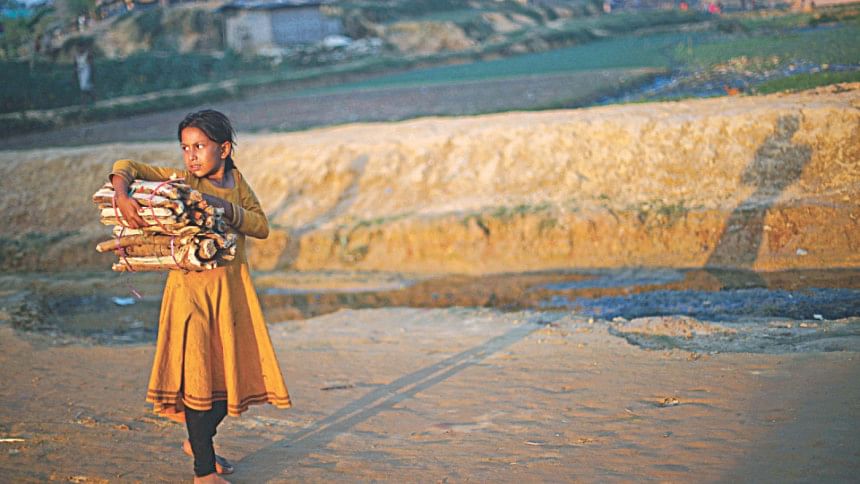 The United States right now is preferring diplomatic solutions to the Rohingya crisis instead of punishment to Myanmar though there is scope for sanctions if needed, a State Department official said in Dhaka yesterday.   
"We have a variety of sanctions available to us should we decide to use them. This will be a part of larger efforts of pressure," said Thomas A Shannon, under secretary of state for political affairs.
"But right now, as I noted earlier, our purpose is to solve the problem, not to punish," he said. 
Shannon noted that his country sees some "positive movements" including Myanmar authorities receiving members of international community in Rakhine State and holding talks with Bangladesh.
He made the comments just days after US lawmakers proposed re-imposing targeted sanctions and travel restrictions on Myanmar military officials over the treatment of Rohingyas.
Shannon was speaking at a joint press briefing, flanked by his Bangladesh counterpart Foreign Secretary Md Shahidul Haque, at the state guesthouse Padma yesterday.
Before this, they co-led the sixth US-Bangladesh Partnership Dialogue, the premier forum between the two countries for further expanding and deepening cooperation on bilateral and regional issues.
During the meeting, Shannon thanked the government of Bangladesh for its generosity in responding to the refugees fleeing Myanmar, and expressed appreciation for its continued efforts to ensure assistance reaches the affected population.
"He noted that we call on Bangladeshi and Burmese officials to continue developing a framework for the safe and voluntary return of Rohingya communities to Burma and that we urge rapid and complete implementation of the Annan Commission's recommendations," reads a media note issued by the Office of the Spokesperson, US State Department, in Washington. 
'CAPTURE THAT PROGRESS'
Shannon, who arrived in Dhaka yesterday morning, also called on Prime Minister Sheikh Hasina and had a meeting with Foreign Minister AH Mahmood Ali. He is due to leave for Colombo this morning.
The US diplomat said as dialogue is taking place between Myanmar and Bangladesh in regard to Rohingya crisis, Washington wanted to "capture that progress" and drive it towards a resolution without having to resort to other means.
He said they intend to work with the government of Bangladesh, international institutions and organisations like the UN to address the humanitarian crisis.
"Our focus is to solve the problem and we are going to pursue a diplomatic solution to this problem," Shannon said, adding "The focus is also to address humanitarian needs to those who fled to Bangladesh."
The Bangladesh foreign secretary appreciated the US for its role on the Rohingya issue as he found the US position "the strongest" on this.
"They are supplying humanitarian assistance and so far has taken 31 concrete measures in terms of making solutions," he said in his opening remarks.
Asked about the impacts of those measures, Shannon said because of those measures, their diplomats and international community have been allowed in Myanmar to discuss the issue. They were also allowed to visit Rakhine State, he said.
In his opening remarks, the US official said his country counts Bangladesh as a "close and reliable" partner in its endeavours towards free trade, sustainable development, the rule of law and universal values of democracy and human rights.
He added that they "devoted special attention" to trade and prosperity agenda, security in the Indian Ocean region, combating transnational terrorist groups, North Korea's "dangerous and provocative" conduct and the Rohingya crisis.
He said this dialogue demonstrates that Washington and Dhaka collaborate on many important issues and share a long history of cooperation and a vision for a tolerant, democratic Bangladesh that serves as a bridge for commerce between South and Southeast Asia.
"Bangladesh is an anchor for stability and prosperity in the region, and we appreciate the government's commitment to a free and open Indo-Pacific region."
Asked whether they discussed sending back of a convicted killer of Father of the Nation Bangabandhu Sheikh Mujibur Rahman, staying in the US on political asylum, Shannon said, "I can assure you that in every meeting we have with Bangladeshi diplomats, the case is raised, and the foreign Secretary raised it and as did Bangladesh's ambassador in Washington."
PARTNERSHIP DIALOGUE
Earlier, in the plenary session, both sides discussed important issues of bilateral, regional and global interest and concern.
The safe, sustainable and dignified return of the forcibly displaced Myanmar nationals was discussed with utmost importance. Bangladesh side deeply appreciated Washington's strong political and humanitarian support on the Rohingya issue.
"Bangladesh underlined the fact that despite the claim from the Myanmar side that the violence has stopped, people from Myanmar are still crossing the border and coming to Bangladesh in hundreds and thousands every day narrating stories of atrocities that are contributing to the continued influx of Rohingyas from the Rakhine State in Myanmar to Bangladesh," according to a press release of the foreign ministry.
Bangladesh also elaborated on the initiatives undertaken by the government in temporarily sheltering the huge number of refugees, and providing emergency humanitarian assistance to them.
The US side also assured Bangladesh side of their continued political support and actions including financial assistance to address this man-made humanitarian catastrophe of nearly unmanageable magnitude.