Police HQ alerted Babul to possible attack
Home boss 'suggests Israeli link to recent attacks'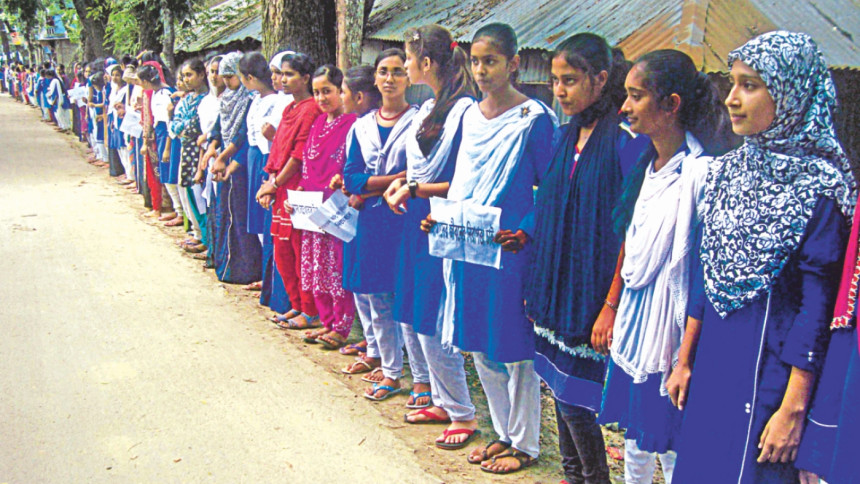 Over a month ago, the Police Headquarters had warned Superintendent Babul Akter about a possible militant attack and instructed him to beef up his own and his family's security.
The warning came after police recovered a note from a JMB leader arrested in a Northern district around one and a half months ago. The note contained a plan for attacks on family members of law enforcers, Babul's family and sources in the Dhaka Metropolitan Police told The Daily Star yesterday.
Since the warning, Babul, who conducted several anti-militancy drives, busted some key militants' dens and arrested several top JMB leaders, became worried about his family's safety.
His fear grew further after several letters purportedly sent by militants threatened him with dire consequences.
Apart from conducting anti-terror drives, Babul recovered a huge volume of gold and Yaba tablets and arrested many local criminals while working as an additional deputy commissioner of the detective branch of Chittagong Metropolitan Police (CMP) in the past few years.   
Keeping all these in mind, the CMP has opened the investigation into the gruesome murder of his wife Mahmuda Khanam Mitu.
Police are also raiding different parts of the port city to nab the assailants who first stabbed and then shot Mitu, 30, to death in Chittagong on Sunday morning in front of her six-year-old son.
Talking to this newspaper at his father-in-law's house at the capital's Khilgaon, Babul himself hinted that militants might be behind the killing. "The style of the killing is similar to those carried out by militants."
But he added he could not come to any conclusion before investigation.
Babul was promoted to the rank of Superintendent of Police on April 5 and he joined the Police HQ on Thursday, leaving his family in Chittagong. He was staying at the Police Officers' Mess in Mirpur and looking for a flat for his family in Mirpur DOHS area.  
His brother said Babul was planning to shift in a few days. He also discussed his plan with his wife a few days ago. Babul wanted to have his son, a class-one student, admitted to Dhaka Cantonment School.
The brother, who spoke on condition of anonymity, said that though worried, Babul never thought there would be an attack on his family. 
Mitu wanted to stay in Chittagong till the end of this year so that their son could complete his academic year at the Cantonment School there. She suggested that Babul rent a flat in another part of the port city where a few people would know them. But Babul was determined to move his family to Dhaka during Ramadan.
Over the last two years, suspected militants have attacked and killed university professors, writers, publishers, secular bloggers, gay rights activists, foreigners, policemen and members of religious minorities, including Shia and Sufi Muslims, Christians and Hindus.
But this is for the first time that a family member of a top cop has come under attack.
Reportedly, terror group Islamic State claimed responsibilities for many of the past attacks. But the government maintains the group has no presence in the country, and squarely blames the opposition parties such as the BNP and Jamaat for those.
Talking to the BBC yesterday, Home Minister Asaduzzaman Khan Kamal suggested an Israeli link to the recent killings of secular bloggers and minorities.
He said an opposition MP had met an Israeli intelligence agent and there was evidence of an "international conspiracy" against Bangladesh.
He gave no more evidence. Israel says the claim is nonsense.
A DUBIOUS MESSAGE!
On the fateful morning, Mitu received a message over her cell phone, saying that there would be an assembly at her son's school and so her son should be there half an hour earlier, family members said.
They said they heard about the message from police.
Sources said the school authorities denied sending any such messages. Police suspect the assailants had sent the SMS to trick her.
On a normal day, the boy would get on the school bus from a spot some 200 metres from their house around 7:15am. For the last two years, a police constable would accompany him to the spot.
But on Sunday, Mitu took him as the constable had a bike accident about two weeks ago.
As the mother and the son reached near Well Food, a food outlet, the assailants hit her with their motorbike, before stabbing her indiscriminately and shooting her in the head.
One of the assailants held her son during the attack, neighbours said, quoting the boy, who was not hurt.
Meanwhile, Babul filed a case against three unnamed people with the Panchlaish Police Station.
Police detained four people for interrogation, but did not disclose their identities. 
Detectives also claimed to have recovered the bike used by the assailants from the port city's Badurtala area around 2:00am yesterday.
Mitu was buried at the Meradia graveyard in the capital yesterday.