'Killers' of cop wife seen on camera footage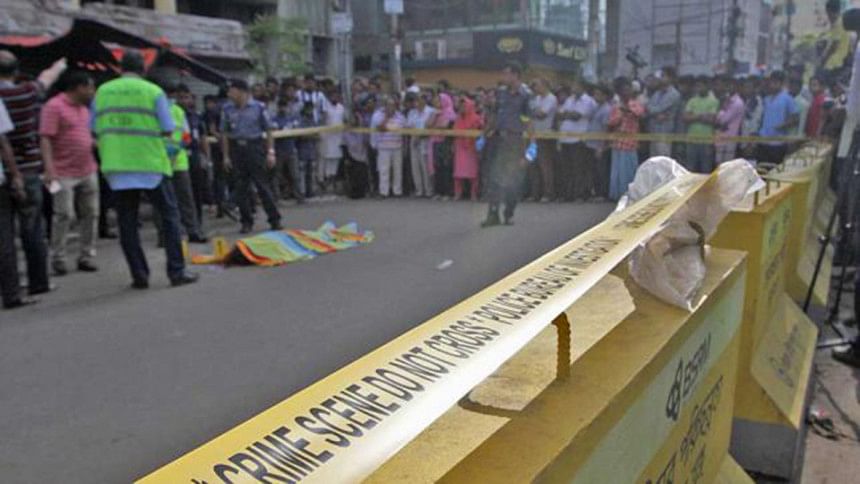 Police say they have been able to spot the suspected killers of the Chittagong police official's wife rummaging through close circuit camera footages of the vicinity.
There were three men, riding motorcycles, involved in the killing, police believe after cross-matching their findings with the alibi of the victim's school-going son who witnessed the incident.
ALSO READ: Wife of police super shot dead in Ctg
Mahmuda Khanam Mitu, 32, wife of a Chittagong city police official who was promoted recently after leading many successful drives against militants, was murdered before her son this morning.
She was first stabbed, just 300 yards from her house near the populous GEC intersection in the port city, and later shot several times to confirm death.
ALSO READ: Militant link suspected in murder of SP's wife: CMP
Masood-ul-Hasan, additional commissioner of Chittagong city police, said they were compelled to suspect militant ties with the murder considering her husband's run with militant crackdowns.
WHAT'S IN THE CAMERA FOOTAGES
Police said they found CCTV footages from the adjacent areas. However, they were yet to find a tape that captured the murder. Those available showed incidents prior and post to the killing.
Three men were seen waiting on a motorbike opposite to the residence of victim's husband Babul Akter, detective branch's additional deputy commissioner in the city, said Paritosh Ghosh, additional commissioner of CMP (south).
ALSO READ: Militants killed wife to demoralise SP, says Bangladesh home minister
When Mitu came out of the house with her son, they followed her for a while. As soon as they reached about 300 yards from the house, one of the stalkers pushed Mitu to the ground.
Nothing more could be obtained from the footages, but, a high ranking police official chose anonymity to tell The Daily Star that a separate footage showed the three fleeing the spot. The man sitting in the rear of the motorcycle had a gun on his hand.
The driver of the motorcycle wore a punjabi or a fatua. The man in the middle had his face hidden behind the driver, while the third, at the rear, was a slim-figured man holding the gun.