PM to brief media today on Rampal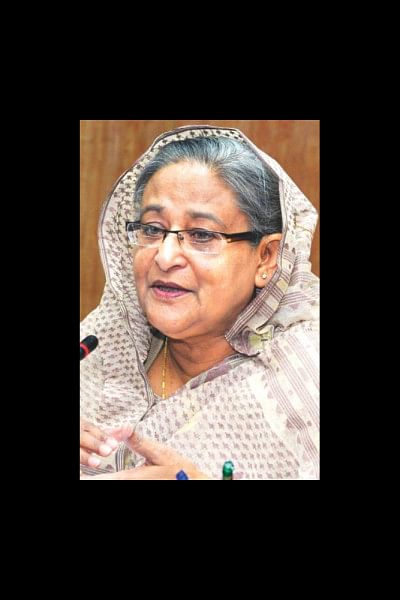 Prime Minister Sheikh Hasina will brief the media today on the Rampal power project close to the Sundarbans amid concerns over the coal-fired plant's environmental impacts on the world's largest mangrove forest.
She would point out various aspects of the project such as environmental issues, the country's interests and the ongoing movement for the project's cancellation, said a source at the Prime Minister's Office.
This would be the PM's first official statement on the 1,320-megawatt power plant to be built by Bangladesh-India Friendship Power Company, a joint venture of Bangladesh Power Development Board and the National Thermal Power Corporation Limited of India.
PM's Press Secretary Ihsanul Karim told The Daily Star yesterday that the premier would hold the press conference around 4:00pm      at her official residence Gono Bhaban.
Talking to this correspondent, Environment and Forest Minister Anwar Hossain Manju said the prime minister would elaborately speak on the power project.
A patriot like Sheikh Hasina would never do anything that would harm the country, he said.
No organisation, person or study could say for certain that the Sundarbans would definitely be affected by the construction of the power plant, which is necessary for the country's development, Manju said.
"So far, some studies have made hypothetical indications that the Sundarbans would be affected if the power plant is built in Rampal."    
  If anyone or any organisation can prove that the plant's construction would definitely affect the Sundarbans, the PM would certainly consider relocating the project site, added the minister.
The power plant site is about 14 kilometres away from the Sundarbans.
Environmental experts have warned that the Rampal project will cause substantial damage to the Sundarbans and its wildlife.
They say the project would harm the Unesco World Heritage site,           as it would affect the climate, topography, land use pattern, wetlands, flora and faunal diversity and quality of air and water in the Sundarbans.
Sultana Kamal, convener of the National Committee to Save the Sundarbans, has urged the youth of the country to join the movement for cancellation of the project.
Prof Anu Muhammad, member secretary of National Committee to Protect Oil, Gas, Mineral Resources, Power and Ports, has also called for scrapping the project.
Besides, BNP Chairperson Khaleda Zia has urged the government not to implement the project, saying it is anti-people and against the country's interests.
On July 12, the government signed an agreement with an Indian firm to set up the India-Bangladesh joint venture plant on the bank of the Pashur River.
The $1.49 billion plant is likely to start producing electricity in 2019. Seventy percent of the project cost would be covered by the Indian Exim Bank as loan, and the rest by the governments of Bangladesh and India.