Peacekeeper killed in Mali
Another ends up in hospital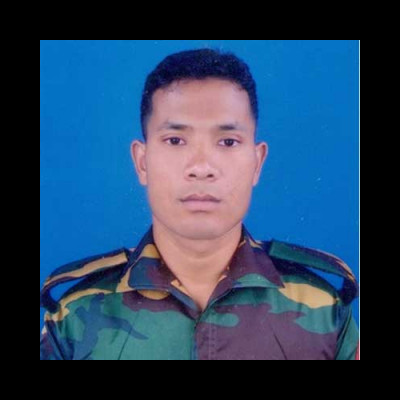 A Bangladeshi UN peacekeeper was killed and another sustained bullet injuries as armed men opened fire on a UN vehicle in Africa's Mali early yesterday.
The deceased is soldier Nilkantha Hajong of Bangladesh Army. He is from Kartikpur in Dharmapasha upazila of Sunamganj.
Soldier Sirajul Islam was shot in the hand and was undergoing treatment at a local hospital, said an ISPR press release.
The attack was carried out in Bamako, the capital of Mali, around 7:30pm Monday local time.
The United Nations peacekeepers were going towards the south of the city from Bamako airport when some assailants opened fire on them from a car, a source from Minusma, the UN's peacekeeping mission in Mali, told AFP.
"Unidentified armed men shot at two peacekeepers who were on board a UN vehicle on Monday night [early yesterday]. One of them was killed and the other seriously wounded," a Malian security source told AFP.
"We are seeking clarification and details of the incident. This has to be viewed as a terrorist act. The perpetrators are the enemies of peace," the source added.
With more than 40 peacekeepers killed since its inception in 2013, the 11,000-strong Minusma is considered the most dangerous UN mission in the world.
It is regularly targeted by militants in the north. Yesterday's ambush came just five days after a militant opened fire on a UN residence in the city's Faso Kanu neighbourhood, according to AFP.
An unidentified gunman shot and wounded a civilian guard and hurled two grenades in the early hours of Wednesday last week. The grenades did not explode and no troops were hurt.
The country's northern desert has been plagued by violence by jihadist groups that seized control of the region from Tuareg rebels before being routed by a French-led international intervention that began in 2013.
According to the website of the Armed Forces Division, 1,420 Bangladeshi peacekeepers have been deployed there under the UN mission since April last year.
PM CONDEMNS KILLING
Prime Minister Sheikh Hasina yesterday strongly denounced the "cowardly killing" of the Bangladeshi UN peacekeeper in Mali.
She urged the UN to play a more effective role in tackling such terrorist and militant acts, reports UNB.
In a condolence message, Hasina expressed profound shock at the death of Nilkantha Hajong.
She prayed for the eternal peace of the departed soul and conveyed her deep sympathy to the family members of the deceased.
 The PM wished early recovery for the army soldier Sirajul Islam.