Not a worker to be hired by KL
Malaysia goes back on plan to hire 1.5 million Bangladeshis in 3 years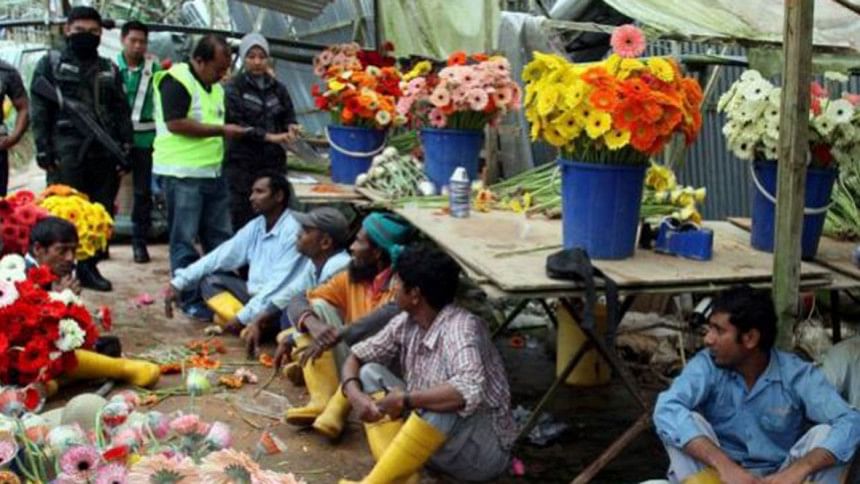 Following a series of controversies, Malaysian deputy prime minister yesterday said the initial plan to bring in 1.5 million Bangladeshi workers has been scrapped officially. 
Drawing huge criticisms from Malaysian trade unions, NGOs and civil society, Kuala Lumpur had signed a manpower deal with Dhaka on February 18 amid economic downturn and political conflicts in the Southeast Asian country and fear of corruption in the recruitment process.
The deal was called G2G Plus, meaning workers could be recruited both by private agencies and government. Confusions reigned about how the private agents would be selected and what would be the recruitment mode.
Migrant rights activists and experts suggested Malaysia regularise undocumented foreign workers before making fresh recruitment.
A day after the deal signing, Malaysia declared it had suspended recruitment of all foreign workers, including Bangladeshis.
The next day, however, Malaysian Human Resources Minister Richard Riot, who had signed the deal with Bangladesh Expatriates' Welfare Minister Nurul Islam in Dhaka, said the agreement would remain unaffected.
Acting secretary Begum Shamsunnahar of the expatriates' ministry echoed the same view, saying Malaysia had not officially communicated its suspension decision to Bangladesh.
She also had told the media that the February 19 declaration of Malaysia was an "eyewash".
But yesterday, Malaysian Deputy Prime Minister Datuk Seri Ahmad Zahid Hamid said the cabinet has decided to halt the recruitment of new foreign workers into the country.
"There will not be one, let alone 1.5 million new foreign workers coming into our country," he said, according to Malaysian news site The Star Online.
Minister Nurul Islam or acting secretary Begum Shamsunnahar could not be contacted as their mobile phones were found switched off.
Mohammed Abul Basher, president of Bangladesh Association of International Recruiting Agencies (Baira), however, said such a decision of Malaysia was undignified for both the countries.
"Malaysia should have thought well ahead of the MoU signing [on February 18]," he told this correspondent. 
He recalled that Malaysia in 2009 cancelled visas of 55,000 Bangladeshis, who therefore were financially affected.
The Malaysian deputy prime minister told reporters at Bagan Daton in Malaysia that employers who need workers will have to apply to legalise the existing foreigners without work permits or whose permits have expired.
Employers had until June 30 to legalise such foreign workers.
"If they can't hire anyone, they should just get the Malaysian Employers Federation, Federation of Malaysian Manufacturers and Malaysian Trade Union Congress to help them find locals to do the job," said Zahid, who is also the home minister.
Following this, employers and recruitment agents would be dealt with more severely, he said.
"We will be pushing for those found guilty of trafficking and harbouring illegal workers to be caned," he added.
"Right now, they are not afraid because they think they can get away by paying a fine but that will not be the case anymore."
Yesterday's announcement of regularising the undocumented foreign workers is contrary to the statement of the same minister that all the undocumented foreign workers in Malaysia would be arrested and deported.
The policy changes of Malaysia are important as an estimated 2 lakh of the 6 lakh Bangladeshis in Malaysia are believed to be without valid papers, and recently there have been reports of more arrests of the foreign workers, including Bangladeshis, in various areas of Malaysia.
CONTROVERSIES
Labour relations between Kuala Lumpur and Dhaka have been tarnished by malpractices and labour abuses that led to recruitment bans by Malaysia several times since formal labour recruitment from Bangladesh began in the 80s.
In late 2012, Malaysia had signed a deal for recruiting workers only in plantation sector under G2G pact to eliminate brokers and reduce migration cost to less than Tk 40,000. But, since then only some 10,000 workers went there.
Malaysia termed it a failure of G2G though experts said certain quarters in the Malaysian government and agents made the G2G a failed programme.
 In June last year, Malaysia declared it would recruit 1.5 million Bangladeshi workers through private sector. Initial plan was to recruit them in three years.  
Malaysian trade unions and rights groups decried the announcement, arguing that the country was hosting over 2 million irregular migrants who needed to be regularised before making any fresh recruitment amid downturn of Malaysian economy.
The criticism became sharp when Malaysian media revealed that some private companies of the country, like Bestinet, Real Time Networking and Synerflux, had been lobbying Bangladesh and Malaysian governments to win contracts.
These companies were owned, directly or indirectly, by relatives of ministers. Of them, Synerflux was selected.
 Lately, Baira and Bangladesh High Commission in Kuala Lumpur also warned that Malaysia's appointing Synerflux to regulate the labour recruitment would establish a monopoly.