No-hilsa campaign worked well
Prices slump in city markets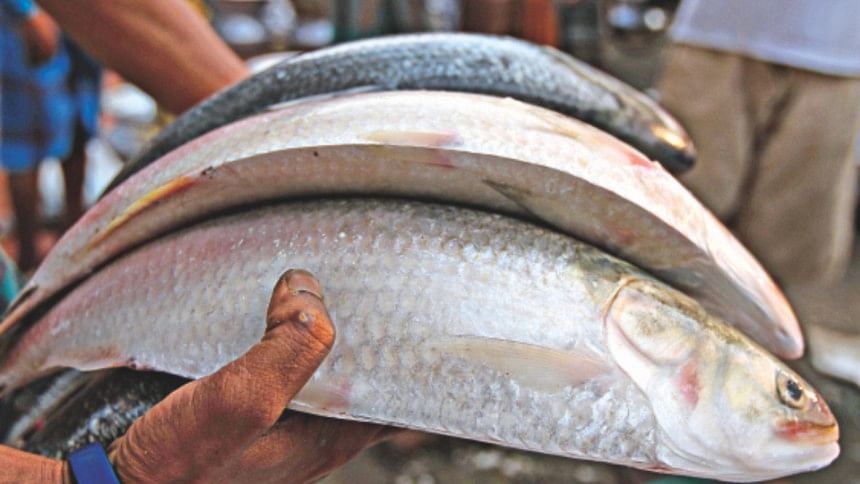 The sale of hilsa dropped significantly at retail markets the day before Pahela Baishakh, thanks to social media campaigns and calls to strike the fish off the Baishakh menu.
Fish traders in the capital say they are now selling hilsa, mostly from cold storage, at half the price they got a couple of days before the Bangla New Year. Yet, the sale is poor, and they are incurring losses.
They say it was the wholesalers who made a huge profit from hilsa sale.
Celebrating Pahela Baishakh with fried hilsa and panta bhat (rice soaked in water) has been a common trend among people, especially those in the capital.
Cashing in on the rising demand for hilsa before the festival, a section of unscrupulous traders sell the fish four to five times the normal price. Some of them even sell jatka (hilsa fry).
However, things were a bit different this year.
A week before the festival, there was a campaign on social networking websites, especially Facebook, urging people not to have hilsa on Pahela Baishakh.
Several Facebook posts said the practice of having hilsa and panta bhat has no root in a thousand years of Bengali tradition. Some others voiced worries about the future of the national fish, saying overfishing during its spawning season may soon push it to the brink of extinction.
Two ministers -- Cultural Affairs Minister Asaduzzaman Noor and State Minister for Fisheries and Livestock Narayon Chandra Chanda -- and a few government officials urged people to drop hilsa from their Baishakh menu.
Even Prime Minister Sheikh Hasina struck hilsa off the Baishakh menu at her official residence, Gono Bhaban.
These calls seem to be paying off. The sale of hilsa declined as many people refrained from buying hilsa.
Shamim Mia, a fish retailer at Shewrapara kitchen market, said he incurred loss for the first time in 12 years.
"The sale of hilsa suddenly plummeted the day before Pahela Baishakh. There were only a handful of customers," he told this correspondent.
Shamim bought two maunds of hilsa, kept at cold storage, ahead of Pahela Baishakh but could sell only half of it till yesterday afternoon.
The trader said he had bought hilsa weighing between 450 and 500 grams from a wholesaler for Tk 350 each on average.
He sold those for Tk 650-700 each three days before the festival, but failed to get customers even after reducing the price to Tk 300 yesterday.
"We always made some extra money on the occasion of Pahela Baishakh. But this year, traders like me had to suffer losses," he said.
He, however, said the wholesalers made a huge profit as they had sold their stocks before the downward trend hit the fish trade.
Sumaiya Rahman, a resident of Mohammadpur, said, they didn't buy hilsa on Pahela Baishakh, but it didn't spoil the celebration.
"We had panta bhat with ruhi fish and bharta in the morning. Khichuri, chicken curry and egg were on the lunch menu," she said.
Rajib Ahmed, a resident of Dhanmondi, said they had different kinds of local specialties on Baishakh morning. "We celebrated Baishakh with much fanfare. We didn't have hilsa and it was fine."
At Karwan Bazar, traders were selling a hilsa weighing around one kg for Tk 800-1,000 yesterday. Three days ago, it was sold for Tk 2,000-2,500.
"Today, I couldn't get any customer willing to buy this fish for even Tk 1,000," said Nasir, a trader.
Another trader, Shukkur Ali, said the number of hilsa buyers fell drastically the day before Pahela Baishakh.
"Now, we have to sell the fish at lower prices. We cannot preserve the fish with ice for long because it had been kept at cold storage for several months."
The trader feared he may have to sell the fish at prices far lower than the present ones.
Shukkur, who sells fish at Karwan Bazar for more than two decades, attributed the poor sale of hilsa to the campaigns.
He said some organisations buy hilsa from him before Pahela Baishakh, but this year most of them didn't.