What's the colour of your eatery?
People will know food quality, hygiene of restaurants thru' coloured stickers under food safety regulator's initiative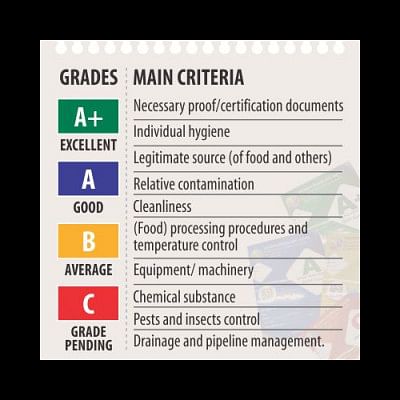 The Bangladesh Food Safety Authority (BFSA) has come up with a grading system for restaurants on the basis of quality of food and overall hygiene of the establishments.
As part of the system, coloured stickers -- green, blue, yellow and orange -- will be used to signify the grades of A+, A, B and C respectively awarded to the restaurants after scrutiny.  A+ would mean excellent, A good, B average and C grade pending.
The stickers will be pasted at a visible place on restaurant premises for the convenience of its patrons. Bangladesh Restaurant Owners' Association (BROA) would help the BFSA encourage restaurant owners to comply with BFSA's standards.
On January 20, the BFSA will formally hand over the stickers to the restaurants owners at an event in a hotel in the capital.
"The restaurants awarded with yellow stickers will get three months to upgrade their quality, while those given the orange sticker will get one month to do the same. If they fail to do so, their registrations will be scrapped," BFSA Chairman Mohammad Mahfuzul Hoque told The Daily Star.
Additionally, soon a smartphone is all one would need to pick the most hygienic restaurant around them.
The BFSA is developing a mobile app through which people would be able to track a particular restaurant's grade.
The BFSA authorities are currently running a pilot project on the system in Motijheel and its adjacent areas; it will gradually be expanded across the capital.
There are more than 10,000 registered restaurants in Dhaka while many more are operating without any registration. All these will eventually be brought under the system, added Hoque.
In developed countries, including the US and the UK, such restaurant grading systems are already in place. 
"It is a positive initiative. But it should be monitored strictly so that the initiative is not misused. Usually, we fine restaurants if we find any irregularities, but we rarely suggest what to do to rectify those," Ghulam Rahman, president of the Consumers Association of Bangladesh, told The Daily Star.
For example, if a restaurant gets a green sticker and it is not monitored later, its quality may falter, he added. "But overall, the initiative will help ensure safe food for consumers."
Between January 13 and 16, a mobile court of Dhaka South City Corporation sent 29 people to jail and fined several restaurants over Tk 11.5 lakh for various reasons, including preparing food in unhygienic conditions. One restaurant was also sealed during the drive.
On Wednesday, the Dhaka North City Corporation fined three restaurants in Gulshan and Banani areas Tk 5.5 lakh.
Early last year, the BFSA surveyed 200 hotels for over two months. The hotel staffers were then given directives and training to ensure safety and hygiene.
THE GRADING SYSTEM
The BFSA has set a 53-point check list of compliance standards under 10 headlines that include: necessary proof/certification documents, individual hygiene, approved source, relative contamination, cleanliness, processing procedures and temperature control, equipment/ machinery, chemical substance, pests and insects control, and drainage and pipe management.
Restaurants with a score of 90 and over will get A+, 80 points and up will get Grade A, between 55 and 79 points will get Grade B and between 45 and 54 points will get Grade C.
They grading comes at a time when there has been a boom in the restaurant business in Dhaka. From small restaurants to large foreign chains, there are restaurants at every nook and corner.
Visiting some restaurants in Motijheel, Paltan and Segunbagicha areas, these correspondents saw that many of the restaurants had their kitchens behind glass walls so that customers could see the food handling and cleanliness for themselves.
Some also set up CCTV cameras inside their kitchens with live footage at the food serving section.
When told about the grading system, a diner Mozammel Hossain, who often has lunch at restaurants because of his work, said, "It's a good initiative. It will empower us [the customers] to choose restaurants that serve quality food."
"We've brought many changes to our restaurant. We've replaced our containers with stainless steel ones, as they can be sterilised easily," said Abdul Aziz, manager of Kinnori Restaurant in Segunbagicha.
Kawsar Ahmed, managing director of Kasturi, a more than three decade old restaurant, welcomed the BFSA initiative.
Food handling awareness and training is a must to maintain standards, he said.
BROA President Khandaker Ruhul Amin said they had visited different restaurants on several occasions to motivate the owners to ensure hygiene.
He suggested bringing all hotels and restaurants under the grading system gradually.