Two 'drug dealers' killed in 'gunfight'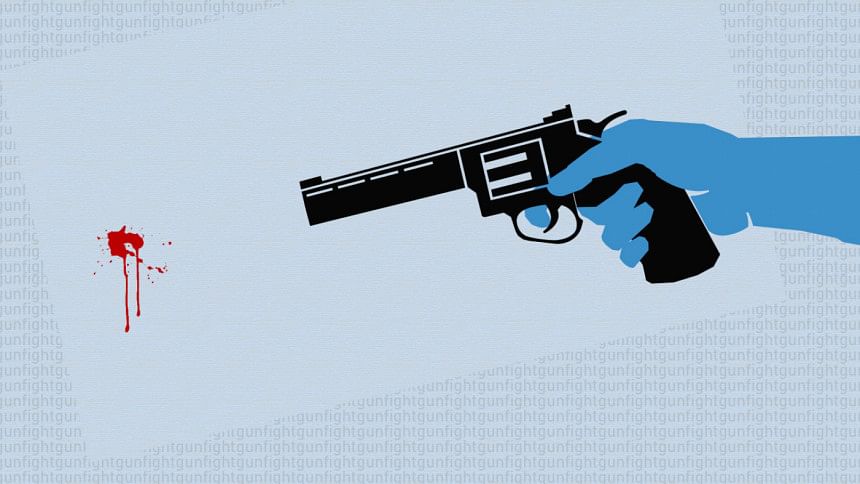 Two suspected drug peddlers died in reported gun battles with police in Rajshahi and Narayanganj early yesterday.
The one from Rajshahi drowned in the Padma River during a gunfight between police and his cohorts at Kashiadanga, local police told this paper. 
Amin, 31, of Paba upazila was accused in a number of narcotics cases, according to police.
"On a tip-off that a drug consignment was being carried, a police team raided Kashiadanga around 3:00am. Sensing presence of the law enforcers, the drug peddlers opened fire triggering a gunfight," said Monsur Ali Arif, officer-in-charge of Kashiadanga Police Station.
Amin's body was found floating in the river after other peddlers fled the scene, said the official, adding, police took Amin to the Rajshahi Medical College Hospital where he was pronounced dead.
Some 79 bottles of Phensedyl, a firearm, and two bullets were recovered from the spot, said the OC.
One drug trader got killed during a raid led by the Detective Branch (DB) of police in Chandmari of Narayanganj around 3:00am, said Kamrul Hassan, a sub-inspector of Narayanganj DB. 
"DB personnel led the anti-drug raid on a tip-off. Sensing their presence, the miscreants opened fire. The gunfight ensued as police retaliated," said the SI. 
He identified the deceased as Md Biplob of Fatullapur village of Chandmari. The 31-year-old was known as the "godfather of drugs" in his area and was facing at least 14 narcotics cases, according to the SI.
"Biplob was found lying on the ground with gunshot wounds after his accomplices managed to flee. He was taken to the Naryanganj General Hospital where doctors declared him dead," SI Kamrul said.
A firearm was recovered from the spot, he said adding that two sub-inspectors – Osman and Sohel -- and two constables -- Borhan and Nadim -- suffered injuries during the gunfight.
(Staff correspondent from Rajsahi and our correspondent from Narayanganj contributed to the report)