12 more 'drug dealers' killed
Law enforcers provide identical description of 'gunfights' killing 34 since May 15; home minister defends crackdown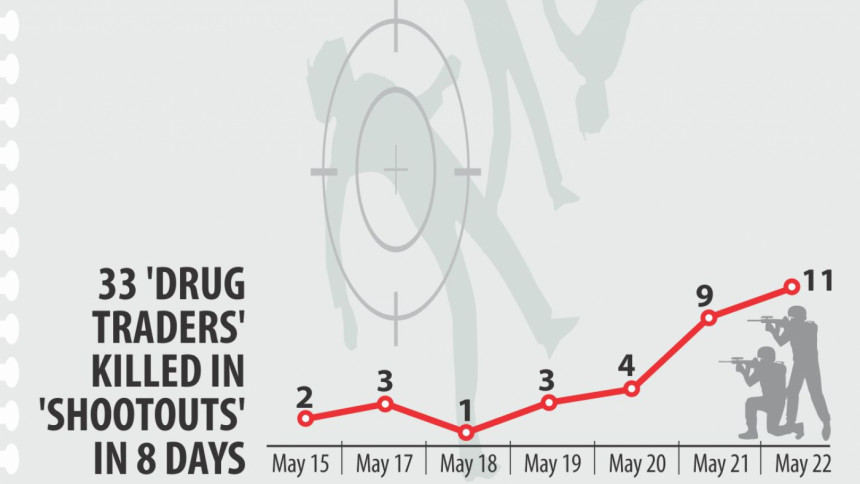 Amid criticisms over the sudden surge in the killing of suspected drug peddlers in so-called gunfights, Home Minister Asaduzzaman Khan yesterday defended the ongoing nationwide crackdown on narcotics.
"High-profile drug peddlers either fled or engaged in gunfights with law enforcers whenever they went to arrest them on the basis of intelligence. Under such circumstances, the law enforcers do what they should do," he said.
Twelve alleged drug dealers were killed in "shootouts" yesterday, taking the tally of people killed in this fashion to 34 in the last eight days.
"The killings took place as they [the criminals] tried to use arms against the law enforcers," Asaduzzaman told reporters at the secretariat, UNB reports.
He said measures were being taken against the illegal drug trade and the government was not sparing anyone.
"We are not sparing anyone, and one of our lawmakers has been in jail for several years and he did not get bail. So the law is equal for all," he said.
Replying to a query, Kamal said the law enforcers were gathering information about Abdur Rahman Bodi, Awami League lawmaker from the Teknaf-Ukhia constituency. "Action will be taken against him if we receive proper information."
The Rapid Action Battalion began an anti-narcotics drive on May 4 while the police launched a nationwide 10-day special crackdown on drug dealers on the first day of Ramadan on May 18.
According to the Police Headquarters, at least 3,200 people were arrested across the country in the last four days during the drive.
The Rab arrested 699 people for their alleged involvement in the illegal business while its mobile courts jailed 2,236 and fined 485 others since its operation began.
NHRC CONCERNED
Law enforcers have come up with more or less the same version of the so-called shootouts and rights activists are critical of the way things have unfolded. They said killing was not the right way of tackling the drug menace.
Yesterday, the National Human Right Commission said it did not support any sort of extrajudicial killing. It also expressed concern over the killing of nine people in anti-narcotics drives at different places on Monday.
In a statement, NHRC Chairman Kazi Reazul Hoque said an all-out effort, including a social movement, was needed to free the nation from the curse of narcotics.
"So, drug traders should be given exemplary punishment as per the law," he said, urging the members of the law enforcement agencies to launch drives taking the issue of human rights and the relevant law into consideration.
The agencies need to be watchful so that no innocent person is harmed during the drives, he said.
YESTERDAY'S 'SHOOTOUTS'
Of the 12 victims, two each were killed in Comilla, Nilphamari and Feni while one each in Netrakona, Chittagong, Dinajpur, Brahmanbaria, Narayanganj and Chuadanga districts. 
An alleged drug trader was killed in a "gunfight" with police in Barowari Balumahal area of Netrokona sadar upazila.
The man, Amjad Hossain, 25, was accused in 13 cases, including for murder and possession of drugs and arms, filed with different police stations, said Borhan Uddin, officer-in-charge of Netrakona Model Police Station.
The law enforcers claimed to have recovered 500 grams of heroin, 305 yaba tablets, and a pipe gun from the spot.
Talking to The Daily Star, Aminul Haque, maternal uncle of Amjad claimed his nephew was innocent.
"Locals knew Amjad did not even smoke cigarettes, let alone taking drugs or getting involved in drug trade," he told The Daily Star.
Aminul, also secretary of Netrakona municipal BNP, said Amjad was the secretary candidate in the Jatiyatabadi Chhatra Dal (JCD) Netrakona municipal committee.
As he was involved in politics, he had been implicated in many cases, said Aminul.
In Chittagong, Sukkur Ali, 45, was killed in a "shootout" between a gang of drug peddlers and Rab in Bayezid area. A gun, three bullets, 10,000 yaba pills and half kilogram of marijuana were recovered from the spot, Rab claimed.
Sukkur, who was from Brahmanbaria, stood accused in more than 10 cases filed with different police stations in the city, said Deputy Director Lieutenant Commander Ashequr Rahman of Rab-7.
Sukkur's family members, however, said he was a CNG-run auto rickshaw driver.
"It's true my father-in-law used to take marijuana but he was not a drug dealer," Md Sohel, son-in-law of Sukkur, told this paper.
"He [Sukkur] was taking dinner at his house when a group of plainclothes men came around 12:30am and took him with them," he said.
"After a few minutes, we heard gunshots. Later, my father-in-law's bullet-riddled body was found near his house," Sohel said.
In Dinajpur, alleged drug peddler Probal Hossain, 35, was killed in a "shootout" with police in Birampur upazila early yesterday, hours after the law enforcers had picked him up from his home and taken him along them to arrest other criminals, said OC Abdus Sabur of Birampur Police Station .
Probal's wife Rajia Begum said her husband was innocent but police claimed that he was accused in eight drug cases filed with the police station.
The man who was killed in a "gunfight" with Rab in Bancharampur upazila of Brahmanbaria was identified as Dhan Mia, 30.
Mufti Mahmud Khan, Rab's legal and media wing director, said the "gunfight" ensued when a Rab team challenged a car in Sonarampur area. As shots were fired from inside the vehicle, the Rab members retaliated, triggering the gunfight that left Dhan dead. 
Later, the law enforcers arrested Dhan's wife from the car and seized 11700 yaba tablets.
Dhan was accused in three cases filed with Bancharampur Police Station, according to the local police.
In Comilla, two suspected drug traders -- Peyar Ali, 24, and Sharif, 26 -- were killed in a "gunfight" with police in Sadar upazila's Aranyapur around 12:40am, said Abu Salam Mia, officer-in-charge of Kotwali Police Station.
Peyar was accused in at least 13 cases while Sharif in five, police said.
In Feni Sadar upazila, "drug dealers" Manjur Alam alias Manju, 49, and Mohammad Faruque, 35, were killed in two "gunfights" with Rab.
Manju was killed in Lemua Bridge area on Dhaka-Chittagong highway around 2:00am while Faruque in Daudpur Bridge area around 11:15pm, Rab said.
The force claimed to have recovered a pistol, seven bullets and 10,000 yaba pills from the spot.
In Narayanganj, alleged drug trader Bachchu Khan, 35, was killed in a similar incident involving the Rab in Araihazar Upazila. Bachchu was a notorious drug dealer in Tongi and Gazipur and was accused in at least nine drug cases, said Maj Ishtiaque Ahmed, a company commander of Rab-1.
In Nilphamari, two suspected drug traders -- Johni Islam and Shahin -- were killed in a "gunfight" with police around 2.30am near Golahat mass graveyard in Saidpur upazila, hours after they had been detained from their houses, said Ashok Kumar Paul, assistant superintendent of police in Saidpur.
The law enforcers had taken them to the graveyard area to arrest other drug traders who, sensing police presence, opened fire leaving the two dead, he said. 
Another person, Kamruzzaman Sadu, 38, was killed in "gunfight" with police in Chuadanga.
BNP ALLEGATION
Meanwhile, senior BNP leader Khandaker Mosharraf Hossain yesterday at a press conference in the capital alleged that the government was killing people in crossfire in the name of anti-drug drives in violation of the judiciary and the constitution.
At another briefing at BNP's Nayapaltan headquarters, party's Senior Joint Secretary General Ruhul Kabir Rizvi said, "The deep-rooted political reason behind the current extrajudicial killing spree in the name of eradicating narcotics is to target and kill opposition leaders and activists."
[Our correspondents in Mymensingh, Dinajpur, Brahmanbaria, Narayanganj, Nilphamari, Kushtia, Comilla and a correspondent in Feni contributed to the report]