Trafficking Victims: Jail straightaway, not rehabilitation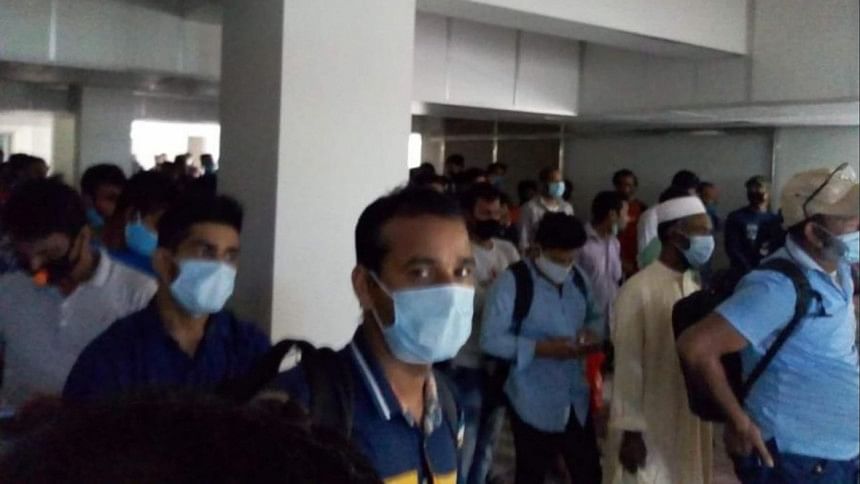 Eighty-one migrant workers who returned to the country after being exploited in Vietnam for months were thrown into jail yesterday, whereas the perpetrators either remain scot-free or face little action.
Terming these Bangladeshis victims of human trafficking, migrant rights activists have come down hard on the authorities for arresting them, instead of ensuring their protection and rehabilitation.
The 81 are among 107 migrants who were deported from the Southeast Asian country on August 18.
At the end of their 14-day quarantine, Turag Police Station Sub-Inspector Md Anwarul Islam produced them before a metropolitan magistrate yesterday, showing them arrested under Section 54 of the Code of Criminal Procedure (CrPC).
The SI prayed to the court to keep them in jail until the probe was over.
The court then sent the 81 to jail and freed the 26 others. Two other migrant workers, who returned from Qatar, also landed in jail.
Talking to The Daily Star, one of the 26 workers said the Vietnam returnees were thrown into jail when they were preparing to go home and meet their families at the end of their quarantine at a government facility in Uttara's Diabari area.
The man also said he believed the 81 workers were arrested as they had demonstrated in front of the Bangladesh embassy in Vietnam, demanding justice and repatriation.
In his report, SI Anwarul said that the arrestees were earlier convicted in those countries or sentenced to different terms for their involvement in criminal activities. When the coronavirus outbreak surged worldwide, their sentences were commuted and they were sent back to Bangladesh.
"Their criminal activities have tarnished the country's image and also put a negative impact on the labour industry," he said. After returning to Bangladesh, they allegedly divided into groups while in quarantine and were planning subversive activities against the government, the report claimed.
If these returnees are released, they can engage in various crimes, including robbery, family violence, killing and militancy, the SI argued.
Police also said before sending them back home, the Vietnam authorities wrote to their Bangladeshi counterparts, urging them to take necessary steps.
Several returnees, however, trash the police allegation that the 81 were jailed in Vietnam.
They said they had moved from Vung Tau and Ho Chi Minh cities to Hanoi on their own to escape exploitation at their accommodations managed by labour brokers.
VICTIM OF HUMAN TRAFFICKING
According to the migrants, Bangladeshi and Vietnamese manpower brokers, in connivance with Bangladeshi recruiting and travel agents, arranged fake job documents and sent them to Vietnam towards the end of last year and early this year.
The workers were promised regular jobs with monthly salaries of $500-$600 plus other benefits. They were charged Tk 4-5 lakh each.
The migrants claimed they were also forced into laundering money.
"Before leaving the [Dhaka] airport, we were given $1,000 to $5,000 each and asked to hand them to Bangladeshi brokers in Vietnam," said one of the 26, who were freed yesterday.
Once they landed, brokers took away their passports and sent them to different factories, instead of arranging their work permits.
The migrant workers then found themselves unemployed most of the time. They were also beaten up by Bangladeshi and Vietnamese brokers when they refused to stay and asked to return home.
Many of them complained to the police in Vietnam, but to no avail, said the returnees.
Since early July, they began traveling to the Bangladesh embassy in Hanoi seeking to return home. Some of them also staged sit-in near the embassy. Eventually, the embassy in cooperation with Vietnam police sheltered them in hotels before their repatriation.
About a dozen migrants this correspondent spoke to said they all had immigration clearance from the Bureau of Manpower Employment and Training (BMET) for jobs in Vietnam.
BMET Director General Shamsul Alam did not respond to queries on how the bureau verified the job contracts, presented by the recruiting agents, before issuing the clearances.
Talking to this daily, Bangladesh Ambassador to Vietnam Samina Naz said she wrote several times to the home and expatriates' welfare ministries on such human trafficking in the last two years.
The BMET never communicated with the embassy for verification of any companies in Vietnam before issuing immigration clearances, she said, adding that most Bangladeshi migrants were sent to that country with tourist and entrepreneur visas though they were lured with promises of permanent jobs.
Meanwhile, on July 9, Rapid Action Battalion (Rab) arrested three directors of recruiting agencies and identified six agencies involved in human trafficking to Vietnam. Those are Mash Career Service, JK Overseas Limited, Advent Overseas Limited, Sandhani Overseas Limited, and Al Noman Human Resource Limited, said Rab sources.
Rab also got names of eight Bangladeshi brokers in Vietnam -- Abdul Jabbar, Mostafa, Golam Azam Sumon, Kalpana, Azmeer, Milon, Shovon and Atik, said the sources.
Ambassador Samina Naz could not be reached yesterday to learn whether there was any move to catch the alleged human traffickers operating in Vietnam.
Expatriates' Welfare Minister Imran Ahmad late last week said the ministry formed a committee to probe how the BMET issued the immigration clearances without verifying jobs.
According to the Overseas Employment and Migrants Act 2013, the recruiting agent will bear the cost of repatriation and compensation to the affected migrant worker. However, the cost for repatriating the 107 migrants from Vietnam was borne by the Wage Earners' Welfare Fund.
Asked, Imran Ahmad said the recruiting agents must pay it, but now their condition was not well due to the Covid-19 pandemic.
Asked about their punishment, he said, "We are not being so harsh at this moment but eventually, the agents responsible will surely face punishment."
Experts say these developments suggest the authorities were out to punish the victims, not the culprits.
Prof CR Abrar of Dhaka University's International Relations Department said if the Bangladeshis had violated any laws in Vietnam, actions could have been taken there. "But it appears there is no proof in this regard.
"The complaint that the migrants tarnished the country's image is vague. In fact, by arresting the returnee migrants, the government itself is tarnishing the country's image," he told this correspondent.
Given that the BMET is also at fault in the recruitment of these migrant workers in Vietnam, there should be a judicial investigation into the matter, the migration expert said.
Shariful Hasan, head of Brac's Migration Programme, said instead of rehabilitating the migrants, they were jailed, which is strange.
"Why are BMET officials responsible for issuing immigration clearances are above the law?" he asked.
Shariful also said such arrest was nothing but an attempt to scare the migrants so that they don't speak up for their rights and to protect officials and agents responsible for their miseries.